Online Extra: SF Pride announces full slate of grand marshals and honorees
Friday Apr 17, 2020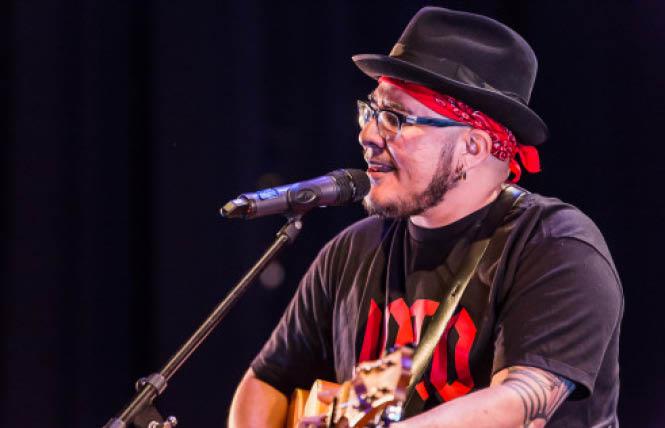 San Francisco Pride announced the full contingent of this year's grand marshals and other honorees April 16, just days after announcing the cancellation of its in-person Market Street parade and Civic Center Plaza festival due to the novel coronavirus outbreak.
There will, however, be online events to commemorate this year's SF Pride, according to Carolyn Wysinger, the president of the board of directors of the San Francisco LGBT Pride Celebration Committee, which is responsible for SF Pride festivities.
The contingent of grand marshals includes StormMiguel Florez, a Xicanx trans filmmaker; Lenn Keller, an African American lesbian activist and photographer; and Lance Toma, the CEO of the San Francisco Community Health Center.
Furthermore, there will be four commemoration awards. The Gilbert Baker Pride Founders Award will go to Cleve Jones, a gay longtime community activist who founded the San Francisco AIDS Foundation and co-founded the AIDS Memorial Quilt. Gabby Rivera, a queer author who was the first Latina to write for Marvel Comics, received the José Julio Sarria History Maker Award.
Michael J. Wong, the first artistic director of the marching and pep bands of the San Francisco Lesbian/Gay Freedom Band, received the Audrey Joseph LGBTQ Entertainment Award.
The awards are rounded out by Zwazzi Sowö, recipient of the Teddy Witherington Award. Sowö, an African American lesbian, is a longtime civil rights activist who got her start marching with Martin Luther King Jr. for fair housing in Chicago.
As the B.A.R. previously reported, three community grand marshals — two individuals and one organization — were announced in March. These were Terry Beswick, a gay man who's executive director of the GLBT Historical Society; the Reverend Dr. Jane Spahr, a lesbian who founded the Spahr Center in Marin County and is a retired Presbyterian minister; and the LGBT Asylum Project.
Wysinger stated that what form the online events take is currently being considered.
"Right now, we're teaming up with the Commonwealth Club on a series of four Lavender Talks in May and June, with topics and panelists to be determined in the weeks to come," Wysinger said, according to an April 16 email to the B.A.R. from Pride's spokesman. "Additionally, we're working with a group of Pride organizations worldwide on an online Global Pride event on June 27.
"Our board and staff are already working to assess how this year's slate of community grand marshals can participate in these projects, and we're actively soliciting ideas from them. Pride 50 is still going to be impressive," she added, referring to this year's milestone anniversary.
Honorees thankful they were considered
In an April 16 email, Florez wrote that he is "curious and excited to see how SF Pride will manifest this year through this challenging time."
"I am honored to be selected as a community grand marshal SF Pride 2020. As we navigate COVID-19 and sheltering in place, I feel it is so important that we find ways to gather and connect using the technological infrastructures that we have in place," Florez wrote. "In some ways I feel more connected to my community than usual because of the extra efforts many of us are making to connect from afar."
Keller, who is this year's Lifetime Achievement grand marshal, said her reaction was "shock" and she didn't realize she was being considered.
"I'm deeply honored," Keller said in an April 16 phone call with the B.A.R. "I had no idea; it came completely out of the blue."
Keller said she will definitely participate in whatever way she can.
Toma, whose health organization has been dealing with the fallout of the novel coronavirus epidemic, reflected on the cancellation of the in-person parade and festival announced earlier this week.
"They made a hard decision, but it was the right decision. We (at the San Francisco Community Health Center) are doing first response so we are doing everything we need to do and our doors are open" Toma, a gay man, said. "I was totally surprised. I got an email over the weekend letting me know. It was exciting."
Jones received the award named for his late friend, Baker.
Baker, with his friends Lynn Segerblom and the late James McNamara, created the first rainbow flags for the 1978 San Francisco Pride parade. Those flags were different from the common six-striped flag seen today, which Baker turned into a worldwide symbol of LGBT Pride.
"It's bittersweet. I miss him," Jones said of Baker, who died in 2017. "We had plans to attend Stonewall 50 together and I know he would want to be in San Francisco for our 50th, so it's sad that the parade had to be canceled."
Last year marked the 50th anniversary of the 1969 Stonewall riots in New York City, considered by many to be the birth of the modern LGBT rights movement. The milestone was celebrated with an hourslong parade in New York. In 1970, San Francisco held its first Pride event to mark the one-year anniversary of Stonewall.
Jones said he is working on InterPride's online Global Pride event scheduled for June 27. InterPride is an association of various Pride organizations.
"Gilbert had a deep relationship with InterPride because both of us have been to many of these Pride events over the years," Jones said.
Jones said he wanted to help make sure the Global Pride event is available across many platforms because people the world over don't all have access to Facebook. He also brought up his support for some form of television broadcast.
"We want to make sure it's accessible for everyone," Jones said. "It's going to be a daylong event progressing from time zone to time zone."
Rivera and Wong did not respond to requests for comment at press time.
Sowö could not be reached for comment.
Editor's note: If you liked this article, help out our freelancers and staff, and keep the B.A.R. going in these tough times. For info, visit our IndieGoGo campaign.
Comments on Facebook