Editorial: Help needed for ailing CA newspapers
Wednesday Apr 15, 2020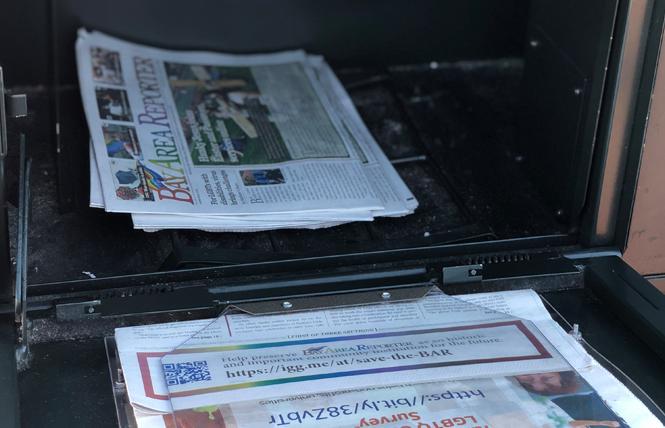 In the attempt to "bend the curve," as Governor Gavin Newsom has repeatedly stated, stay-at-home orders may be working. But many are frightened and frustrated that achieving this goal could require extending the deadline, intensify the economic effects tearing the fabric of our communities, and endanger vital institutions like local news media that strive to provide information amid the confusion.
News outlets of all kinds have been decimated by the loss of almost all advertising. The Bay Area Reporter relies on advertising to provide LGBT news to you every week. It's no small matter that journalists who disseminate news are deemed essential workers under these public health orders.
To support the work of journalists, some help may be on the way for California newspapers. The Associated Press reported April 10 that the California News Publishers Association has asked Newsom and state legislative leaders to direct aid to the industry. CNPA asked for tailored grants and loans, sales tax exemptions for local papers (which wouldn't apply to free papers like the B.A.R.), and tax deductions for subscribers and advertisers.
"The COVID-19 virus has left the newspaper industry, already struggling financially, gasping for air," wrote the group's president, Simon Grieve, the publisher of Gazette Newspapers in Long Beach, AP reported.
The dire state of the industry comes at a time when residents have come to rely on local news outlets even more. As the leading LGBT-focused publication in San Francisco — and the Bay Area — the B.A.R. has reported myriad ways the virus and COVID-19, the respiratory illness caused by it, have altered daily life in the community, upended nonprofits, and shattered the economy, leaving thousands of queer employees without work.
We strongly support CNPA's effort, and especially urge that our LGBT lawmakers and allies in Sacramento will too. A spokeswoman for lesbian state Senate President pro Tempore Toni Atkins (D-San Diego) said she "is looking at the request," AP reported.
CNPA's effort mirrors one at the federal level, where at least 19 senators have signed on to a letter to Senate leadership urging support for local journalism in the next coronavirus relief package. "The current public health crisis has made the already vital role of local news even more critical," the senators wrote. "Some of the most important guidance for families and businesses during this crisis has been highly localized. Local journalism has been providing communities answers to critical questions, including information on where to get locally tested, hospital capacity, road closures, essential business hours of operation, and shelter-in-place orders. During this unprecedented public health crisis, people need to have access to their trusted local news outlets for this reliable and sometimes life-saving information." One of those letters co-authors, Senator Angus King (I) of Maine, was on CNN's "Reliable Sources" over the weekend and explained the importance of local newspapers, pointing out the dearth of advertising from industries that are closed now. Senator Tammy Baldwin (D-Wisconsin), one of the only two out members of that chamber, also signed the letter. We were surprised that the letter does not include the names of California's two Democratic senators, Dianne Feinstein and Kamala Harris; they should add their names.
More federal stimulus funds specifically for local newspapers are necessary because there is a limited amount of federal loans currently available and so numerous businesses will not get the help they need. The Small Business Administration's rollout of the Payment Protection Program, or PPP, has been dismal; it's very difficult for small businesses to sign up, and it's vague when money will arrive.
The loss of any newspaper is devastating to its community. Readers are deprived of important stories about their cities or towns, but more importantly a watchdog on local government. Newspapers often provide in-depth reporting on issues that merit only a minute or two on TV news broadcasts. It's unusual for TV news bureaus to report consistently on the LGBT community — which is why the B.A.R. must continue. To support local journalism, sign on to the CNPA's website at https://cnpa.com/legal/ab5/
Local newspapers need state and federal resources if they are to ride out the pandemic. State lawmakers must consider the CNPA's proposals; federal lawmakers must include local papers in the next virus relief package.
Editor's note: If you liked this article, help out our freelancers and staff, and keep the B.A.R. going in these tough times. For info, visit our IndieGoGo campaign.
Comments on Facebook