News Briefs: Cannabis firm releases Peron video trailer in time for 4/20
Wednesday Apr 15, 2020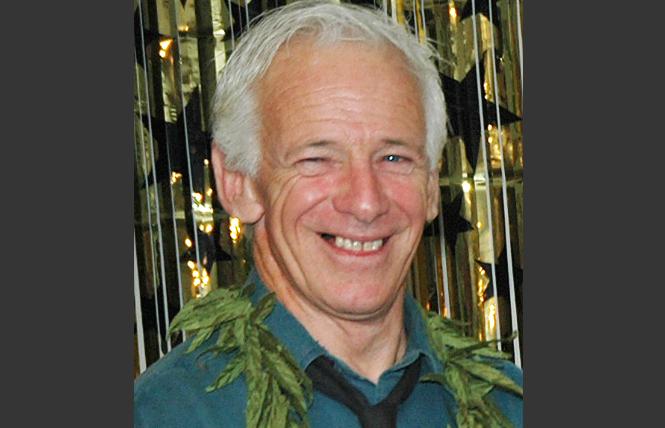 In honor of what would have been gay marijuana activist Dennis Peron's 75th birthday, a cannabis firm has released a trailer of a new video about him.

PAX Labs Inc., a vaporizer company that specializes in cannabis, released "Dennis: The man who legalized cannabis" online April 8. Peron died in January 2018 after a long battle with lung cancer. His passing came just a few weeks after California's law allowing recreational use of marijuana, Proposition 64, went into effect.

John Entwistle, Peron's husband, sent an email to supporters announcing the release. He wrote that PAX conceived and funded the project and the team at Bone + Gold produced the video.

"I did what I could to support them," Entwistle wrote.

He added that the release of the full 20-minute video is planned for July at the Roxie Theater in San Francisco.

"We will make an evening of it with a panel discussion and a party, but first we must get past this coronavirus thing," he wrote, referring to the pandemic that has led to stay-at-home orders in the Bay Area and many other locales.

With the annual 4/20 cannabis party in Golden Gate Park canceled this year due to the novel coronavirus outbreak, the video might make for fun viewing to celebrate Peron's long involvement with medical and recreational marijuana.

To view the trailer, visit https://www.youtube.com/watch?v=2-NOybN63-Q&feature=youtu.be

IRS extends US tax deadline
The Internal Revenue Service has extended to July 15 the deadline for Americans to file their federal income tax returns. While the agency announced last month that the filing deadline would be extended for most individuals due to the novel coronavirus outbreak, an April 9 news release clarified that the new due date includes Americans who live and work abroad, individuals, trusts, estates, corporations, and other non-corporate tax filers.

There will be no late-filing penalty, late-payment penalty, or interest due, the release stated.

In California, state Controller Betty Yee has announced that the new deadline for state personal income taxes is also July 15, in conformity with the IRS.

For more information on federal taxes, visit http://www.irs.gov

For information on California taxes, go to https://www.ftb.ca.gov/

The IRS unveiled the new Get My Payment link with features to let taxpayers check on their Economic Impact Payment date and update direct deposit information. For info, go to https://www.irs.gov/coronavirus/get-my-payment

Virtual town hall on COVID-19 for HIVers
The Getting to Zero SF Consortium is co-hosting a virtual Town Hall meeting with Ward 86 at Zuckerberg San Francisco General Hospital Thursday, April 23, from 6 to 8 p.m. Pacific time, about COVID-19 for people living with HIV. (COVID-19 is the respiratory illness caused by the novel coronavirus.)

According to organizers, the forum is an opportunity for people to learn how to maintain health during this time, hear personal testimonials, and to ask questions.

The agenda includes presentations by Dr. Monica Gandhi, from UCSF/SFGH Ward 86; Andy Scheer, LCSW, from SF City Clinic; and Bill Hirsh, executive director of the AIDS Legal Referral Panel. Other community-based partners who provide direct services will be available during the meeting to answer questions as they arise, organizers said.

There will be an hour for Q&A and discussion following the presentations and testimonials.

To RSVP and submit questions for the Q&A, visit https://bit.ly/2RAwqmn

A link to the Zoom meeting will be sent after registration.

SF Pride Meet canceled
The San Francisco Track and Field Club has announced that the Pride Meet scheduled to be held June 20 has been canceled due to the coronavirus pandemic.

Arun Bordoloi, the club's president, wrote in an email that the club has also paused all official training practices for both track and field events until San Francisco officials lift the stay-at-home order that also bans public gatherings.

"We will determine in the next few months if we will be able to reschedule the Pride Meet for a later date this year or completely cancel the Pride Meet for this year," Bordoloi wrote.

For more information, visit http://sftrackandfield.com/

Lesbians Who Tech moves confab to fall
Lesbians Who Tech + Allies has again moved its San Francisco conference, this time to the fall, according to an announcement from founder Leanne Pittsford.

The annual gathering of LGBTs and allies in and around tech had announced in March that it was moving the April conference to August, but last week Pittsford wrote in an email that the date has again changed due to the novel coronavirus pandemic. She said the decision was based on conversations with the event's partners, attendees, and speakers.

"Over the course of this month, it has become clear the likelihood that our community can gather safely in August is extremely low," Pittsford wrote.

Meantime, she also noted that the organization is on track to lose more than $2 million — more than half its annual budget. As a result, the group is finding innovative and creative ways to provide value to its community, she said. To that end, Lesbians Who Tech has launched a new Roadmap, which includes a virtual Pride Summit Week June 22-26. For more information, see the pdf at https://drive.google.com/file/d/1glOX5-Rkkiu-OpQIssn3puynAPhDMBXJ/view

API LGBT clinic gets federal funds
The San Francisco Community Health Center, formerly known as the Asian Pacific Islander Wellness Center, was one of several agencies to receive funds from the U.S. Department of Health and Human Services as part of the federal government's response to COVID-19, the respiratory illness caused by the coronavirus.

The agency, which closed for now its clinic at the San Francisco LGBT Community Center, received $511,685 as part of HHS' $192,480,867 that was awarded to 180 health centers in California.

Other LGBT-related clinics that received funds were: APLA Health and Wellness in Los Angeles, $694,205; Desert AIDS Project in Palm Springs, $687,455; and the Los Angeles LGBT Center, $915,920. All receive funding from the Health Resources and Services Administration, which is part of HHS.

An HHS news release noted that the funds may be used to help their communities detect coronavirus; prevent, diagnose, and treat COVID-19; and maintain or increase health capacity and staffing levels to address the public health emergency.

The funding is made possible because it's part of the Coronavirus Aid, Relief, and Economic Security Act (CARES) that was signed into law by President Donald Trump March 27.

Editor's note: If you liked this article, help out our freelancers and staff, and keep the B.A.R. going in these tough times. For info, visit our IndieGoGo campaign.