Shelter-in-place expected to be extended, Wiener says
Wednesday Mar 25, 2020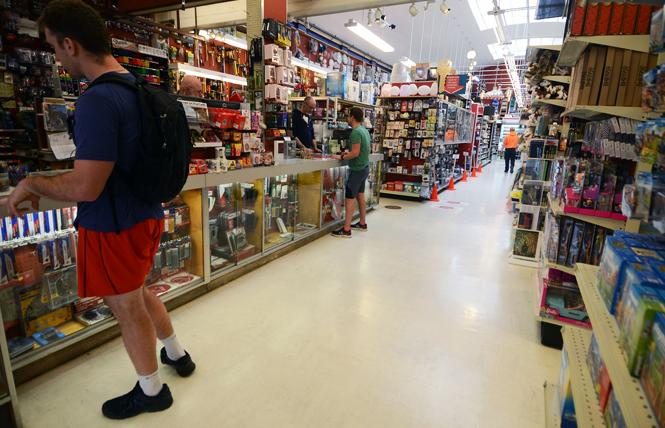 During a Facebook Live chat with Castro business owners Monday, March 23, gay state Senator Scott Wiener (D-San Francisco) warned local merchants to prepare for having to remain shut post April 7 when the city's shelter-in-place order and closure of non-essential businesses is set to expire. He noted that the statewide order issued by Governor Gavin Newsom last week has no expiration date.

"I do not know but I will not be surprised if the April 7 deadline is expanded," said Wiener in response to a question from one of the participants. "I believe there is a decent possibility it will get extended. I would not assume you would be able to reopen your business on April 8. But that is in flux."

The decision will be determined, he said, if the efforts by officials to reduce the number of new cases of the novel coronavirus are effective in not overwhelming hospitals with a flood of patients sickened with COVID-19, the respiratory illness caused by the virus. Wiener reiterated it is imperative for people to follow the orders to stay at home as much as possible and limit their social interactions.

"We will have to see in the next few weeks to see if we can flatten the curve," he said. "We will be able to end this very painful shutdown earlier if people actually follow it. People need to stay at home."

Wiener also noted the pandemic will eventually come to an end and that local and state lawmakers are working to provide financial support to small businesses, nonprofits, and workers who have been laid off or seen their hours reduced.

"We will get through this and there will be a light at the end of the tunnel. This pandemic will end," said Wiener. "The question is will we do what we need to do to keep people stable and to stabilize businesses so when we do come out of this terrible emergency businesses can get going again and workers can go back to work."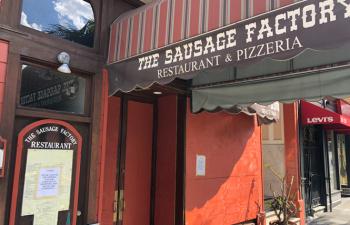 Adapting
While bars, nightclubs, and gyms are shuttered in San Francisco's Castro district as the result of the shelter in place orders, those businesses that remain open are often adopting new hours and strategies. Some business operations may change as the shutdown goes on.

On the 400 block of Castro Street (between Market and 18th streets) around 11 a.m. March 24, only Gyro Xpress, La Tortilla, Posh Bagel, Hot Cookie, Cliff's Variety, CitiBank, Walgreens, and Strut, the men's health center, were open.

The restaurants are take-out only, in compliance with the health order that went into effect the morning of March 17 in six Bay Area counties. (Governor Gavin Newsom issued a similar directive for the state two days later.)

Rossi's Deli had a sign citing new daily hours of 9 a.m. to 6 p.m. (although it was closed as of Tuesday morning) and Marcello's Pizza stated it was open for to-go pizza slices from 1:30 to 6 p.m., and whole pizza orders until 9:30 or 10.

Restaurants that were open for to-go orders for some of last week, such as Harvey's at 500 Castro Street or the Castro Coffee Company at 427 Castro Street, appear to be closed. Others that were closed, such as Oz Burger at 4092 18th Street, were touting that they were now going to be open for to-go orders, from noon to 8 p.m.

Erotic stores Does Your Mother Know and Rock Hard were open March 20, but not on March 24.

As a hardware store, Cliff's Variety is allowed to stay open as it's deemed an essential business.

"After more than 80 years in business, we understand that even in a crisis, drains will back up, heaters break and kids get bored," a sign on its door reads. "If you need us we will be here but we ask if you are sick please don't venture out."

Cliff's co-owner Martha Asten said that her employees are following best practices in the age of coronavirus — social distancing and "wiping things down as much as possible."

"The first two days, sales dropped — not significantly, but they dropped," Asten said. "But they've come back up and we've been fine. It's been about the same as other days this time of year. It's weird. It's probably because other people are not open."

Asten said that Cliff's employees will make sure too many people don't come in at once.

"I can't update the credit card machine until the contract runs out, so you still have to sign it unfortunately," she said, referring to customers still having to use a pen to sign charge slips.

Bars, other businesses board up
Even before Wiener made his pronouncements Monday, some bar owners began to board up their windows and doors with plywood. Badlands owner Les Natali boarded that nightclub along with Toad Hall and Hamburger Mary's, other properties that he owns.

As of March 24, Beaux, Moby Dick, and The Edge were boarded up; the Sausage Factory and the clothing store Knobs were boarded up as of March 20.

Kevin Harrington, who owns Last Call, boarded up his establishment.

"We boarded up the business and that has been a huge relief as we're next to 7-Eleven so we have issues with vandalism and problems constantly," Harrington wrote in an email to the Bay Area Reporter March 24.

Gay District 8 Supervisor Rafael Mandelman said that his office worked with the Planning Department and the Department of Building Inspection to make sure business owners wouldn't be penalized for boarding up.

"Many small business owners have boarded up their storefront windows to protect their businesses during mandatory closures and are afraid that they will be cited or fined by the city for doing so," Mandelman wrote in a Facebook post March 23. "The last thing that any small business owner should have to worry about right now is being fined by the city for trying to protect their business during this emergency.

"We have also confirmed that public works will not be enforcing violations for graffiti on private property, including businesses who have had their facades defaced, during the shelter in place order," he added.

Mandelman said in a March 24 phone call that businesses should be mindful of how they board their storefronts with plywood, particularly on historic facades. While legal requirements are still technically in place, they will not be enforced during the shelter-in-place order.

The restrictions are normally enforced "to prevent blight in the neighborhood and graffiti," Mandelman said. When asked if non-enforcement was an indication that the shelter-in-place will be extended beyond early April, Mandelman said that he has "no special information on that, but as an independent person I'd be surprised if they weren't."

During his live chat, Wiener said business owners shouldn't be boarding up their windows as "it sends a terrible message." He noted there have been no reports of looting in San Francisco and that the police have stepped up their patrols in commercial districts.

He noted he had walked down Castro Street the other day to buy some necessities and didn't see many people but did encounter two police officers who told him it had been "calm" in the neighborhood.

"We are not going to allow looting in San Francisco. That is totally unacceptable," said Wiener, a former city supervisor.

Online efforts raise relief money for nightlife
Another development over the past week has been that efforts to help displaced nightlife workers have proliferated and raised more money.

As the B.A.R. previously reported, owners and staffs of several LGBT bars have established GoFundMe fundraisers.

As of the afternoon of March 24, the GoFundMe for South of Market nightclub OMG had raised $1,359 out of a $2,000 goal, the fundraiser for Beaux raised $8,309 out of a $10,000 goal, the fundraiser for The Mix raised $5,250 out of a $10,000 goal, and the fundraiser for Last Call raised $1,185 out of a $5,000 goal.

According to Joshua Cook, Beaux's general manager, in a statement to the B.A.R. March 24, the owners of Beaux have donated $10,000 themselves to get money to their staffs before the GoFundMe was finished. Beaux staff can pick up money now.

Harrington of Last Call said that the staff has control over the fundraiser for his bar.

"The staff have control over the GoFundMe page. I felt they would be able to use it as necessary," Harrington wrote. "I've paid them as much sick pay as I can afford so far. I check in with them regularly so they aren't stressing too much. They are hanging in there pretty well."

The Stud fundraiser raised $7,355 out of a $15,000 goal as of Tuesday afternoon.

"We are just concentrated on making our goal right now while staying in very close contact with all our workers," the Stud's Vivvy Forevermore wrote in a March 24 email. "We are excited to hear what plans the city has to help workers. To be honest the Nudes for the Stud trend was started by Kochina Rude, a regular host of our weekly show Drag Alive (coming to online platforms on Saturday, April 4), and regular performer at the Stud. Other performers picked up the trend — mostly all drag queens, and that's what happened. It was just the creativity of our lovely family."

Furthermore, the B.A.R. did not mention in its roundup on March 19 the ongoing fundraisers for the Midnight Sun and the Edge. Midnight Sun had raised $5,558 out of a $7,500 goal Tuesday afternoon, and the Edge had exceeded its goal, raising $10,315 out of a $10,000 goal.

Marke Bieschke, the publisher of 48 Hills and a co-owner of the Stud, published a list of links (www.48hills.org) to crowdfunding efforts to DJs, musicians, artists, performers, cinema workers, and beverage workers.

As the B.A.R. reported March 17, several prominent LGBT figures announced a nightlife fund to help displaced workers. According to a post on its Facebook page early Tuesday, the SF Bay Area Queer Nightlife Fund has had 197 applicants who requested $1,105 in lifeline cash each, meaning that a total of $217,853 had been requested. The fund was, however, only 34.8% of the way to providing for its initial goal of providing $200,000 to 200 nightlife workers.

Mark O'Brien, a DJ and co-founder of Polyglamorous, said that the fund had raised over $72,000 as of March 24. O'Brien helped put on the Quaran-Tea Dance that was livestreamed March 22 in lieu of traditional Sunday Funday tea dances.

"It was amazing," O'Brien said in a phone interview with the B.A.R. Tuesday. "It was the first time we'd done a streaming event like that. It was a great opportunity to see DJs contribute sets."

O'Brien estimated about 500 people streamed through the course of the day and said that the telethon-esque event raised $9,936 from 157 individual donors. There will be another on Sunday, March 29, at 1 p.m.

O'Brien encouraged people to continue applying to receive relief money, as applicants will be sorted after March 31. Money will be "granted based on need," O'Brien said.

Additional reporting by Matthew S. Bajko.
Comments on Facebook