Advocates ask LGBTs, others to fill out census online
Wednesday Mar 18, 2020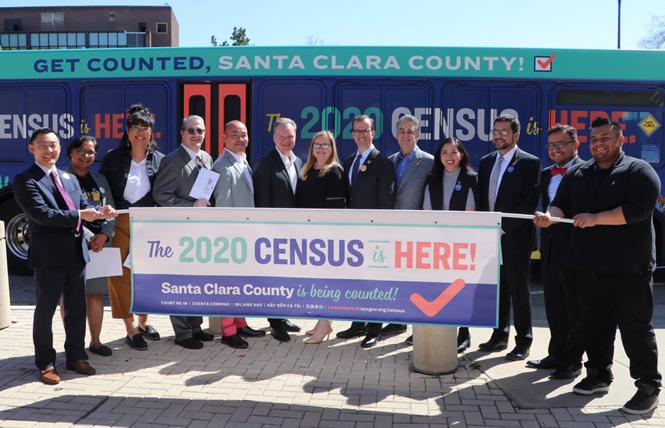 With billions of federal funding at stake and California at risk of seeing its congressional representation diminish due to the 2020 census count, state and local leaders earlier this year launched outreach efforts aimed at getting as many Golden State residents as possible to fill out their census forms.
The push for people to take part in the decennial count of the nation's population has taken on new urgency amid the novel coronavirus outbreak as the financial costs to cities and the state government mount by the day. With most of the Bay Area under shelter-in-place orders and other regions of the state imposing restrictions to limit public gatherings, businesses have shuttered and workers in myriad industries are being laid off without pay.
Federal resources will be key in helping provide relief, and how much California receives is determined by the census data. It impacts everything from how many seats in the House of Representatives are allocated to the state to funding for social services like food stamps, medical care, and housing assistance. Many social service agencies rely on federal funds determined by the census count.
"We really want to encourage everyone to be counted. For every person who is not counted that is a loss of $2,000 per year for the next 10 years," noted Beatriz E. Valenzuela, a communications manager with Equality California, the statewide LGBT advocacy organization. "It really adds up for communities. Because the LGBTQ community also lives in and is a part of other marginalized communities, there is going to be a lack of funding for these programs that are so critical and important to us if people are not counted in the census."
People can take part in the census this year for the first time online via the website www.my2020census.gov. It went live Thursday, March 12, the same day households should have received a notification in the mail about the start of the census. The mailing included a 12-digit census ID for people to use when filling out the census.
If one's household didn't receive such a mailing, there is a button on the census online portal for people to click that says, "If you do not have a Census ID, click here," in order to complete their census. With so many people stuck at home through at least April 7, LGBT advocates and others are encouraging every household to spend the roughly 10 minutes it takes to fill out the census online.
"The mission in Santa Clara County is that everyone is counted," said David Campos, a gay man who is the county's deputy county executive, at a news conference South Bay leaders held March 12 timed with the launch of the census webpage.
It can be accessed either by computer or smartphone, while those who require assistance can call the toll free number 1-844-330-2020 to receive help in filling out their census form. As of Sunday, March 15, more than five million responses had been received online to the 2020 census, according to the U.S. Census Bureau.
The census forms cover everyone living in the same household, whether they are U.S. citizens or undocumented, family members or roommates. People should not mail in a printed form if they completed an online census for their household, and only one form per household should be completed.
Some same-sex data
As the B.A.R. noted in a story about this year's census in late January, LGBT groups across the state began mobilizing last year to educate people about the need to fill out their census form and how it will and will not collect data on LGBT people. For example, same-sex couples this year can clearly mark their relationship on the census.
The 2020 census forms include the options "same-sex husband/wife/spouse" or "same-sex unmarried partner." It is a marked improvement from the 2010 census, when the options for explaining the relationship of a couple living in the same household were the generic terms "husband or wife" or "unmarried partner."
The decennial count of the nation's population will fall short in terms of collecting exact data on the number of LGBT residents, since the 2020 census will not be asking people to specify if they identify as gay, lesbian, bisexual, or transgender. In terms of a person's gender, the only choice one can select is either male or female.
"The census is not exactly perfect; it is not where we need it. We need to fight to ensure nonbinary, nonconforming identities are included in the census. That is not happening this year; I totally get it," Sara Fernando, a transgender woman of color who is the chief diversity officer for Silicon Valley Pride, said at the South Bay news conference last week. "Pride here in Santa Clara County has been growing. To be able to do this, we need to make sure the LGBTQIA community is counted."
Transgender individuals who have not legally changed their gender can select the option they identify most with on their census form and do not have to select the gender they were assigned at birth. People also have the option of not answering the gender question on their census form.
Transgender or nonbinary people can also use the name they currently use on their census form even if they have not legally changed it for use on their identification, such as a passport or driver's license. EQCA is encouraging people to fill out everything on their census form despite the lack of sexual orientation and gender identity questions, said Valenzuela.
"I know it doesn't fit everyone's needs," she acknowledged. "But it is very important to have the census filled out because so much is at stake."
No plans to postpone yet
April 1 is considered to be Census Day in the U.S. and the federal bureau so far has no plans to delay this year's count. People have until April 15 to either mail in their census form or complete it online or by phone if they want to avoid having census workers later this spring come knocking on their front door and asking them to complete the census.
The last day census data is to be collected is July 31, and as of press time Wednesday, that has not been changed due to the coronavirus outbreak. But the census bureau has delayed its planned public assistance it was going to launch March 30 until April 13.
And it pushed back the start of its canvassing to households near college campuses from April 9 to April 23. The census bureau also changed its paid media campaign and messaging efforts this year to promote self-response.
"The key message right now for anyone with questions about how COVID-19 will affect the 2020 Census: It has never been easier to respond on your own, whether online, over the phone or by mail — all without having to meet a census taker," stated the federal agency in its advisory Sunday, referring to the respiratory illness caused by the coronavirus.
Both EQCA and Santa Clara County had planned to set up census kiosks in various locations accessible to the public where people could fill out the form online and receive help in doing so. But those plans have been scrapped in light of the orders for people to remain home as much as possible.
EQCA, which received $1 million mostly from the California Complete Count Office to fund its census outreach, had trained three people last week to canvass about the census in Los Angeles County. But over the weekend it redirected their efforts from going door-to-door to making phone calls to households that had signed EQCA's pledge last year to take part in the census.
Its ads on Facebook and the gay hookup app Grindr also now encourage people to fill out the census online. And EQCA is also plugging that message on its social media pages, such as a March 13 Facebook post that read, "Stuck inside because of COVID-19? Did you know that you can safely fill out the census from home? You can participate: ? Online ? By phone ? By mail."
"We are pivoting and putting larger emphasis on our digital outreach through social media and emails and also through text and phone banking," Valenzuela told the B.A.R. Tuesday, March 17, in a phone interview from her home in Southern California, where she is now working remotely as EQCA shut down its offices to protect its staff from the coronavirus.
A bisexual married woman, Valenzuela filled out the census online for her eight-person household. She noted it took her less than 10 minutes to complete.
"We just really stress the census is very important," she said. "This is done every 10 years so it's not like you can say I will just participate next year. There won't be a next year until 2030."
Comments on Facebook