Political Notebook: CA LGBTQ legislative group set to make historic gains
Wednesday Mar 18, 2020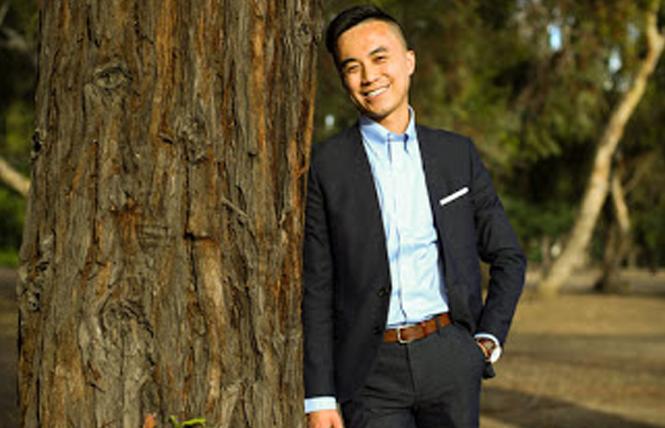 Based on the outcomes of the state Assembly and Senate March 3 primary races, California's Legislative LGBTQ Caucus is set to make historic gains come the November election. Currently at seven members, the affinity group for out legislators could see its membership climb to as many as 10 lawmakers in December when the winners of the fall races are sworn into office.

It is also highly likely that the caucus will see its first bisexual member, with Alex Lee (D) winning his primary race for the open Assembly District 25 seat that includes parts of Alameda and Santa Clara counties. He will face off against Republican Bob Brunton to succeed Assemblyman Kansen Chu (D-San Jose) in the heavily Democratic district.

As Lee turns 25 years old this summer, the Democratic legislative policy adviser would also be the youngest state lawmaker since 1938 if he wins. It would also mean he would be the first state legislator from Generation Z.

"I definitely think having that strong commitment to a field campaign and canvassing put us over the top," Lee told the Bay Area Reporter, as he quit his job in order to focus on running for office full-time. "It wasn't just me; my campaign team and volunteers, we worked really hard to engage voters where they are at and I think the results speak for themselves."






With lesbians Abigail Medina, a Democrat running for the 23rd Senate District seat, and Assemblywoman Susan Talamantes Eggman (D-Stockton), who is running for the 5th Senate District seat, both placing first in their contests, it is highly likely one or both will become the first LGBTQ women of color to serve in the state Senate. Should Medina defeat her Republican opponent, Rosilicie Ochoa Bogh, she would be the first person who identifies as queer and the first out lawmaker from San Bernardino County serving in the Legislature.

And the LGBTQ caucus could see its first member from Orange County, as gay Mission Viejo businessman Scott Rhinehart took second place in the race for the 73rd Assembly District seat. But the Democrat faces steep odds against his Republican opponent, Laurie Davies, who took first place in the primary for the currently GOP-held seat. Assemblyman William Brough (R-Dana Point), who was accused of inappropriate behavior by four women, lost his bid for reelection.

Altogether 15 out legislative candidates survived their primary races to advance to the November 3 general election. In races for a Senate seat and two Assembly seats, pairs of out candidates will now compete against each other, thus an LGBTQ winner is assured in the trio of races.

Seven other candidates are either expected to win their races or have a serious shot at doing so, while two out Assembly candidates are running against incumbents and seen as having little chance of ousting them from office in November.

Since its creation in 2002, the LGBTQ caucus has had at most eight members at one time. It has yet to see a transgender member and no transgender legislative candidate will be on the November ballot.

This year two LGBTQ caucus members will be departing, as gay Assemblyman Todd Gloria (D-San Diego) is running to be his city's mayor and expected to win the race in November and lesbian Senator Cathleen Galgiani (D-Stockton) is termed out of office. Nonetheless, the LGBTQ caucus is expected to have at least eight members in the next legislative session due to the primary race results.

Ahead of the primary the political action committee for statewide LGBT rights group Equality California spent $43,000 on Facebook and Instagram ads to help its endorsed candidates in a number of the Statehouse races and Gloria's mayoral bid. In a statement the morning after the election, EQCA Executive Director Rick Chavez Zbur noted the "results clearly demonstrated that openly LGBTQ+ Californians and our allies are winning in every corner of the state with a broad, diverse base of support from voters."

At the moment the state with the most out members in its legislature is New Hampshire with 12, hardly surprising since its lower chamber alone has 400 total members. Washington state and Vermont both currently have nine members, while Colorado and Massachusetts each have seven like the Golden State, according to the LGBTQ Victory Fund.

The group, whose aim is to elect LGBTQ people to public office across the country, only endorsed seven of the winning candidates in the California legislative races ahead of the state's primary. It will reconsider endorsements for some of the other candidates in the coming months ahead of the fall election.

In a phone interview, Victory Fund CEO Annise Parker said the group has to be judicious in its endorsement process due to the historic numbers of LGBTQ people running for reelection. With its national focus, it is impossible for the organization to review every endorsement request it receives from out candidates, she noted.

"The number of candidates is skyrocketing," said Parker, a lesbian and a former mayor of Houston. "In all of 2018 we discovered approximately 720 out LGBTQ candidates. We have had more than that through the end of February."

Parker stressed that because the fund didn't endorse a candidate, such as Lee, Medina, and Rhinehart, ahead of their primary race, it doesn't mean the Victory Fund won't endorse them in their general election races. It had endorsed 168 candidates by March 1 and will likely endorse as many as 300 candidates across the country this year, predicted Parker.

"Because we haven't endorsed doesn't mean we aren't interested or planning to endorse," said Parker. "Because we work nationwide, we have to prioritize our time."

The Victory Fund changed its bylaws so it can endorse in races with more than one out candidate, which Parker noted "just a few years ago was unheard of." In those instances, candidates endorsed by the fund in past races are likely to secure the group's endorsement.

Thus, the Victory Fund endorsed gay state Senator Scott Wiener (D-San Francisco) in his bid for reelection; he will compete against queer educator Jackie Fielder in the fall for his 11th Senate District seat. It also backed gay San Diego City Councilman Chris Ward's bid to succeed Gloria in the 78th Assembly District; queer single mom and midwife Sarah Davis also advanced to the November race.

In Riverside County, the Victory Fund endorsed lesbian Assemblywoman Sabrina Cervantes (D-Corona), who is seeking reelection to her 60th Assembly District seat. After trailing in the early vote count, Cervantes pulled ahead of her gay Republican opponent, peace officer Chris Raahauge, to win their primary contest with 53% of the vote.

Along the Central Coast in the race for the 17th Senate District seat, gay former Assemblyman John Laird (D-Santa Cruz) won the Victory Fund's backing in his bid to return to the Statehouse. He is expected to easily defeat Republican businesswoman Vicki Nohis, as Democrat Maria Cadenas, a lesbian single mother and nonprofit executive, failed to advance to the November ballot.

The Victory Fund also endorsed lesbian Senate President pro Tempore Toni Atkins (D-San Diego) and gay Assemblyman Evan Low (D-Campbell), who are both expected to be reelected this fall. And it had endorsed Eggman, who is expected to defeat her GOP opponent, Jim Ridenour, in November to keep Galgiani's 5th Senate District seat in the Democratic column.

It is unclear if the Victory Fund will now endorse Lee, Rhinehart, and Medina in their races for open legislative seats. Nor is it clear if it will back the two out Assembly candidates who placed a distant second in their primary races against straight incumbents.

In the suburbs northeast of Sacramento, lesbian businesswoman and senior advocate Jackie Smith, who used to live in San Jose, is mounting her second bid to unseat Assemblyman Kevin Kiley (R-Granite Bay) from his 6th Assembly District seat. And in Los Angeles, gay Koreatown resident Godfrey Santos Plata, an educator who emigrated as a child from the Philippines, is running to unseat Assemblyman Miguel Santiago (D-Los Angeles) in the 53rd Assembly District.


Web Extra: For more queer political news, be sure to check http://www.ebar.com Monday mornings for Political Notes, the notebook's online companion. This week's column reported that David Campos, the gay chair of the San Francisco Democratic Party, is set to be elected to a full four-year term.

Keep abreast of the latest LGBT political news by following the Political Notebook on Twitter @ http://twitter.com/politicalnotes

Got a tip on LGBT politics? Call Matthew S. Bajko at (415) 829-8836 or e-mail m.bajko@ebar.com