Horizons celebrates 40 years of giving
Wednesday Feb 12, 2020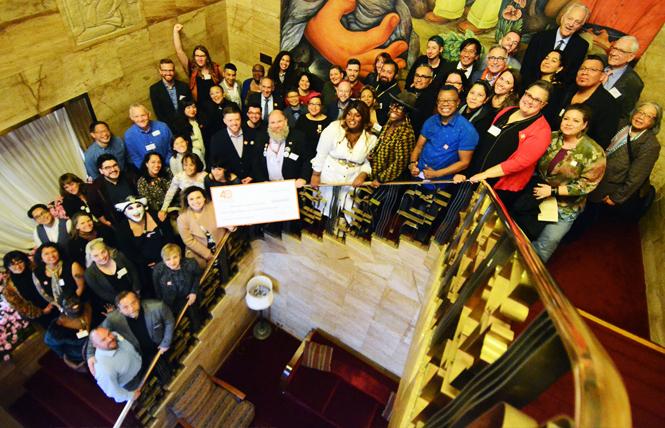 Horizons Foundation is kicking off its 40th year with over $400,000 in grants to Bay Area nonprofits.
The organization held a grantmaking luncheon last week at San Francisco City Club, where a panel discussed the history of the organization and the importance of financially supporting LGBT nonprofits, or those that aren't necessarily LGBT-focused but have a queer program or component.
Among the new slate of grantee partners are 48 organizations that together received $415,734 in funding. Horizons' total grantmaking since 1980 now exceeds $48.6 million, according to Horizons President Roger Doughty.
The new grantee partners include a variety of organizations and projects, some of which focused on fighting LGBTQ homelessness. For example, Homeless Youth Alliance was awarded a grant to provide case management for LGBTQ homeless youth; Dolores Street Community Services received a grant to support Jazzie's Place, the first LGBTQ adult homeless shelter in the nation, a news release stated.
Other recipients include the Sisters of Perpetual Indulgence, Bay Area Old Lesbians Organizing for Change, California Coalitions for Women Prisoners, Community United Against Violence, Face to Face: Sonoma County AIDS Network, Gay Asian Pacific Alliance Foundation, HealthRIGHT 360, Oakland LGBTQ Community Center, Queer LifeSpace, San Francisco Trans March, and the San Francisco Transgender Film Festival.
Many grantees were in attendance at the luncheon, including Jonathan Cook, 29, a gay man who serves as executive director of the Solano Pride Center in Fairfield.
The center received $10,000.
"We're one of three organizations in Solano County that Horizons Foundation is investing in, and we're grateful for their support," Cook told the Bay Area Reporter. "The grant means that we'll be able to increase our capacity and support our most vulnerable clients and insure that we have sustainable funding for the future. I'd like to congratulate Horizons on 40 years and for their legacy of being at the forefront of funding LGBTQ organizations in the Bay Area."
Another grantee is Texas Rose, an Oakland-based country western dance organization for queer womxn, which is inclusive of trans women. It was granted $2,840.
"We have a fantastic community, but in order to keep the community growing, we need to do outreach," said Cheryl Rosenthal, a 58-year-old gender-neutral person of Texas Rose Dance. "At Texas Rose you can find an 18-year-old gender-neutral person dancing with an 80-year-old lesbian and everything in between."
Shawna Virago, artistic director of the Transgender Film Festival, said she was grateful for the grant.
"We appreciate being funded by Horizons," Virago wrote in an email. "We were awarded $9,000 for general operational support, which goes a long way to get our Festival up and running."
Panel discussion
The February 6 luncheon included a panel discussion with Paula Morris, Horizons' former program director (1998-2001); Julie Dorf, former director of philanthropic services (2002-2008); and Francisco O. Buchting, current vice president of grants, programs, and communications. The panel was moderated by Ash McNeely, chair of the grants and programs committee.
McNeely noted that it was only recently that an LGBTQ community center opened up in San Mateo County, where she lives, and that it was Horizons who helped to fund it. The San Mateo County Pride Center opened in 2017.
"You never leave Horizons Foundation," said Morris. "Since I left being on the staff of Horizons Foundation I've worked with a lot of other foundations over the last 20 years, and the work that I've done there has been shaped by the values that I learned from this work at Horizons. I've never seen a group of people take more seriously the charge of deciding, making the really hard decisions about where funds would be allocated with such attention and integrity.
"We spent a lot of time with organizations, for many of them this was probably the first grant proposal, so we spent a lot of time working with them first, to help them understand and talk through what does it mean to submit a grant proposal," she added. "We brought people in to meet with the panel to discuss their proposal, a lot of attention was paid to every step."
Morris noted that the money received by those organizations was "transformational."
"It was often the first grant they received," she said.
Dorf noted that many of the donors were able to learn about groups that they might not come into contact with in their daily lives.
"It was an era when 'pink dollar' was a new term and people wanted to see a gay stamp on their philanthropy," she said. "We did a lot of fantastic grantmaking in the local community, like a donor who had come into money later in life who was a latchkey kid in the Bay Area and wanted to give back to the public libraries, and wanted to make sure there were after school programs for underserved youth, so we did a $100,000 capital gift to the YMCA in the Bayview Hunter's Point."
Buchting spoke of Horizons' participation in Give Out Day, which it now oversees.
"Give Out Day is literally across 50 states, D.C., and Puerto Rico, where we bring over 400 LGBTQ grassroots organizations to engage with over 14,000 donors in one day to raise over $1.1 million last year," he said. "And we're going to grow it even more.
"So that's all great, but the story for me is what's behind Give Out Day," he added. "We engage with organizations in Mississippi who do not have portals to take donations, organizations in North Dakota, organizations in South Carolina, organizations that represent our community across 50 states who are building community and they need a way to find resources. They don't have a Horizons in those states."
Doughty closed out the luncheon.
"At the very heart of Horizons' work has always been community," Doughty said. "Being there for every partner, for everyone through thick and thin through both the unbearable and the triumphant. As many of you have heard me say before, Horizons Foundation has always proudly been, and is proudly today, and will always proudly be of, by, and for this community, our LGBTQ community."
Doughty also talked of vision as Horizons begins its anniversary year.
"One crucial piece that I wanted to add here is that part of what defines these 40 years of grantmaking goes beyond community, and that piece is vision," he said. "The idea of sharing for our community a vision of the future. And that relentlessly, fearlessly forging the untraveled path together."
Doughty added that every single Horizons grant has been in pursuit of a shared vision.
"Our shared vision: it demands equality," he said. "It demands justice, it demands access. It demands that every LGBTQ person has a true and equitable opportunity to find joy and meaning and pride and love in their lives. And if you serve our community as a nonprofit organization of one of our grantees then I know you share this vision. And if you're one of our partners or donors or someone who volunteers their time in this community, I know that you share this vision too.
"That same vision that led our founders 40 years ago to found the very first LGBTQ community foundation in the whole world," he added.
He encouraged attendees not to leave anyone behind.
"A toast to our community for being there for one another," Doughty said. "To leaving none of us behind. A toast to all the brave generations that came before us. And to all the LGBTQ generations that will follow. To this potent mission that we share and to the community that we are creating, and most importantly by far, a toast to all of you."
Comments on Facebook