Editorial: Reelect Wiener to CA Senate
Wednesday Jan 22, 2020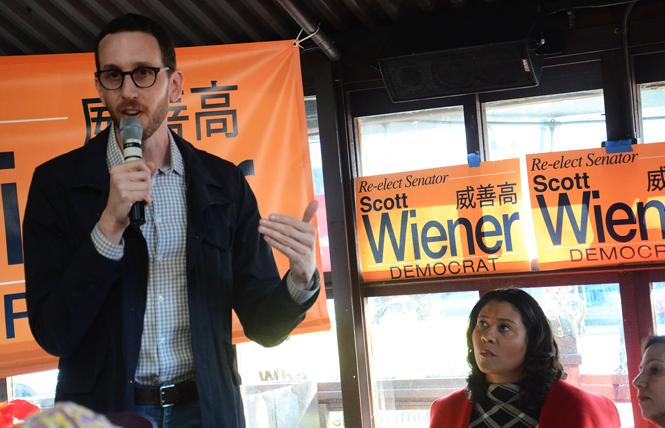 California turned a deeper shade of blue in the last decade, due especially to achievements for LGBTQ rights. Among those, former Governor Jerry Brown signed historic legislation like the Fair, Accurate, Inclusive, and Respectful Education Act in 2011, which was written by gay former state Senator Mark Leno (D-San Francisco), and requires public schools to teach about the contributions of queer people and those with disabilities. When Leno was termed out of the Senate in 2016, he was succeeded by another gay Democratic man: former San Francisco supervisor Scott Wiener. During his first term, Wiener continued to be a progressive voice in that chamber, and authored numerous pieces of major legislation not only benefitting the LGBTQ community, but more broadly the state. He is a tenacious, hard-working, and driven legislator. If one of his bills is tabled or held over for a year, he will reintroduce it. If a constituent experiences a problem with a state agency, and Wiener believes it is based on homophobia, he will demand answers. Governors Brown and Gavin Newsom have signed many of Wiener's important bills into law. He is the current chair of the Legislative LGBTQ Caucus, and in that role has advocated for the community. This week, he and Assemblywoman Shirley Weber (D-San Diego), chair of the Assembly Black Caucus, wrote a letter to Newsom asking that he posthumously pardon gay, African American civil rights activist Bayard Rustin.
Wiener is now up for reelection and voters have a choice. While there are two other out candidates running against him — a queer Democratic socialist Native American woman to his left and a Republican trans woman to his right — Wiener is the strongest candidate. Wiener is simply an excellent state senator and we recommend him for a second term so he can continue delivering for us — and for the people of California.
Transgender issues
From his earliest days in the Legislature, Wiener made trans issues a priority and has maintained his steadfast support. He jointly authored a bill with lesbian Senate President Pro Tempore Toni Atkins (D-San Diego) that Brown signed to create a third, nonbinary marker on government IDs. Known as the Gender Recognition Act of 2017, SB 179 also eliminates obstacles for transgender and nonbinary individuals seeking a state ID.
This year, Wiener is again attempting to pass SB 132, the Transgender Respect, Agency and Dignity Act, which addresses issues that trans inmates experience in state prison. As we reported, the legislation, which Wiener first introduced in 2018 only to see it fail to advance out of the committee review process that year, will house incarcerated transgender people in California prisons based on their gender identity, unless doing so puts their safety at risk. Currently, transgender female inmates are housed in men's prisons, while transgender male inmates are housed in female prisons; also included in the bill would be a requirement that transgender inmates be referred to by their preferred pronouns, gender, and name.
During an editorial board meeting in December, Wiener said that he had visited with inmates, both transgender and cisgender, to listen to their concerns about his legislation with the intent of fine-tuning it in preparation for another legislative review. Despite estimates that it will result in "potentially major" costs for the state's prison system, the California Department of Corrections and Rehabilitation is supportive of the bill and has worked closely with Wiener on its language. The inmates Wiener visited mostly expressed support, including trans female inmates who want to transfer to women's prisons, and cis female inmates seemingly OK with being housed with trans female inmates, as long as potential safety concerns are addressed.
This bill will be life-changing for trans inmates, who are often an afterthought to many policymakers. Not to Wiener. "I've been delivering for the trans community for decades," he told us.
Criminal justice
Wiener, a lawyer who once served as a deputy city attorney in the San Francisco City Attorney's office, is committed to criminal justice reform, particularly as it relates to the LGBTQ community. One of his most significant pieces of legislation was SB 239, co-authored with gay Assemblyman Todd Gloria (D-San Diego); signed by Brown in 2017, it modernized the state's HIV criminalization laws adopted during the height of the AIDS epidemic in the 1980s. The law requires proof that transmission of HIV did occur in order for a person to be prosecuted for intentionally transmitting the virus to a sex partner.
"Fundamentally, the heart of this bill is that being sick is a health issue not a criminal issue and treating people with a health condition as criminals doesn't make them healthy, doesn't reduce the spread of infectious diseases, it just pushes people into the shadows and makes matters worse," Wiener said at the time.
This year, Wiener is trying to pass SB 145, LGBTQ Young People Nondiscrimination in the Sex Offender Registry. It would grant judges discretion to decide if a person be required to register as a sex offender if that person is within 10 years of age of a consensual sexual partner between the age of 14 and 17 and engages in oral or anal intercourse with the younger person. Under current law, anyone found guilty would automatically be added to the state's sex offender registry.
The bill aims to include a "Romeo-Juliet" clause for gay and lesbian teenagers so they are treated similarly to their heterosexual peers. For example, adolescents would not risk being listed on the state's sex offender registry if they are both under 18. While an 18-year-old who has sex with a 17-year-old or younger partner could still be prosecuted for statutory rape, under Wiener's bill, they might not need to register as a sex offender if convicted. Last year the bill stalled in the Assembly Appropriations Committee after the chair, Assemblywoman Lorena Gonzalez (D-San Diego), expressed some concerns about the impacts of the bill on the youngest youth it covers and held it in her committee. Wiener told us that he is now working with Gonzalez to address her concerns.
Housing
Perhaps no issue riles up Wiener's opponents more than housing, but they often do not offer any realistic alternatives or comprehensive plan to address our housing crisis. Wiener this year amended his controversial SB 50, which would raise height limits around transit lines and allow denser development in high-income areas. Changes he recently announced give cities more flexibility to circumvent some of SB 50's provisions if they come up with their own schemes to increase housing, as the San Francisco Chronicle reported; this makes sense as the housing crisis is a statewide problem that impacts everyone but whose solutions must be tailored to the local situation to be successful. We've written before about the crucial need for a regional approach to housing — below-market, affordable, subsidized, and market-rate — and SB 50 is a step in that direction. Last week, Atkins gave a major push to the legislation when she used her prerogative as Senate president to move SB 50 to her rules committee, rather than remain on its current track to the appropriations committee, where the chair is against it. This maneuver will give Wiener additional time to tweak the bill and it could head directly to the Senate floor for a vote, the Chronicle noted.
Cities like San Francisco depend on market rate development to help fund construction of affordable housing. BART has embarked on a program whereby it's seeking housing development on its property near train stations. Now is the time for the state to have a law like SB 50 that will increase density and allow more housing to be built. San Francisco supervisors last year rejected a housing complex over concerns that it would cast a shadow over a South of Market park. Meanwhile, the New York Times has reported that shade is a valuable community asset now that average climate temperatures are rising, especially in lower income neighborhoods where it is scarce. We need housing, at all income levels, throughout the state — with shade and without.
Constituent services
Wiener's tenure has been marked by huge accomplishments but he's also fought for us in smaller, yet meaningful ways. When a gay constituent of Wiener's wanted a vanity license plate for his motorcycle that indicated he was a leather daddy, the Department of Motor Vehicles last year rejected it. Wiener fired off a letter castigating the agency for its refusal to approve the plate, writing that the agency had homophobic notions about leather daddies. But after meeting with the former acting head, who presented Wiener with a list of other approved vanity license plates with the "LTHR DDY" configuration, Wiener said he was satisfied with DMV's decision. The constituent got the last laugh when his subsequent request for a vanity plate reading "DEPRAVT" was approved. As we reported, it was lifted straight from the rejection letter the DMV had sent him explaining it could not approve the "LTHR DDY" license plate because it can be read "as a term of lust or depravity."
Wiener is unfailingly present at community events, fundraisers, and rallies for myriad causes. He is a leader on wider issues like net neutrality and holding Pacific Gas & Electric Co. accountable in the wake of devastating wildfires. He is a vocal opponent of President Donald Trump and his racist, corrupt administration.
Last week, Wiener introduced legislation to establish a statewide plan for ending HIV/AIDS, hepatitis C, and sexually transmitted infections. In 2019 he co-authored the law, signed by Newsom, making a maximum two-month supply of PrEP available without a prescription at pharmacies. That goes into effect July 1. The new proposed statewide plan — which California does not have — would correct the current state of affairs. "There is not a unified, coherent strategy" to end those epidemics, Wiener told us. He said he would secure funding in this year's budget and envisions a "dramatic PrEP expansion" as part of the plan. Wiener, who takes PrEP himself, is clearly aware of the disparities when it comes to PrEP access, including for communities of color, rural areas, and the trans community. The purpose of the statewide plan, he said, is to "force the state to deal with these issues."
Wiener's opponents in the March 3 primary simply do not have the breadth of experience or command of the legislative process that he has. He will — and has repeatedly — taken on tough issues that at times we thought would be hugely controversial, such as HIV decriminalization. Because of his keen understanding of the process, and the fact that he does his research and works with other legislators, many of his bills become law.
"Over and over, I've passed hard, controversial legislation," he said. "I know how to build coalitions and even got Republican votes."
Reelecting Wiener to the state Senate is essential to the future of LGBTQ and progressive issues in San Francisco, the wider Bay Area region, and the state. We endorse him in the March 3 primary.
[Updated, 1/29/20: This editorial has been updated to correctly attribute the shade reference to an article in the New York Times.
Comments on Facebook