News Briefs: Golden Gate Park birthday events begin
Wednesday Jan 22, 2020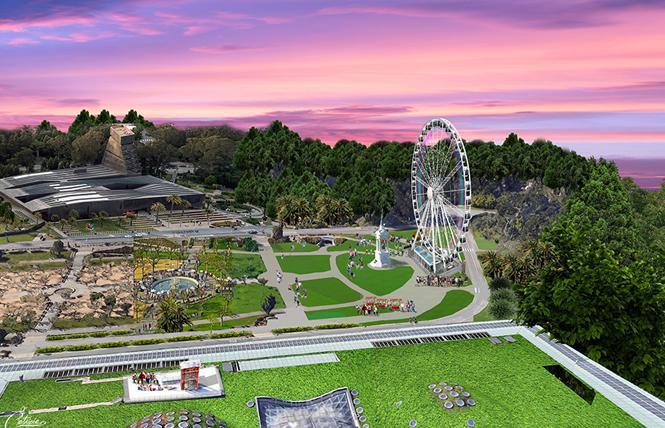 San Francisco's Golden Gate Park celebrates its 150th birthday this year and events to commemorate the occasion are starting.
The San Francisco Recreation and Parks Department said that the anniversary will kick off with a tree planting Tuesday, January 28, from 10:30 a.m. to 1 p.m. at the John McLaren Rhododendron Dell in the park. (Along John F. Kennedy Drive; enter the park at Eighth Avenue and Fulton Street.) The formal program begins at 11.
Mayor London Breed will be there, along with community groups, cultural partners, and volunteers as 150 trees are planted in the park.
For volunteer sign-up and additional details, go to https://bit.ly/2FZ5Wot
Last week, city officials gave final approval to the planned Ferris wheel that will be installed in the park's music concourse between the de Young Museum and the California Academy of Sciences.
The observation wheel is expected to be installed by March, with 12-minute rides costing $18, or $12 for seniors and children under 13. (Rides will be free during the April 4 community day celebrating the opening of the park.) City officials required that it be dismantled after a year.
City job fair
In other Rec and Park news, the agency announced that a city job fair will be held Saturday, January 25, from 10 a.m. to 1 p.m. at the County Fair Building, 1199 Ninth Avenue (at Lincoln Boulevard).
Employers expected to be on hand include Rec and Park, the Department of Human Resources, San Francisco International Airport (city and non-city airport jobs), the sheriff's department, controller's office, police department, fire department, public library, Muni, public health, public utilities commission, human service's Jobs Now, the San Francisco Unified School District, and local community organizations.
Job training and programming resources will be available through groups such as Self Help for the Elderly, the school district, and City College of San Francisco.
Assistance will be available for the city's application system.
For more information, contact rpd_recruitment@sfgov.org or (415) 831-2726.
Nominations sought for Turman award
The foundation arm of Bay Area Lawyers for Individual Freedom, the local LGBT bar association, is now accepting nominations for its first Julius Turman Award.
Turman, a gay man, was an attorney and former member of the San Francisco Police Commission. He died in 2018 at the age of 52.
In an email to supporters, BALIF law student representatives Ava Agree, Josiah Pal, and Virginia Millacci wrote that the organization is celebrating its 40th anniversary this year. The BALIF Foundation established the Turman award as part of that effort, and one will be granted to a law student each year who has shown outstanding commitment to advocacy for LGBTQ individuals.
The recipient must be a current member of BALIF, enrolled at a Bay Area law school, identify somewhere on the LGBTQ+ spectrum, and must be available to receive the award at the BALIF gala March 6. The awardee will receive a stipend of up to $1,500 to be used in support of attending Lavender Law or another appropriate conference or purpose as identified by the recipient and the award committee. Additional benefits at Lavender Law may be offered.
People can nominate themselves or someone in the community. Nominations must be received by January 31. Finalists will be invited to participate in an interview in early February.
To complete the nomination form, go to https://bit.ly/30rdj1g
CCOP to receive award
Castro Community on Patrol will receive the Outstanding Neighborhood Watch Award when the Neighborhood Empowerment Network holds its 12th annual event Wednesday, January 29, from 6 to 8:30 p.m. in the Rotunda at San Francisco City Hall, 1 Dr. Carlton B. Goodlett Place.
Mayor London Breed will be on hand. The awards recognize community safety groups, city workers, and youth leaders.
Greg Carey, chief of patrol for CCOP, a volunteer safety group, wrote in an email that the organization is excited to be honored.
"We were pleasantly surprised when informed of this award," he wrote. "It's the first time NEN has honored Castro Patrol. We have trained over 400 volunteers since 2006 who have been able to provide various lengths of service to help improve the safety of the neighborhood."
Carey added that CCOP continues to have a core group of dedicated volunteers that serve a variety of functions and always welcomes new people.
CCOP's next training event is Tuesday, March 10. For more information, visit www.castropatrol.org
There is no cost to attend the NEN awards. Those interested in going should register at https://bit.ly/2uY3QTr
Elections department looking for poll workers
The San Francisco Department of Elections has announced it is recruiting people interested in serving as poll workers for the March 3 primary election. Poll workers receive a stipend ranging from $180 to $240, depending on the assignment.
"The department expects the 2020 elections to be among the largest in the city's history," director John Arntz said in a news release. "There is no better way to fully participate in these historically significant moments than supporting our community and being a poll worker."
Each election, the department recruits more than 2,000 volunteers to assist voters at the polls. Those who served as poll workers before, as well as new people, receive training and materials to make sure they are prepared to help voters on Election Day.
There are several ways people can apply. They can fill out an application at www.sfelections.org/pwa; call the department's recruitment team at (415) 554-4395; or apply in person at the elections department during business hours, located in Room 48 of City Hall, 1 Dr. Carlton B. Goodlett Place.
In addition to poll workers, the department is currently hiring temporary employees to assist with numerous tasks to be completed prior to, during, and after the election. A listing of available positions is on the Department of Human Resources' website at www.jobapscloud.com/sf
Comments on Facebook