Online Extra: Boudin sworn in as new SF district attorney
Thursday Jan 9, 2020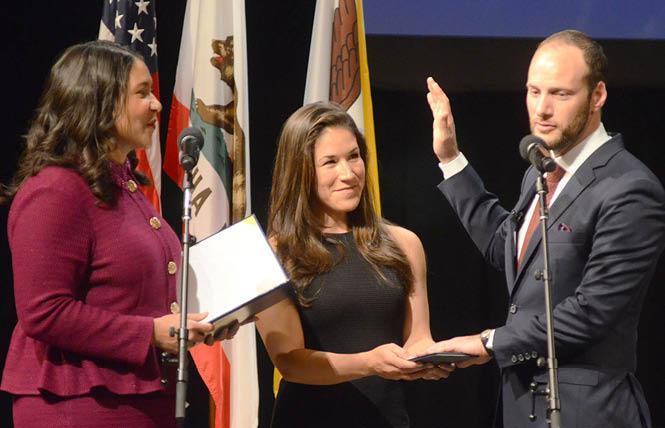 The Chesa Boudin era began Wednesday, January 8, as the reform-minded former deputy public defender was sworn in to his new post as San Francisco district attorney.

Mayor London Breed administered the oath of office.

Before a packed house of supporters at Herbst Theatre, Boudin, 39, said he would immediately get to work enacting campaign promises, including ending cash bail.

"We end a system by which innocent people can be kept in jail because they're poor, while wealthy people who are guilty and dangerous go free," he said, according to a copy of his speech.

Another priority is giving crime victims closure and "a path to restoration."

"We have already begun working to clear this backlog of cases," he said. "Accountability must be swift, certain, consistent, and predictable. By finding resolutions for old cases, we can address the needs of crime survivors and heal as a city."

He also vowed to end "racist, punitive sentencing enhancements that punish people for who they are, where they live or something in their distant past rather than the harm they caused. Three strikes ends now in San Francisco."

Boudin also pledged to start a "new and improved" sexual assault response policy. In his speech, he thanked his predecessor, former interim District Attorney Suzy Loftus, and San Francisco Police Chief William Scott, for "forwarding this initiative over the last two months."

Loftus, who narrowly lost to Boudin in the DA's race, had been appointed to the position by Breed after the sudden resignation of former District Attorney George Gascón last October. (Gascón is now running for DA in Los Angeles County.)

Boudin also outlined other priorities.

Regarding auto burglaries, he said, "To address this property crime crisis, we will be rolling out a three-pronged response: First, in partnership with SF Safe, we will be piloting an initiative to detect and map the flow of stolen goods from car break-ins. Second, we will prevent auto burglaries through a public awareness and education campaign. Third, in partnership with Supervisor Dean Preston, we will be sponsoring legislation to better meet the needs of victims."

He said he plans to have the DA's office launch an immigration audit, "one that builds trust between our immigrant communities and the justice system."

"When immigrants are fearful of deportation, of illegal acts by ICE, and refuse to cooperate with law enforcement, we are all less safe," he said, referring to federal Immigration and Customs Enforcement.

Boudin, whom the powerful San Francisco Police Officers Association attacked during the campaign with mailers describing him as "The #1 choice of criminals and gang members!" nonetheless said he would work with the San Francisco Police Department.

"We must work together," he said. "We will partner with the police, the sheriff, the highway patrol, the Department of Public Health, and with all of the agencies and community groups that share a commitment to making this city safer and more just. Our perspectives and experiences are different. There will be disagreements, but our cooperation and shared goals will prove resilient. All of us on this stage, all of us in city government, all of us in this room — we will go further together."

Boudin's compelling life story helped carry him to victory in the DA's race. His parents were part of the radical, left-wing Weather Underground in the 1970s and drove the getaway car in an armed robbery that took three lives. His mother spent 22 years in prison and his father is still incarcerated.

Boudin's mother, Kathy Boudin, was in attendance at Wednesday's inauguration. Attendees also watched a video message from U.S. Supreme Court Justice Sonia Sotomayor.