Facebook faces twin protests in new year
Monday Dec 30, 2019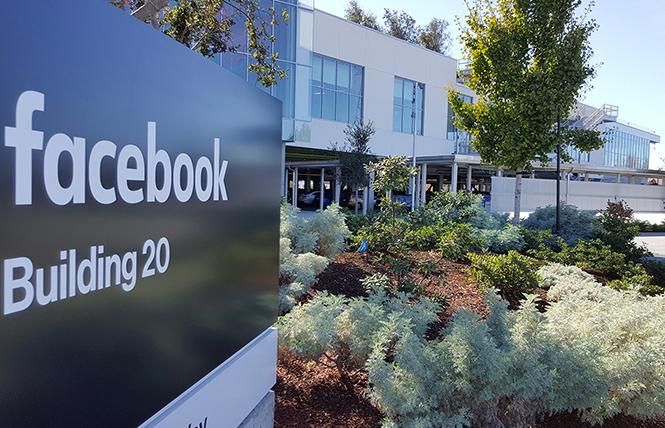 California activists are planning twin protests against Facebook, even as the Menlo Park-based tech giant is facing criticism from a San Mateo County supervisor over profiting off user data after years of controversies involving the LGBT community.
"Save Our Democracy, Protest Facebook" is a two-hour protest scheduled for January 9 at 4 p.m. at Facebook's headquarters at 1600 Willow Road (Building 10, closest to the Facebook sign) in Menlo Park on the Peninsula.
The protest is being sponsored by more than a dozen organizations, according to Andrea Buffa, a straight ally and "frustrated Facebook user" who initiated the protest and is a lead organizer.
"I was sitting around at Thanksgiving talking with family and friends expressing incredible frustration at Facebook for its most recent policy to allow politicians to blatantly lie in their ads," Buffa said in a phone interview with the Bay Area Reporter. "I decided to reach out to a couple of organizations, to Media Alliance, to see what we can do."
Tracy Rosenberg, a straight ally who is the executive director of Media Alliance, said that she is "hoping some Facebook employees will come out and join us."
"We know these are issues they care about," Rosenberg wrote in an email to the B.A.R. "And this isn't going to be a one-time thing — it's going to be just the beginning of a pressure campaign to get Facebook to stop allowing lies and hatred to be spread using its platform."
Rosenberg said that she expects to have a better idea of how many people are going to join the in-person protest after New Year's Day.
"We know the exasperation with Facebook is widespread," Rosenberg said. "It remains to be seen how many people think going to Facebook's door and saying something directly will make a difference."
The other January 9 protest is a Facebook "blackout," which was started by Andrew Arentowicz of Los Angeles.
Arentowicz is asking people to turn their Facebook profile pictures black for 48 hours "to demonstrate the overwhelming opposition to your reckless political ad policy," according to an open letter to Facebook on the blackout's website.
"Usually you can't tell when people are 'blacking out' a company by staying off of a platform in protest, but we're hoping that this idea of blacking out your cover photo and profile photo will really appeal to people because it's something visible," Rosenberg said. "We don't expect it to be the last and it is growing over time. We expect a series of these online actions to continue to grow as we move closer to the 2020 election."
Rosenberg said that the Facebook blackout has a Facebook event page, but that Facebook won't let the organizers run ads to promote it, claiming a violation of its ad policy.
No stranger to controversy
Facebook, of course, is no stranger to controversy. It has been criticized for allegedly inconsistent policies regarding ads and political messages and blocking drag queens, trans people, and others from using their preferred names.
Facebook CEO Mark Zuckerberg testified before congressional committees in 2018 and 2019 over concerns about user privacy and his intention to create a cryptocurrency, Libra.
While on Capitol Hill, he also faced questions about how Cambridge Analytica, a political consulting firm assisting in the 2016 Republican presidential campaign of Donald Trump, harvested the personal information of tens of millions of Facebook users without their knowledge and used it for political purposes.
In the 2019 hearing, Zuckerberg had a heated exchange with Congresswoman Alexandria Ocasio-Cortez (D-New York) that clarified that false political advertising is allowed on Facebook. It is this policy that has led directly to the upcoming protests.
Relations with LGBTs strained
As the B.A.R. previously reported, in 2018 Facebook banned the GLBT Historical Society, which runs the GLBT History Museum at 4127 18th Street in the Castro, from boosting a post about "Fighting Back: Transgender Rights Activism," a community forum on the history of trans activism, because the society's page had "not been authorized to run ads with political content."
A year earlier, Facebook rejected an ad from the society seeking volunteers for the Folsom Street Fair.
Terry Beswick, a gay man who is the executive director of the society, said he would not comment for this story; but Rosenberg said that what happened was an example of Facebook doing "too little, too late for so many groups of people whose policies it has harmed."
"Zuckerberg has wrapped himself in the mantle of free speech when he wants to let politicians lie in their ads and let extremism and hate speech run wild, but at the same time the company regularly won't allow nonprofit organizations to boost posts on 'political' issues like a transgender rights seminar," Rosenberg said.
Sister Roma of the Sisters of Perpetual Indulgence echoed that sentiment.
"It sounds to me like Facebook is refusing to add the manpower to fact check the advertising and therefore denying any accountability for the content of those ads," Sister Roma wrote in an email to the B.A.R. Monday, December 23. "It's lazy and shameful."
Sister Roma was part of a dust-up with Facebook several years ago. Facebook required individuals to use legal names while setting up accounts, a policy that many transgender people and drag performers found inappropriate.
After a September 17, 2014 meeting that included Sister Roma, Facebook decided not to change the policy but it did apologize to the LGBT community for the harm that was done and promised to change how the policy is enforced.
"We didn't get everything we wanted, but the #MyNameIs team did have a great impact on Facebook's understanding of queer and trans identity," Sister Roma wrote. "As a direct result of our activism, Facebook implemented changes to the way a profile can be reported for having a 'fake' name. We also got them to add an appeals process that includes a provision for being LGBTQ — which was a huge accomplishment. People are still getting flagged and suspended but it's much better."
Sister Roma stopped short of endorsing the January 9 protests, but encouraged LGBT activism and involvement.
"I absolutely think that LGBT people should support and participate in this protest — and any and all protests — that interest them," Sister Roma wrote. "Our civil rights, our freedom, our very LIVES are at stake with every election, especially the one approaching in 2020."
Data dividend
In a letter to California Governor Gavin Newsom Friday, December 20, District 5 San Mateo County Supervisor David Canepa, a straight ally, said that companies that make money off the personal information of their users, like Facebook, should either "pay out" or users should "log out."
"The data dividend could either be distributed to the consumer directly or put into a fund that would then be redistributed to the working poor and middle class," Canepa wrote in an email to the B.A.R. Thursday, December 26.
The idea of companies paying Americans a dividend on the money their data produces picked up steam in 2019, with Democratic presidential candidate Andrew Yang discussing it at length in the primary debates and Newsom himself endorsing the idea.
"It's a lofty idea but when you look at Facebook being a 500 billion dollar company because it peddles in our data, then I think some of that revenue should be given back to us," Canepa said. "It's like the oil dividend in Alaska."
Canepa was also critical of Facebook's policies as they relate to LGBTs.
"I think Facebook needs to take a deep look at itself when it arbitrarily decides to deem LGBTQ-themed ads as political," he said. "Transgender people are the most discriminated against group in America. They should be able to communicate on social media and have a sense of safety."
Facebook and Newsom's office did not respond to requests for comment as of press time.
Comments on Facebook