Gay New Age guru Ram Dass dies
Monday Dec 30, 2019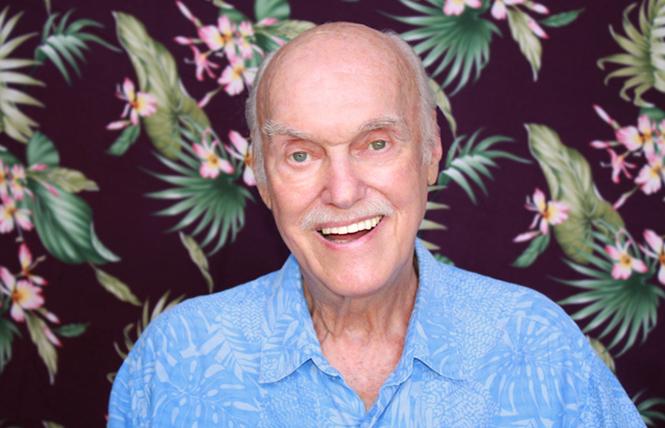 Ram Dass, a gay man who epitomized the countercultural psychedelic 1960s and later became a bestselling New Age guru, died December 22 at his home on Maui, Hawaii. He was 88, and surrounded by loved ones, according to his Instagram account.

His name is forever associated with Timothy Leary as they popularized their experiments with psilocybin (from mushrooms) and LSD, using the drugs to expand their consciousness and find beneficial uses.

Mr. Dass was born Richard Alpert, the son of a wealthy Jewish lawyer, one of the founders of Brandeis University. He received a Ph.D. in psychology at Stanford and then taught at Harvard, where he met Leary. According to published obituaries, when their work with mind-expanding drugs became public with the revelation Mr. Dass was giving drugs to undergraduates, both professors were fired. Feeling restless, unfulfilled, and slowly disenchanted with his continued drug use, Mr. Dass traveled to India in 1967, where he met an ashram teacher Neem Karoli Baba/Maharaj-ji. When he told Mr. Dass specifically how his mother died, which he could not have known and when given a high dose of LSD it had no effect on him, a transformed Mr. Dass recognized Maharaj-ji's high level of spiritual development and became his guru.

Renamed Ram Dass (Servant of God) by Maharaj-ji, he returned to the U.S., writing down his spiritual journey and techniques, an eclectic combination of Eastern mysticism, Hindu bhakti yoga, and New Age philosophy in the 1971 book "Be Here Now," a hodge-podge stream of consciousness style, that eventually sold 2 million copies. It would later be christened the countercultural bible.

Mr. Dass dedicated his work to social change, what he termed compassion in action, especially the spiritual growth of prisoners and support to the dying, most particularly people with AIDS. It was reported in his obituaries that a severe stroke nearly killed him in 1997, leaving him speechless. He made a partial recovery, but remained disabled in a wheelchair for the rest of his life. He continued to write books and held teachings online as well as retreats at his Maui home. A 2001 biographical film documentary, "Ram Dass: Fierce Grace," about his spirituality and aging, was a critical success, which led to a positive reevaluation of his career.

In 1994, in an interview with gay journalist Mark Thompson, later published in his book, "Gay Soul: Finding the Heart of Gay Spirit and Nature," Mr. Dass publicly came out, one of the first New Age celebrities to do so. Previously he had referred to himself as bisexual in his writings, though most of his relationships were with men. (Mr. Dass did have a son, Peter Reichard, from a previous relationship with a Stanford graduate student, according to the New York Times obituary of him.)

With his graduate work at Stanford, he got more involved with gay life in San Francisco. He confessed to having had "thousands of sexual encounters," and also that his expulsion from Harvard was due as much to his sexual escapades with young male students as giving them drugs. Initially, he saw being gay as deeply pathological, having been trained as a Freudian therapist, and never saw it as a central defining characteristic, objecting to labeling people as a kind of attachment. Still he came to believe that being gay "deepened the quality of my compassion toward other human beings who are ostracized," he once said. He admired the gay community for keeping pressure on the larger culture to disclose its prejudices, but to do it with less confrontation and more wisdom. "The art form is to enjoy being gay without being trapped by it," he said.

In a 2001 interview with Houston's OutSmart magazine, he related the following incident: "I was standing in line at the adult movie theater in Chicago. And this hippie came walking by, saw me, and started a conversation. As we talked, I could see him registering where I was, his brain scrambling to comprehend that Ram Dass, the spiritual teacher, was standing in line at the gay porn theater. I was trying to decide whether to be honest and go into the theater or to walk down the street with him to get coffee. I chose to go into the theater. It took a lot of courage for me to do that. My own guilt and shame were so strong. It was the perfect opportunity for me to Be Here Now!

"As for the young gay kids coming out and growing up, I say this, 'Don't label yourselves. Allow your minds and your souls to connect with everyone you meet,'" he told the magazine.

In one of his later books, "Be Love Now," he reached a level of self-acceptance, having surrendered perfectionism — so one could be loved enough — as coming from unworthiness and inadequacy: "You are loved just for being who you are, just for existing. You don't have to do anything to earn it. Your shortcomings, your lack of self-esteem, physical perfection, or social and economic success — none of that matters. No one can take this love away from you, and it will always be there."
Comments on Facebook