News Briefs: Boudin to be sworn in as SF DA
Monday Dec 30, 2019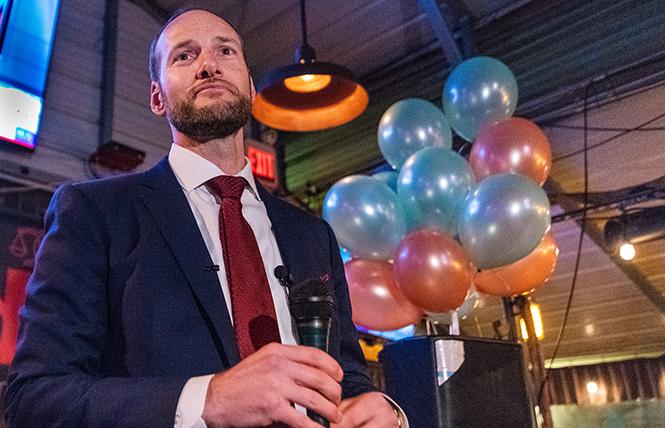 Chesa Boudin, who won a hard fought race for San Francisco district attorney in 2019, will be sworn in during a ceremony Wednesday, January 8, from 5:30 to 6:30 p.m. at Herbst Theatre, 401 Van Ness Avenue. Doors open at 5.
Boudin edged out an election victory over Suzy Loftus, who had been appointed interim DA just days before absentee ballots were sent out in October. Mayor London Breed, who endorsed Loftus, named her to the interim post after former DA George Gascón abruptly resigned in early October. He moved to Southern California and is now running for DA in Los Angeles County.
While Loftus held a slim lead on Election Day, November 5, Boudin won the race in the third round of ranked-choice voting with 50.83% of the vote to Loftus' 49.17%. (For more on Loftus' tenure as interim DA, see related story.)
Boudin is a progressive reformer who wants to end the criminalization of mental illness and poverty, among other changes.
"My election and swearing into office as DA represent a significant opportunity to improve San Francisco's response to public safety issues and to restore trust between law enforcement and the communities that we swear to serve and protect," Boudin wrote in an email to the Bay Area Reporter. "The whole country will be watching to see if, as we so often have, San Francisco can lead the way towards a more humane, victim-centered response to crime which focuses on root-causes rather than simply punishing symptoms."
Kevin Bard, president of the Harvey Milk LGBTQ Democratic Club, which endorsed Boudin, said he was planning to attend.
"I've reserved my tickets and might even volunteer if they need me," he wrote in a Facebook message to the B.A.R.
"With Chesa, I am looking forward to cash bail finally ending and police accountability finally beginning," Bard added.
The event is free. To sign up, go to https://bit.ly/34URAiJ
Recology to collect Christmas trees
San Francisco Public Works, San Francisco Environment, and Recology have announced that the refuse company will begin picking up Christmas trees of San Francisco residents from January 2 through January 15.
This annual program helps keep the city "clean and green," officials said.
Trees will be collected curbside by a dedicated truck on residents' scheduled collection day. People are reminded to remove all tinsel, decorations, plastic bags, stands, and lights from their trees when set out for collection. Trees measuring more than 6 feet tall need to be cut in half. Trees should not be put into a plastic bag.
Recology's holiday schedule is available at www.recology.com
For more information, contact customerservice@recologysf.com or (415) 330-1300.
Compton's cultural district launches art exhibition
The Compton's Transgender Cultural District has announced its first art exhibition, in partnership with Pentacle Coffee in San Francisco's South of Market neighborhood.
The exhibition, "PLURALS," is a two-person transgender and queer art show that combines the work of Joel Gregory and KC Crow Maddux.
Ellis Martin, an Oakland-based artist and digital archivist, is curator. Martin is known for his most recent effort as editor of "We Both Laughed in Pleasure: The Selected Diaries of Lou Sullivan" (Nightboat Books, 2019), chronicling the journey of Sullivan, a noted transgender activist who died in 1991.
"PLURALS visually expands the transgender vernacular," Martin said in the release. "Works by Joel Gregory and KC Crow Maddux engage multiplicity to defy expectations. These works hover between the embodied and the symbolic, the historical and humorous. They take multiplicity to the next dimension."
Founded in 2017, the Compton's Transgender Cultural District is the first legally recognized transgender district in the world. It's named after the first known uprising of trans and queer people in the U.S., the Compton's Cafeteria riots of 1966. It encompasses six blocks in the southeastern Tenderloin and crosses over Market Street to include two blocks of Sixth Street.
Its mission is to create an urban environment that fosters the rich history, cultural legacy, and empowerment of transgender people.
The "PLURALS" art exhibition opens Friday, January 10, from 6 to 9 p.m. at Pentacle Coffee, 64 Sixth Street. The exhibit will be on display until February 28.
For more information about the Compton's cultural district, visit www.transgenderdistrictsf.com
For more information about the artists, visit www.joelgregory.co and www.kccrowmaddux.com
Comments on Facebook