News Briefs: Start the new year with a hike
Monday Dec 23, 2019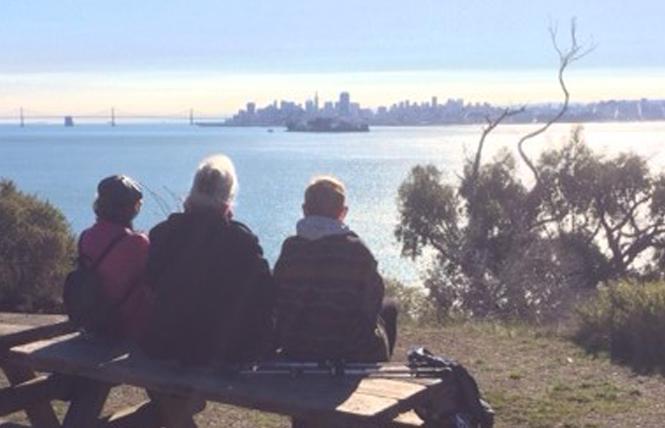 People looking to get a fresh start in the new year — as well as burn off some of those calories from the holidays — can enjoy a First Day Hike at state parks throughout California.
Docents, volunteers, and staff will be providing about 50 hikes on New Year's Day at various state parks, including Angel Island in San Francisco and Año Nuevo in San Mateo County.
"First Day Hike creates opportunities to connect with families, friends, and communities," California State Parks Director Lisa Mangat said in a news release. "Public outdoor places support healthy, affordable, physical, and social activities. California's state parks are a gateway to these benefits. Come join staff, docents, and volunteers as well as fellow outdoor enthusiasts to welcome the new year."
This is the 10th year California has participated in the First Day Hikes Program, which is part of a nationwide initiative led by America's state parks to encourage people to get outdoors. More than 33,000 visitors took part in over 1,110 hikes in 2018 in the U.S. and Canada. That included more than 2,400 visitors at 55 California state parks.
Angel Island State Park has beautiful vistas of San Francisco and the Golden Gate Bridge and features a rich history. Año Nuevo, south of San Francisco, offers a variety of natural and cultural resources, including equal access walks to see the famed elephant seals.
For a complete list of participating state parks and how to safely enjoy a First Day Hike, visit www.parks.ca.gov/FirstDayHikes
Hikes are still being organized and will be added to the website. Visitors are encouraged to share their experiences on social media using the hashtags: #HikeInto2020, #FirstDayHike, and #CAStateParks.
Free Muni, later BART for NYE
The San Francisco Municipal Transportation Agency will again offer free rides on New Year's Eve from 8 p.m. Tuesday, December 31, through 5 a.m. Wednesday, January 1.
"We wish all San Francisco residents, workers, and visitors a safe and happy New Year," said Jeffrey Tumlin, a gay man who started as the city's new director of transportation December 16. "So to help everyone celebrate the end of 2019 without worrying of drinking and driving, we are providing free Muni service on New Year's Eve to get you around the city and safely home."
This will be the 20th year of free Muni on New Year's Eve. This year, 76 is sponsoring it.
The free rides include all Muni lines and routes. Buses will provide service on cable car lines after approximately 6 p.m. Buses will provide service on the F-Market streetcars all day.
Clipper card customers should not tap their cards to make sure they don't get charged a fare. Muni mobile passes will not be necessary. Metro fare gates will be open that night.
At midnight, a city-sponsored fireworks show from a barge off of The Embarcadero, south of the Ferry Building, will take place. Motorists should anticipate delays between 11 p.m. and 1 a.m.
For more information, visit http://www.sfmta.com
Over at BART, service will not be free, but it will be extended until approximately 3 a.m. January 1.
After 8 p.m. December 31, BART service to and from the East Bay will be split between the Embarcadero and Montgomery stations in downtown San Francisco. Antioch and Richmond trains heading into the city will not stop at Embarcadero; exit at Montgomery station for the fireworks show. Dublin/Pleasanton and Fremont/Warm Springs trains will not stop at Montgomery; people should exit at Embarcadero.
After the fireworks, Dublin/Pleasanton and Fremont/Warm Springs trains will not stop at West Oakland; the first East Bay stop will be Lake Merritt station.
Millbrae and Daly City passengers should use Montgomery Street station.
Regular fare pricing applies. For more details, visit http://www.bart.gov
Caltrain service will be free after 8 p.m. December 31, and continue until 5 a.m. For more information, visit http://www.caltrain.com
SamTrans will offer free rides on all buses beginning at 8 p.m. December 31, and continue until 5 a.m. For more details, visit http://www.samtrans.com
Santa Rosa Jr. College offers class for LGBT seniors
Santa Rosa Junior College's older adults program has announced that Aging Gayfully, its popular class for older LGBT adults, will be offered during the Spring 2020 semester. The class is on Thursdays from 11 a.m. to 1 p.m. from January 16 to May 14 at the Finley Center Person Senior Wing, 2060 West College Avenue in Santa Rosa.
The instructor is Gary "Buz" Hermes, an LGBT aging consultant who has facilitated workshops, classes, and discussion groups for over 30 years. There is no class fee but the Santa Rosa Department of Parks and Recreation charges a facilities use fee of $3 per class for non-members.
Students will discover LGBT aging strategies and community support and share their life experiences with peers.
Hermes noted that people can come and check out the first class and if they want to continue, he will help them with registration.
For more information, contact Hermes at (707) 227-6935 or garydhermes@comcast.net
APIQWTC offers scholarship
Asian and Pacific Islander Queer Women and Transgender Community, an organization in the San Francisco Bay Area providing support and community for nearly 800 queer and trans API individuals, is now accepting applications for its scholarships.
The APIQWTC scholarships support queer API women and transgender people in their pursuit of technical and professional training or higher education. The scholarships recognize those who are active in the community and encourage future leaders.
APIQWTC will be awarding scholarships of $2,500 each to two API lesbian, bisexual, or queer women or transgender individuals pursuing technical or professional training or an undergraduate or graduate degree.
The deadline to apply is February 10. For requirements and the application, visit https://bit.ly/2OZcVTD
Comments on Facebook