As HIV prevention stalls, gov't provides free PrEP
Wednesday Dec 4, 2019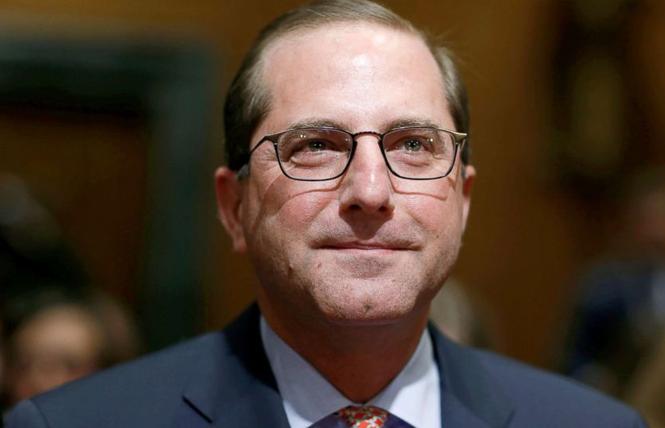 The United States has seen little progress at the national level in preventing new HIV cases over the past half decade, according to a new report from the Centers for Disease Control and Prevention released December 3.
To help address this shortcoming, the Department of Health and Human Services announced a new program — called Ready, Set, PrEP — to provide the prevention pill at no cost to those unable to pay for it.
The program is a component of the government's "Ending the HIV Epidemic: A Plan for America," which President Donald Trump announced during this year's State of the Union address. The initiative aims to reduce new HIV infections by 75% in five years and by 90% in 10 years.
"Ready, Set, PrEP is a historic expansion of access to HIV prevention medication and a major step forward in President Trump's plan to end the HIV epidemic in America," Health and Human Services Secretary Alex Azar said in a statement. "Thanks to Ready, Set, PrEP, thousands of Americans who are at risk for HIV will now be able to protect themselves and their communities."
Progress stalled
Some cities have made great strides toward ending the HIV epidemic. San Francisco's latest HIV epidemiology report shows that new diagnoses dipped below 200 for the first time in 2018, and New York City — with a population approximately 10 times as large — this month announced that new cases fell below 2,000. In both cities, more than 90% of people living with HIV know their status and most of those have started antiretroviral treatment and achieved an undetectable viral load.
But progress is uneven, both when comparing cities and regions and when looking across demographic groups within cities. Black and Latino people, young people, transgender individuals, people with substance use issues, and those experiencing homelessness are less likely to know they have HIV and to have their virus under control.
The CDC's latest Vital Signs report shows that the number of new cases of HIV transmission has stalled at around 38,000 per year between 2013 and 2017.
The report says that about 219,700 people, or 18% of the estimated 1.2 million people that could benefit from PrEP, had received a prescription for it in 2018 — far short of the government's goal of 50%. About 42% of white people, 11% of Latinos, and 6% of black people were on PrEP. These figures represent an improvement over CDC figures presented last year, which showed that only 8% of all people eligible for PrEP were using it, falling to just 3% for Latinos and 1% for African Americans.
Around 154,000 of the estimated 1.2 million people living with HIV in 2017, or 14%, have not been tested and do not know their status, according to the report. Among those who do know they have HIV, about 63% were on treatment and had a suppressed viral load — meaning more than a third still had uncontrolled HIV. For both measures, the government's goal is 95%.
"The number of people who acquire HIV each year is unacceptably high," said Dr. Jonathan Mermin, director of the CDC's National Center for HIV/AIDS, Viral Hepatitis, and STD Prevention. "Ending this epidemic would be one of the greatest public health triumphs in our nation's history."
Ready, Set, PrEP
The Ready, Set, PrEP program will provide free PrEP for eligible individuals who are uninsured or not covered for prescription drugs. However, depending on their income, they may still have to foot part of the bill for the recommended regular clinic visits and lab tests for sexually transmitted infections and kidney problems.
Two combination pills, Gilead Sciences' Truvada (tenofovir disoproxil fumarate/emtricitabine) and Descovy (tenofovir alafenamide/emtricitabine), have been approved for prevention of sexually transmitted HIV.
Although both are highly effective and safe for most people, the newer Descovy is less likely to cause kidney problems and bone loss in susceptible individuals. But the new pill is not yet approved for people who have vaginal or frontal sex because cisgender women and trans men were excluded from clinical trials of Descovy for PrEP.
Truvada and Descovy both cost around $1,600 per month. Gilead offers a patient assistance program for low-income individuals and co-pay cards to reduce out-of-pocket expenses for those with insurance, but many people continue to face financial barriers.
Earlier this year, Gilead announced that it will donate 2.4 million bottles of Truvada and Descovy to the federal government over the next decade. Advocates allege that the CDC holds patents on the use of these pills for HIV prevention and have demanded that the company fund a national PrEP program that includes both free pills and wraparound services such as lab tests and clinical care.
The nation's largest drug store chains, CVS Health, Walgreens and Rite Aid, will provide dispensing services at no cost for the Ready, Set, PrEP initiative. By the end of March, eligible people — those who are HIV negative, have a PrEP prescription, and lack prescription drug coverage — will be able to obtain the prevention pills at more than 21,000 pharmacies or through mail order. Visit http://www.GetYourPrEP.com or call (855) 447-8410 for more information.
Comments on Facebook