Store to close after Castro fire
Wednesday Dec 4, 2019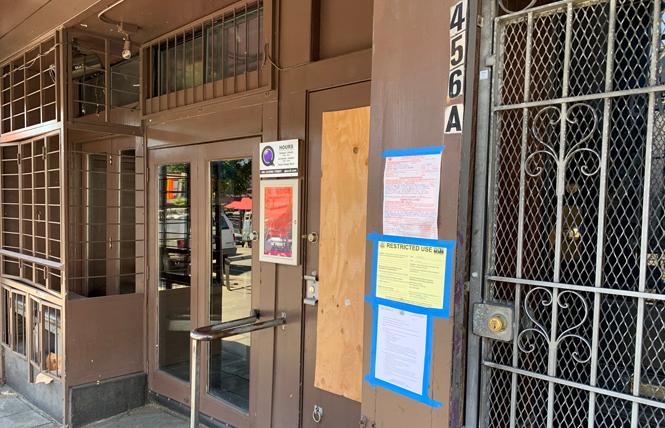 Body, a gay-owned Castro clothing store that's been around for 40 years, will close this month in part because of the recent fire that affected the building.
Petyr Kane, the owner of Body, located at 450 Castro Street, wrote in an email to the B.A.R. Wednesday that the store will shutter.
"Our lease cannot be extended due to a mandatory earthquake retrofit and while we strived to find a new location that made sense, none did, so along with the recent fire, which has impacted us, it is time to thank our community," Kane wrote.
He said that remaining inventory has been marked down starting December 7 until the store closes on New Year's Eve.
He thanked customers and supporters.
In related fire news, recent benefits and crowdfunding sites have raised money for residents and other businesses affected by last month's fire in the Castro neighborhood.
A four-alarm fire raced through buildings at 454, and 456 Castro Street Saturday, November 16, at 4:23 a.m., according to the San Francisco Fire Department. SFFD officials were continuing to investigate the blaze. A spokesman did not return a request for comment by press time.
In addition to Body, businesses affected were Q Bar, Osaka Sushi, and Cafe Mystique. The Bay Area Reporter, citing a city news release, previously reported that seven residents were displaced.
Sister Roma of the Sisters of Perpetual Indulgence, which held a fundraiser November 27 for the residents, told the Bay Area Reporter Tuesday that they raised funds for 13 people affected by the fire. That number did not include the businesses affected, which benefited from an event at Beaux bar November 30.
The Sisters' benefit was held at Oasis. Roma told the B.A.R. that about $5,000 was raised and that some gift cards had already been distributed. One of those affected by the blaze was Dennis McMillan, also known as Sister Dana Van Iquity, a columnist for the San Francisco Bay Times.
About 300 people attended the event, Roma said.
At Beaux, a benefit was held November 30 for workers at Osaka Sushi and Q Bar. After this article went to press, Joshua J. Cook, who helped with the event, wrote in a Facebook message that about $2,000 was raised. Christopher Vasquez organized it, Cook said.
A GoFundMe account set up by the Castro LGBTQ Cultural District Working Group is still active at https://bit.ly/34WrNb7
As of Tuesday, it has raised over $7,700.
The businesses affected by the fire can also get help from the mayor's Office of Economic and Workforce Development. According to a city news release, they can apply for up to $10,000 for fire and water damage.
The money comes out of the office's small business disaster relief fund, according to the release. The fund provides assistance to San Francisco small businesses so that they can recover as quickly as possible, as disaster loans can sometimes be held up for weeks or months.
Updated, 12/5/19: This article was updated to include the amount raised at the Beaux fundraiser.