Editorial: Seismic shift in SF DA's office
Wednesday Nov 13, 2019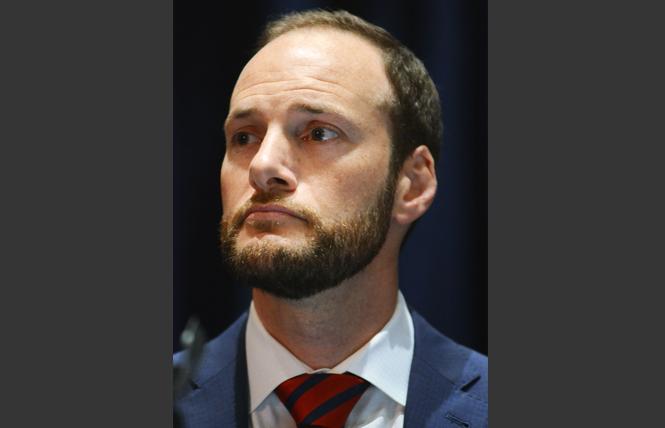 Deputy public defender Chesa Boudin's upset victory in the hotly contested San Francisco district attorney's race has sent shockwaves through the city, and continues a national trend of electing criminal justice reformers as top prosecutors. A progressive with a compelling personal history (his parents were sent to prison for murder when he was a toddler), Boudin ran a campaign to change the direction and culture of the DA's office. Now that he's won, Boudin's next challenge is to transform his vision into reality, and from what he told us a few months ago, he has a lot of ideas.
"It's a position where I can have a bigger, broader impact than I would ever be able to as a public defender," Boudin said during an editorial board meeting about why he was seeking the city's top law enforcement job. "I think it's an important role in our city, and, really, any criminal justice system," he said, adding that the city already has a "zealous public defender." "But what we don't have right now is any clarity about the direction of the district attorney's office, I think that's even more powerful, and even more critical position when it comes to trying to right some of the historic wrongs that have done so much damage to groups that are historically marginalized, whether it be based on race or sexual orientation."
He expressed a need for a new direction for the office: "And obviously, voters want change, we need change. But you need to do it in a way that's steady and measured. And that gives some kind of stability to the folks who've been there for 10, 15, 20 years, and who we all depend on to keep the wheels running." Boudin said he was the only candidate in the race who worked in the Hall of Justice day-to-day, in his role as a deputy public defender — in front of juries, working with judges, prosecutors, police, and sheriff's deputies. He has a good sense for what works and what doesn't, he explained.
Boudin's biggest obstacle, at least in the short term, is the powerful San Francisco Police Officers Association, which has opposed the DA's office for decades. Boudin was careful to separate the union from the rank and file. "I want to distinguish between the POA and the rest of the department, you can't appease the POA no matter who you put in an office," he said. "I mean, it's just not going to be enough. There's a big disconnect between broader San Francisco politics. ... But the most obvious is that the chief of police didn't have any leeway to implement progressive policies with the POA."
In fact, the SFPOA's scaremongering campaign attacking Boudin was over the top and backfired spectacularly. The union reportedly spent over $600,000 in TV ads and mailers with threatening mugshots under the heading, "These criminals know who they're supporting for District Attorney." One of Boudin's priorities is doing away with gang enhancement charges, which he told the San Francisco Chronicle will begin on day one. This doesn't seem unreasonable as there's evidence to suggest that such enhancements disproportionately affect black and brown people charged with gang crimes. (By the way, District 1 Supervisor Sandra Lee Fewer's "Fuck the POA" rant at Boudin's election night party was juvenile and a poor reflection on her. We expect better from our elected officials and it certainly doesn't make Boudin's working relationship with police any easier. Fewer, who's married to a retired cop, has apologized — sort of — but maintains the POA uses Trumpian bullying and fear-mongering tactics.)
Boudin told us that police are part of the system. "You need to work with the rank and file and depend on them to make every case, just about, that gets prosecuted, and you want to have a good relationship with them," he said. "Because the policy that emanates from the district attorney's office, the rubber meets the road on those policies through the police officers. So we've got to do something better. And I think a couple things are necessary to get there. One is, you know, we have to do a more effective job of prosecuting cases, especially serious violent cases."
Boudin has been clear that his priorities are the serious violent crimes, "starting with crimes where somebody is physically hurt or killed," he said. "And then going down from there to cases where someone's property, or pet or, you know, car was hurt or damaged or stolen, and going down from there in cases where somebody could have been, but luckily wasn't. And that should be the order of priorities. We're doing the inverse right now."
The test will be Boudin's ability to convince victims of those lesser, quality of life crimes like car break-ins or harassment by mentally ill people, as is happening in the Castro, that his approach works. "The question is, how do we prioritize it? What do we do about it? And I don't think that it's either legal, humane, or effective to try to jail our way out of that problem," he said. "Now, that doesn't mean that if somebody gets assaulted, that's a different situation. So when I say we shouldn't prosecute people for crimes arising from poverty, what I'm referring to are very specifically crimes such as public nuisance where someone sets up a tent on a night when there's no homeless shelter beds available." But the bottom line is that we can expect fewer prosecutions of these crimes even as Boudin's goal is to create a centralized mental health facility (which will take many years to complete). And if low-level crime rates spike and prosecutions decline, Boudin will need to answer for it.
Boudin said he wants "every single arrest to be an opportunity for intervention, to reorient people's lives away from crime, away from homelessness. We have about 17,000 people a year that the police take from the streets to county jail, book them in on some kind of felony charge. A lot of them don't get charged with a felony, about half — 45% — do not get charged with a felony. So there's this missed opportunity, whether we should charge them or not, putting aside the discretion the current DA uses in each case."
Another issue is officer-involved shootings that result in the death of an unarmed person. There have been several high-profile incidents in San Francisco, yet former DA George Gascón never charged a single cop. Boudin told us that there are options for prosecutors in these cases, for example, such as negligent discharge of a firearm instead of a murder or manslaughter charge. It is extremely difficult to convict a police officer on murder or manslaughter, as demonstrated in numerous cases across the country. Boudin's willingness to look at other avenues may bode well in terms of police accountability.
While we didn't endorse him, Boudin deserves recognition and respect for winning a hard fought race. Now the really tough work of district attorney remains. Three suggestions: first, meet with current DA staff and determine the best path forward. He's already said that he's asked Gascón's chief of staff, Christine Soto DeBerry, to stay on in a leadership role. There are likely other experienced attorneys who will remain. Second, he needs to hire some top-notch attorneys who share his philosophy and will prosecute cases, including any involving law enforcement. Third, meet with SFPD Chief William Scott to see how the department and the DA's office can work together; they must if any change is going to be meaningful and lasting.
Boudin will be tested. But the first priority should be to get the office back on track after attorney departures and raise morale in the wake of Gascón's tenure. Boudin has an opportunity to bring about a seismic change in how prosecutors handle criminal cases, and deserves a chance to succeed. We, too, want to see change in the office, and the criminal justice system in general. San Francisco's new sheriff is a progressive. Former public defender Jeff Adachi's enlightened philosophy in that office will continue with the election of Manohar "Mano" Raju, whom Mayor London Breed appointed after Adachi died. And now, Boudin, himself an Adachi protégée. Somewhere, Adachi must be smiling.
Comments on Facebook