Valentine Project readies for next year
Wednesday Nov 13, 2019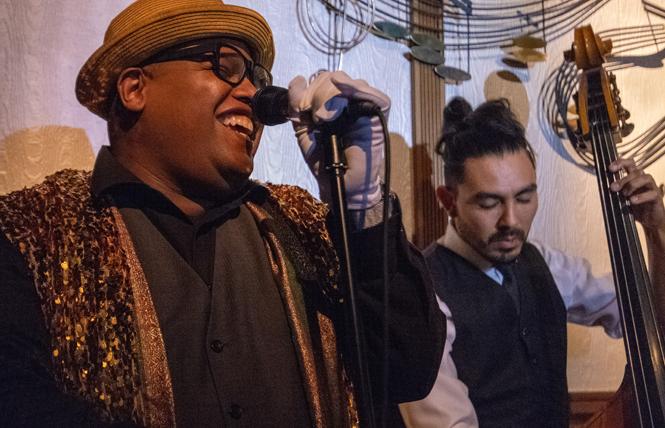 Valentine's Day is still a ways off, but a local nonprofit that brightens the holiday for sick kids and their families held a recent fundraiser to start planning for the next event.
Around 40 people attended a benefit for the Valentine Project, which provides gifts and cards to children affected by pediatric cancer or chronic illness and their siblings. The fundraiser was held at Martuni's October 26, and raised $3,000, organizers said. It featured a performance by local jazz artist Lambert.
Each February, the Valentine Project sends one-of-a-kind gift packages that are put together by volunteers, who are called Valentines.
"Each child in the home will find a box just for them on their doorstep in time for Valentine's Day," Greg Margida, a 26-year-old gay man who serves as the project's director of San Francisco operations, told the Bay Area Reporter. "We want all these children, when they receive their package, to just be able to be kids by taking part in one of the simple joys of childhood."
Speaking to the crowd on Saturday, Margida explained what inspired him to co-found the Valentine Project.
"My best friend had cancer," he recalled. "She had five younger siblings and a single mom who was working three jobs. I saw how difficult that was, not just for her, but for her whole family. So we started this organization just to do something nice and brighten the day for children with chronic illness and their siblings."
There was a festive atmosphere at Martuni's. Attendees drank, mingled, and applauded Lambert's set. The singer was dressed in black with a glittering gold vest, white gloves, and a fedora. He was accompanied by Tammy Hall on piano, Kevin Goldberg on base, and Aaron Kierbel on drums. Lambert opened his set with the classic jazz tune "Peel Me A Grape," working the crowd as he sang.
Carole Hines, 69, attended the fundraiser with Mavis DeWees, her 78-year-old wife.
"It does wonderful things for children who are ill," Hines said of the organization. "Their process of putting together personalized gifts and sending cards is beautiful."
Another attendee and board member called the project "inspiring."
"It's inspiring to see so many people come together for a good cause," said Raul del Barco, a 56-year-old gay man. "Especially during these times when we need more compassion. Valentine Project puts a smile on the faces of kids. I'm proud to be on the board of this important nonprofit and excited that it has been so warmly embraced by the LGBTQ community."
According to Margida, the Valentine Project's San Francisco budget is $40,000, most of which is donated gifts, materials, time, and financial contributions.
Tickets for the benefit were on a sliding scale, with most people paying $35, though some paid as much as $300.
"The Valentine Project is about inclusion so anyone who wants to support our cause is welcome," Margida said. "Everyone has so much to offer in so many different ways. Our organization counts on volunteers to make gift baskets for the children and generous supporters to fuel it all."
The Valentine Project has expanded its mission beyond Valentine's Day. Support is now offered year-round with Heart-to-Heart, an online group where families can connect. In addition, the project has a nationwide outreach effort called the Kindness Card Program, where volunteers send handmaid cards to children throughout the year. These cards include a joke or a riddle, and are meant to brighten a child's day by letting them know that someone is thinking of them.
Wes Freas, a 66-year-old gay man, likened his support for the Valentine Project to supporting gay men living with AIDS.
"As gay men we did this at the height of the HIV crisis to support our own community," said Freas. "We think it's important to reach out to vulnerable communities like kids."
Margida said that he was delighted with the evening's turnout.
"The best indicator that it was a success is the combination of familiar faces and new faces," he said. "I love to see our longtime volunteers and supporters who come back again and again, having fun alongside someone new to the Valentine Project. Since we want to encourage a compassionate, giving spirit in our community, I want all our new supporters to feel like part of the Valentine Project family."
To volunteer, make donations, or to receive gifts and cards for a chronically ill child, visit https://thevalentineproject.org/
Families can enroll in the Kindness Card program at https://thevalentineproject.org/register-for-kindness-cards/
Comments on Facebook