Editorial: State pledges to protect trans voters
Wednesday Oct 30, 2019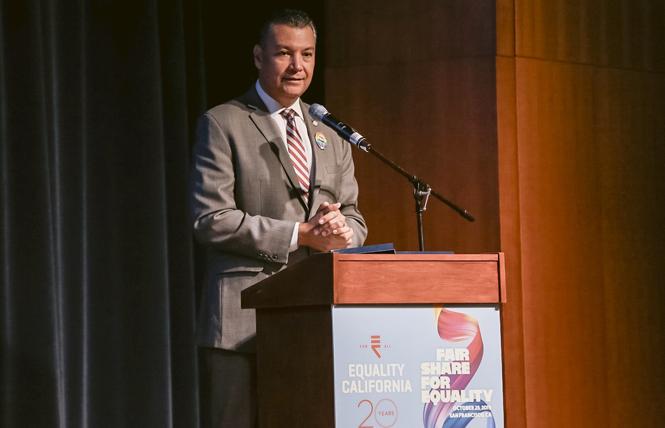 California officials plan to beef up poll worker training as well as provide "know your rights" information to voters ahead of the 2020 elections with an eye toward protecting trans and gender-nonconforming voters' access to the ballot box and boosting LGBTQ civic engagement. While California has not enacted voter suppression laws like several other states, some of which compel voters to show an ID, it is nevertheless important to ensure that all registered voters can cast a ballot — both in the March primary and the November general election. California Secretary of State Alex Padilla made the announcement at last week's Fair Share for Equality policy meeting that was held by Equality California in San Francisco.

Problems can arise for trans and nonbinary voters when their names don't "match" their gender identity. The Golden State does not require voters to show identification to a poll worker before casting a ballot. However, those voting for the first time after registering to vote by mail, who did not provide a driver's license number, state ID number, or the last four digits of their Social Security number on their registration form, may be asked to show a form of identification at the polls to receive their ballot. In these cases, EQCA noted in a news release, voters' names and gender markers on their identification document may not appear to "match" their gender identity, expression, or the name and pronouns they use.

Padilla said that by working with EQCA, his office can benefit from the state LGBT rights group's expertise and experience to train poll workers better and ensure a welcoming voter environment for LGBTQ citizens. The voting rights initiative will also support the development of content, such as brochures, posters, and digital media, to inform transgender and gender-nonconforming voters of their rights.

There are about 218,400 people in the state who identify as trans, according to the Williams Institute, an LGBT think tank at UCLA School of Law. Based on the overall number of eligible and registered California voters as of February, the institute stated that there are at least 190,000 eligible voters and 150,000 registered voters statewide who identify as transgender.

Beyond attempting to ensure a high turnout in next year's elections, the new materials will also inform LGBTQ people about the 2020 census and the importance of queers participating in it. Thanks to our racist president, the Trump administration is doing everything it can to scare and confuse people, especially Latinos and immigrants, to suppress an accurate count of their numbers. Trans people, too, have endured the bigotry of this president, and many may be afraid to answer the census.

Last year's state budget included $90 million for the 2020 census. The Assembly and state Senate have formed select committees and will work to determine outreach to encourage maximum response to the census, which is critical to determining federal funding and congressional representation for the state.

Although President Donald Trump abandoned his scheme to add a question to the census about respondents' citizenship status, the damage has already been done to frighten millions of people from filling out the forms next year. State officials must reach and inform everyone that the census will not identify non-citizens, and that a complete and reliable count is vital to ensure that California gets its fair share of federal dollars and congressional representation.

Voter protection and an accurate census are two very important democratic principles. State officials and EQCA should be commended for combatting the Republican disinformation campaign ahead of time, but a massive effort will be required to counteract the overwhelming battle assured for next year.