Editorial: The category is: Winning
Wednesday Sep 25, 2019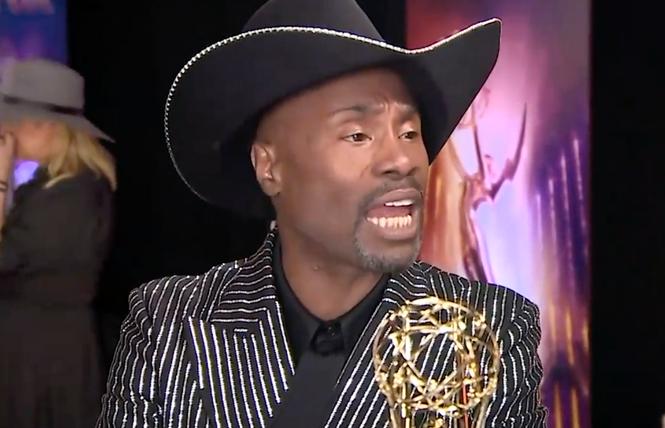 Billy Porter made Emmy history Sunday night when he became the first openly gay black man to win outstanding lead actor in a drama series for his work on "Pose." The FX series, which recently ended its second season, is about New York City's African American and Latino LGBTQ and gender-nonconforming ballroom culture scene in the 1980s and early 1990s. Porter plays the gregarious emcee Pray Tell, a father figure to many of the queer characters, most of whom are played by out actors. They cheered him on from the audience at the Microsoft Theatre in downtown Los Angeles.

Porter's speech was electrifying; a proud gay black man took a few minutes to remind all of us why the fight for equality is not over. "The category is love, y'all," Porter exclaimed. "I am so overwhelmed and I am so overjoyed to have lived long enough to see this day." He quoted the late gay novelist and playwright James Baldwin's 1960 essay "They Can't Turn Back": "It took many years of vomiting up all the filth I'd been taught about myself, and half-believed, before I was able to walk on the earth as if I had a right to be here.

"I have the right," Porter said. "You have the right. We all have the right."

After thanking his husband, the "Pose" cast, and others, Porter added, "We as artists are the people that get to change the molecular structure of the hearts and minds of the people who live on this planet. Please don't ever stop doing that. Please don't ever stop telling the truth."

He's right, and these days, truth, as in us living authentically with our own truth, is more important than ever. "Pose" presents LGBTQs struggling against prejudice and the AIDS epidemic at a time when we weren't accepted in the mainstream and did not have as many rights — but had the resilience to create chosen families when our biological families disowned us. Decades later, it's still much the same as evidenced by the 46% homeless rate among queer youth in San Francisco's latest Point-In-Time Count that was issued in July. Black and brown gay and bi men remain stubbornly more likely to be diagnosed with HIV than their white peers and disparities are still present regarding early treatment. PrEP use among black and brown gay and bi men and trans women is lower than it should be.

As artists, the cast of "Pose" remind us how bad those old days were, when the awful, toxic AZT was the only drug available, when T cells rapidly fell, and opportunistic infections ravaged bodies. But even 38 years into the epidemic, some people in the U.S. and many around the world still suffer from lack of treatment.

Out actors who give stellar performances should be recognized. Hopefully, Porter's historic win won't be an anomaly and will show the entertainment industry that queer people can act at top levels to be considered for awards.

Emmys statuettes were awarded to two other black men. "RuPaul's Drag Race," the VH1 reality show fronted by the gay star himself, won for competition series, which it also won last year. RuPaul won last week at the Creative Emmys for competition series host. Jharrel Jerome, who is straight and 21, became the youngest to win in his category of lead actor in a limited series for his portrayal of Korey Wise in "When They See Us." The Netflix show examined the case of the Central Park Five, about the five black and Latino Harlem adolescents who were wrongfully convicted of raping and beating a female jogger in 1989.

There was no #Emmyssowhite this year, and that itself is a positive sign after comedian Shane Gillis was suddenly hired and fired from "Saturday Night Live" for his racist and homophobic remarks. The controversy overshadowed SNL's historic hiring of a gay Asian comic, Bowen Yang, which was announced at the same time earlier this month.

With more TV content than ever before — broadcast, cable, streaming — it looks like the television academy, at least, is starting to pay attention to what the Los Angeles Times calls "peak TV" — and how far the medium has come creatively and still has to go.
Comments on Facebook