SF arts orgs awarded $12M in city grants
Wednesday Aug 28, 2019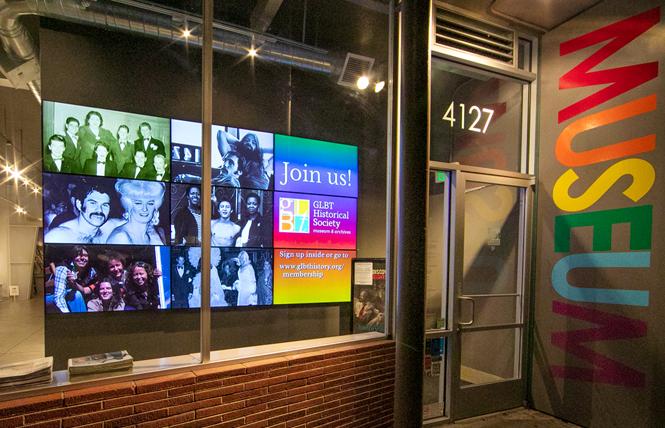 Arts organizations in San Francisco recently got a boost, as Mayor London Breed and City Administrator Naomi Kelly announced $12.9 million in funding from Grants for the Arts for fiscal year 2020.
At a time when a lot of people are concerned about the culture of the city, it looks like good news for a long list of recipients.
Grants for the Arts is headed by Matthew Goudeau, a gay man who took over in February as the city was gearing up to determine the grant funding process under Proposition E, which voters passed last November.
Prop E provides a 1.5% reallocation of the existing 8% hotel tax for arts and cultural services that includes Grants for the Arts.
In an August 20 news release, Goudeau said he was grateful "to the many organizations that took the time to apply and that are providing cultural resources in San Francisco."
"We're here to make sure they succeed," he added.
Established programs like the Frameline Film Festival were among the recipients. It received $109,000 for its annual LGBTQ film festival and other programming.
The Castro Street Fair received $18,000.
To people who don't work in artistic fields the logistics of how art and artists survive in an expensive city can be a mystery. Even people who would consider themselves patrons of the arts often ask how exactly organizations like People in Plazas or the San Francisco Gay Men's Chorus manage to remain an integral part of the city's fabric. While some art forms are able to generate revenue from ticket sales or donations, many important and beloved institutions rely heavily on Grants for the Arts for the continuation of their work.
"The support we get from the city and other government sources is vital to our operations," said Terry Beswick, a gay man who's executive director of the GLBT Historical Society, which received $75,000 for 2020 compared to 2019's $58,000. "Without it, we would not be in a position to contemplate establishing a full-scale museum and research center."
The Gay Men's Chorus received one of the largest amounts on the list: $152,510. The chorus has a roster of over 250 people and performs regularly at various venues. Earlier this year it announced it has purchased its own LGBT center for the arts, which it said will also be used by other arts groups.
"It's very exciting to be part of this. I feel so lucky that something like this can exist," said Kenan Arun, a gay man who has been a member of the chorus for several years. He discussed the reality of art versus how people perceive art, mentioning that art costs money "even when you do it because you love it."
Chris Verdugo, executive director of the chorus, also expressed the group's appreciation.
"We are honored to be a recipient of such a generous gift from Grants for the Arts," Verdugo said. "This award will allow us to further spread our message of unity and acceptance through artistic outreach as we head into our 42nd season."
A common refrain to people working in artistic disciplines, especially in a gold rush city that has seen two major tech booms in about 25 years, is that art is not profitable and therefore not important. Artists who complain about not being paid fairly for their labor are often told to grow up and get real jobs.
"It's stunning how dismissive people can be," said Patrick Simms, the director of programming of People in Plazas, which received $19,900 for 2020. "Especially considering how much art everyone consumes on a daily basis."
People in Plazas is a nonprofit that puts on free concerts all over the Financial District starting in June and running through October. In the past year, the number of venues has expanded to include Salesforce Tower.
"People are so grateful for it," Simms said, when asked how professionals working in the area react to the music. "A lot of people act like artists should be happy with whatever they get even when they're dancing like kids during their lunch break."
Grants are vital to nonprofits and spaces that revolve around artistic endeavors. Some organizations don't need offices but others, like the many small theaters around San Francisco, not only require a certain amount of square footage but put money and time into creating a usable stage with all the lighting, sound, and safety requirements that entails. Theaters like Z Space on the Mission-Potrero border, which received $95,570, have managed to make a place for unusual and experimental shows.
"I think sometimes people are in favor of high art but shake their heads at a lot of the weirder stuff," said Liv N. LaVida, a drag performer who has been part of several shows at Z Space. "I guess it's always a question of what art actually is and who gets to decide what it's worth."
In a news release, Breed said a review of the city's grantmaking now better supports small- and medium-sized arts organizations.
"As the former executive director of the African American Art and Culture Complex, I saw the need for this type of funding firsthand," she stated. "I am excited that we're able to support these organizations that bring so much culture and vibrancy to our community."
Kelly praised Goudeau's new position.
"Under the leadership of Matthew Goudeau, Grants for the Arts is making significant investments in arts groups that have the greatest needs and serve our city's diverse communities," Kelly said in the release. "Together with the San Francisco Arts Commission and the broader arts community, we are taking a new look at the city's funding priorities to ensure equity."
According to the list provided by the city, other LGBTQ organizations that received funding include: Folsom Street Events, $75,000; Fresh Meat Productions, $47,620; Lesbian and Gay Chorus of San Francisco, $8,700; New Conservatory Theatre Center, $72,070; Queer Rebel Productions, $7,000; and the Queer Women of Color Media Arts Project, $47,200.
The San Francisco Lesbian/Gay Freedom Band (the city's official band) received $25,000, while the San Francisco LGBT Pride Celebration Committee received $100,000. The Transgender Film Festival was awarded $15,000.
The list of organizations ranges from the more traditional version of art such as choruses and ballet companies to theaters and groups a bit off the beaten path. There are even a few that fall under the umbrella of self-expression while not being entirely focused on art like the Dyke March ($6,500) and several historical societies.
With over $12 million being distributed, the creative types in San Francisco have a fighting chance of making a living in their own city, several said.
"Our archive is one of the few that is community-based," said Beswick when asked why the GLBT Historical Society is important. "Our aspirations ... are about dedicating enough space and resources to showcase those incredibly rich stories in San Francisco so we can share them with the world."
Updated, 9/3/19: This article was updated to include Patrick Simms' current title.
Updated, 9/4/19: This article was updated to include comments from the SF Gay Men's Chorus executive director.
Comments on Facebook