News Briefs: Glide to honor Sisters
Wednesday Aug 21, 2019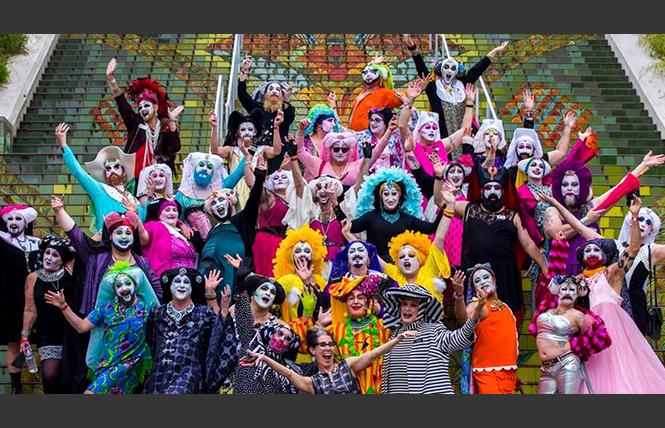 The Sisters of Perpetual Indulgence will be honored by Glide at the 10th anniversary of its Legacy Gala Saturday, September 7, from 8 p.m. to midnight at August Hall, 420 Mason Street in San Francisco.
The Sisters will receive the Reverend Cecil Williams Legacy Award for their devotion to community service, ministry to those on the edges, efforts in promoting human rights, and respect for diversity and spiritual enlightenment, according to a news release.
Joining young activists and philanthropists at the event will be Williams and his wife, Janice Mirikitani, co-founders of Glide, and Karen Hanrahan, Glide president and CEO.
The evening benefits Glide's social programs and is geared toward young professionals. About 800 people are expected.
The Sisters said they were honored and proud.
"Being recognized by this amazing organization is one of the highlights of our 40-year history," Sister Roma wrote on Twitter.
Mpumi Nobiva, an international speaker and graduate of the first class of the Oprah Winfrey Leadership Academy for Girls in South Africa, will receive the Legacy Award named for Mirikitani. Nobiva currently serves on the board of the academy and does advocacy work on domestic violence and HIV/AIDS in South Africa.
"It is inspiring to see this young generation of philanthropists supporting Glide," Hanrahan said in the release. "We are building on our 50-plus-year history to create a new generation of services to help those in crisis and poverty, and the support that Glide receives from the Legacy Gala ... will help us meet those goals."
The gala will feature entertainment from the Glide Ensemble and The Change Band, with beats by DJ King Most. There will be on-site poems by Ars Poetica.
General admission tickets are $100, which includes the reception, dancing, and concert with hosted bar until 10 p.m. VIP tickets at $190 include a meet and greet with Williams, Mirikitani, and Hanrahan from 7 to 8 p.m., special access to VIP areas, and premium access to specialty cocktails and small bites.
For tickets, visit https://www.glide.org/events/legacygala/.
Glide is part of the Methodist church of the same name and has a separate foundation. It has filed suit against its parent United Methodist Church, which has attempted to take it over. The foundation and the church continue to operate as they have been, providing food, social services, and worship services. The foundation is located at 434 Ellis Street; the church is located at 330 Ellis Street. For more information, visit www.glide.org.
Free Due South concert
San Francisco Parks Alliance is one of several entities promoting Due South, a free concert series at Jerry Garcia Amphitheater in San Francisco's McLaren Park, 100 John F. Shelley Drive.
The first concert is Saturday, August 24, and features the Mexican Institute of Sound and Helado Negro. The second concert takes place Saturday, September 7, with headliners Giraffage and Astronautica. Both take place from 2 to 6 p.m. There will be food and beverages available for purchase.
In addition to the Parks Alliance, District 11 Supervisor Ahsha Safai, the San Francisco Recreation and Park Department, and Noise Pop are co-sponsoring the concerts.
All Parks Alliance members are eligible to receive one free drink ticket at the event and discounted reserved seating.
For a full schedule, visit https://dothebay.com/due-south.
Open house for Castro Market Street project
San Francisco Public Works, the San Francisco Municipal Transportation Agency, and the San Francisco Planning Department will hold an open house to discuss the city's proposed Better Market Street Project and its impacts on the Castro/Upper Market Street area.
The meeting takes place Tuesday, August 27, from 6:30 to 7:30 p.m. in the auditorium at Sanchez Elementary School, 325 Sanchez Street (between 16th and 17th streets).
Castro Merchants President Masood Samereie wrote in an email to members that of particular concern will be additional vehicle restrictions on Market Street between Octavia Boulevard and east to Hayes Street.
Under the design alternative, private vehicles from the Castro would not be allowed eastbound on Market Street between 12th Street, Van Ness Avenue, and 11th Street and (existing restrictions) farther east; and westbound from downtown to Franklin Street. Commercial vehicles would not be allowed westbound on Market Street from Hayes to Franklin streets.
The meeting will include a brief presentation followed by an opportunity for attendees to see details on display boards and ask questions.
Samereie wrote that while the plan has been in the works for nine years, there was only minimal community outreach by the city until recently. It is now moving to final public comment and approval phases.
More information on the Better Market Street Project is available at http://www.bettermarketstreetsf.org/.
Learn about working for 2020 census count
The San Francisco LGBT Community Center will hold a job readiness drop-in clinic for people to learn about employment opportunities with the U.S. Census Bureau ahead of next year's census.
The event takes place Thursday, August 29, from 3 to 4:30 p.m. at 1800 Market Street. There is no cost to attend.
People will receive information about the employment application process, part-time versus full-time work, employee benefits, and more.
For more information or to reserve a spot, visit https://www.eventbrite.com/e/us-census-employer-spotlight-tickets-69761778357.
Duboce Park Tag Sale coming up
Clean out your closets and garages, the 21st annual Friends of Duboce Park Tag Sale is Saturday, September 7, from 9 a.m. to 2 p.m. in Duboce Park, located on Duboce Avenue between Steiner and Scott streets.
Friends of Duboce Park have used funds raised at tag sales to help build the children's playground that opened in 2000, the Scott Street Labyrinth that opened in 2007, and the youth play area that opened in 2012. Additional projects have included a new coat of paint for the playground, replacement of two rusting staircases in the playground in 2016, and lighting the alley on the north side of the Harvey Milk Recreation Center for the Arts.
Organizers will accept donations for the tag sale at a rental truck that will be parked near the photo center from 5:30 to 7 p.m. from Tuesday, September 3 through Friday, September 6 and before the event. A full list of items that can be accepted is online at https://friendsofdubocepark.org/events-activities/tag-sale/. Items that are especially popular include stuff for children, toys, and clothing.
Takei coming to SF
Gay actor and activist George Takei will speak at the Commonwealth Club Tuesday, September 24, at the Herbst Theatre, 401 Van Ness Avenue in San Francisco. Check-in is at 5:30 p.m.; the program starts at 6:30.
Takei, who appeared in TV's "Star Trek," has become an outspoken activist for equality and civil rights and will be in conversation with Mina Kim, an evening anchor for KQED News.
He will reflect on his career and activism, from playing Hikaru Sulu on "Star Trek" to discussing how his family was wrongfully imprisoned in Japanese American internment camps during World War II. He revisits his childhood in his new graphic memoir, "They Called Us Enemy."
Currently, he hosts a YouTube series, "Takei's Take," and is the subject of "To Be Takei," a Jennifer M. Kroot documentary on his life and career.
Tickets are $45 for nonmembers, $35 for members, and $15 for students (with valid ID). Premium seating (includes book and front-row seating) is $60 for members and $70 for nonmembers. (Prices subject to change.)
For tickets and more information, visit http://www.commonwealthclub.org.
Comments on Facebook