Political Notebook: Gay SF treasurer runs unopposed
Wednesday Aug 14, 2019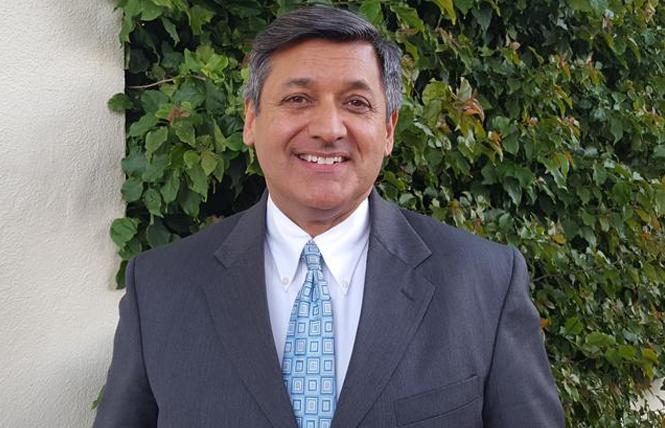 San Francisco's only LGBT citywide municipal officeholder is all but assured of re-election this year, as Treasurer-Tax Collector José Cisneros is once again running unopposed. Cisneros, 63, is seeking a fourth four-year term.
No other candidate filed to run for the seat, one of the city's seven elected executive positions, by the deadline to do so Friday, August 9. This will be Cisneros's fifth time on the ballot for the position, as he had to run for a truncated two-year term in 2013 after voters approved a switch to the city's electoral timetable.
Cisneros, a gay man, has held the post, which is not term limited, since 2004 when former mayor Gavin Newsom, now the state's governor, appointed him to fill a vacancy. He has not faced an opponent since he first ran for the position in 2005.
"The position of treasurer is a very important role for the city. I have been able to show success in delivering on the responsibilities of that role," Cisneros told the Bay Area Reporter when asked why he has not been challenged at the ballot box for over a decade. "And I hope that's why the voters have been happy to keep me in office based on the good work we have been doing."
This September will mark Cisneros' 15th year of being San Francisco's treasurer, a milestone that will make him the longest-serving openly gay elected official at the city level. Gay former supervisors Tom Ammiano and Harry Britt had held the record, as both served on the Board of Supervisors for 14 years.
"I love the job of being the treasurer. Our office does great work for the city," said Cisneros, who is married to San Francisco Human Rights Commissioner Mark Kelleher, a senior adviser at BroderickHaight Consulting. "I am excited for the opportunity to stand for election and continue to do the work we have been doing for four more years."
Other races go uncontested
Several other races will be uncontested on the November 5 ballot, including that of city attorney and public defender. Only the incumbents filed to run.
City Attorney Dennis Herrera was first elected in 2001, and like Cisneros, has not faced on opponent since his first race. Public Defender Manohar "Mano" Raju was appointed to his position earlier this year following the death of Jeff Adachi in February.
Community College board member Ivy Lee is also unopposed. Mayor London Breed appointed her last August to a vacant seat on the oversight body for City College of San Francisco.
Paul Miyamoto is also expected to be unopposed in the sheriff's race. The filing deadline was extended to 5 p.m. Wednesday, August 14, after the B.A.R.'s print deadline, since Sheriff Vicki Hennessy opted not to seek re-election. She had announced her decision earlier this year, and the only other person to express interest in the position dropped their bid last week.
The filing deadline was also extended for the district attorney race since the incumbent, George Gascón, is also not seeking re-election this year. But the race has been set for months with four contenders. They are Deputy Public Defender Chesa Boudin, Deputy State Attorney General Leif Dautch, former prosecutor and San Francisco Police Commission president Suzy Loftus, and former Deputy State Attorney General Nancy Tung.
School board member Jenny Lam, appointed by Breed in January to fill a vacancy, is facing two challengers. Kirsten Strobel and Robert K. Coleman both qualified for the ballot.
Along with a number of local ballot measures, the fall ballot includes the races for mayor and the District 5 supervisor seat. Those contests had been finalized in June.
Breed appears headed for an easy re-election as six little known opponents filed to run against her. Elected last June to fill out the remainder of the late Ed Lee's mayoral term following his sudden death in December 2017, Breed is now seeking a full four years leading the city.
Her former aide whom she appointed to her District 5 supervisor seat, Vallie Brown, is fending off a strong challenge from tenants rights activist Dean Preston. Also in the race are film producer Nomvula O'Meara and Ryan Lam. Whoever wins will serve out the remainder of Breed's term through 2020 and will need to run next November for a full four-year term.
Web Extra: For more queer political news, be sure to check http://www.ebar.com Monday mornings for Political Notes, the notebook's online companion. This week's column reported on the newest additions to the Rainbow Honor Walk in SF's Castro district.
Keep abreast of the latest LGBT political news by following the Political Notebook on Twitter @ http://twitter.com/politicalnotes .
Got a tip on LGBT politics? Call Matthew S. Bajko at (415) 829-8836 or e-mail m.bajko@ebar.com.
Comments on Facebook