Online Extra: Protest hits Castro SoulCycle over owner's Trump support
Thursday Aug 8, 2019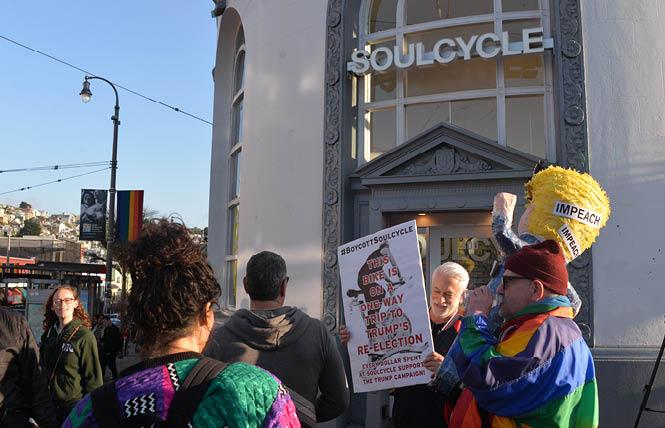 Activists staged a protest outside the SoulCycle location in San Francisco's Castro district Wednesday evening, hours after it was reported that the owner was planning a ritzy fundraiser for President Donald Trump at his home in the Hamptons in New York.
The news that billionaire Stephen Ross, owner of Equinox fitness clubs and SoulCycle, was going to hold a fundraiser to support Trump's re-election elicited howls on social media and calls for a boycott.
Ross also owns the NFL's Miami Dolphins franchise and one of the team's players was also critical of him. The fundraiser is set for this weekend with a price tag of as high as $250,000.
Gay longtime San Francisco activist Michael Petrelis organized Wednesday's protest in the Castro, which generated a small crowd outside SoulCycle at Castro and Market streets. He sent out a news release that said members of the LGBT community "are launching a boycott of these businesses," referring to Equinox and SoulCycle.
Petrelis also brought along an "Impeach Trump" piñata "to convey the demand that the House of Representatives begin impeachment hearings."
Melanie Whelan, CEO of SoulCycle, tried to distance the company from Ross. In an Instagram post Wednesday afternoon, she wrote that Ross is a "passive investor" who is not involved in the management of SoulCycle.
"SoulCycle in no way endorses the political fundraising event being held later this week," Whelan wrote. "SoulCycle has nothing to do with the event and does not support it. Consistent with our policies, no company profits are used to fund politicians."
But that wasn't enough for Twitter, where celebrities berated the companies all day.
"Hey @Equinox — what's your policy for canceling memberships once a member finds out your owner is enabling racism and mass murder?" gay actor Billy Eichner tweeted.
Hey @Equinox - what's your policy for canceling memberships once a member finds out your owner is enabling racism and mass murder?— billy eichner (@billyeichner) August 7, 2019
Ross, a New York real estate developer, is the chairman and founder of the Related Companies, which encompasses fitness, restaurant, and lifestyle brands such as Equinox, SoulCycle, Pure Yoga, &pizza, Bluestone Lane Coffee and Momofuku, according to the Washington Post. He has given heavily over the years to Republican candidates and committees and donated smaller amounts to Democrats.
In a statement to the Post, Ross said he has known Trump for 40 years.
Ross said in the statement that he is "an outspoken champion of racial equality, inclusion, diversity, public education and environmental sustainability, and I have and will continue to support leaders on both sides of the aisle to address these challenges."
Dolphins player Kenny Stills tweeted Wednesday, "You can't have a nonprofit with this mission statement [and] then open your doors to Trump," referring to Ross' Rise Foundation.
ESPN reported that Stills has previously expressed his feelings about issues such as police brutality and systematic oppression. He also has been active in Rise programs and earned the Dolphins' Walter Payton Man of the Year nomination because of his work in the community.
The outlet noted that he was one of several players who kneeled during the national anthem in 2017, when the president suggested owners "get that son of a bitch off the field right now," in reference to protesting players.
Comments on Facebook