News Briefs: Cannabis gummies benefit SF LGBT center
Thursday Aug 8, 2019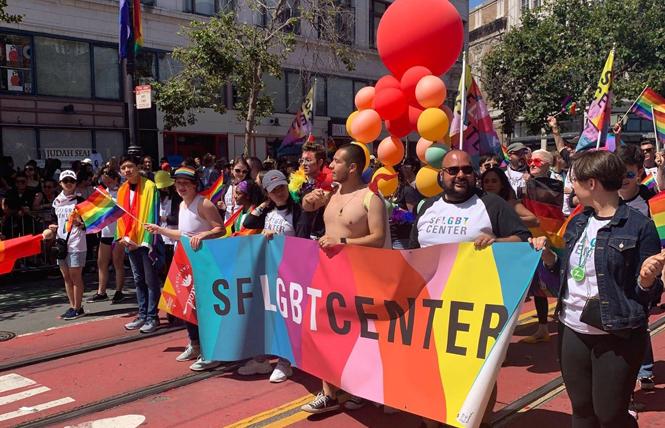 Plus Products Inc. announced Tuesday that it has sent a check for nearly $61,000 to the San Francisco LGBT Community Center from proceeds from the sales of its annual Rainbow Sorbet special edition cannabis-infused gummies.
As part of its commitment to strengthening and supporting communities in which it operates and sells products, Plus contributed $1 for each of the 60,937 units of the Pride-themed Rainbow Sorbet gummies that were sold during Pride Month, a spokesman said.
Plus is headquartered in San Mateo.
A center spokeswoman said the donation is appreciated.
"We're proud to partner with local businesses that are committed to supporting the SF LGBT center and building a better Bay Area," Dani Siragusa, the center's director of development, said in a news release from Plus. "This generous donation demonstrates Plus' investment in the LGBTQ community, as well as the overwhelming enthusiasm of fellow Californians to work with us to create a more welcoming, equitable world."
Plus cannabis-infused edibles are available at over 300 licensed retailers in California. The product is expected to be available at licensed retailers in Nevada by the end of summer, according to the release.
"This special edition and the accompanying donation is just a small way for Plus to show support for the LGBTQ+ community," Jake Heimark, co-founder and CEO, said in the release. "Our company was honored to have the opportunity to work with the SF LGBT center this year. We care deeply about being a truly engaged partner and look forward to finding more opportunities to work together in the future."
Sunday Streets comes to SOMA
Livable City will bring over a mile of open space to Folsom Street with Sunday Streets SOMA August 18, from 11 a.m. to 4 p.m.
Spanning Folsom Street from Essex to 10th streets, the car-free route connects western SOMA with the Financial District for attendees to reimagine their city streets as accessible, public, and car-free spaces for all, a news release stated.
"Seeing open streets filled with children playing and space for everyone — right next to downtown skyscrapers — shows us a new, safe, walkable vision of what our city could be," Katy Birnbaum, Livable City associate director, said in the release.
People can visit Folsom between Sixth and Seventh streets for a Filipino food market. At Second and Essex streets, the East Cut Community Benefit District's hub will feature a dog fashion show and music from the SF Rock Project, while Yerba Buena CBD's arts and culture hub between Fourth and Fifth streets will celebrate with the San Francisco Lesbian/Gay Freedom Marching Band (the city's official band).
Sunday Streets is a program of Livable City, presented in partnership with the San Francisco Municipal Transportation Agency, San Francisco Department of Public Health, and the Shape Up SF Coalition. Additional city support comes from public works, the mayor's office, and the Board of Supervisors.
For more information, visit www.sundaystreetssf.com.
Name and gender marker legal clinic
Bay Area Legal Aid and the San Francisco Public Library will hold a name and gender marker legal clinic Sunday, August 18, from 1 to 5 p.m. in the Latino/Hispanic room at the main library, 100 Larkin Street.
The clinic will provide free assistance for people completing their documents to change their name and/or gender marker.
Advance registration is required and space is limited. Those who are interested should contact Jeanie Austin at (415) 516-1163 or Jeanie.austin@sfpl.org or Bay Area Legal Aid at probono@baylegal.org to reserve a spot.
Comments on Facebook