SF Homeless Project: Editorial: LGBT homelessness at crisis level
Wednesday Jul 31, 2019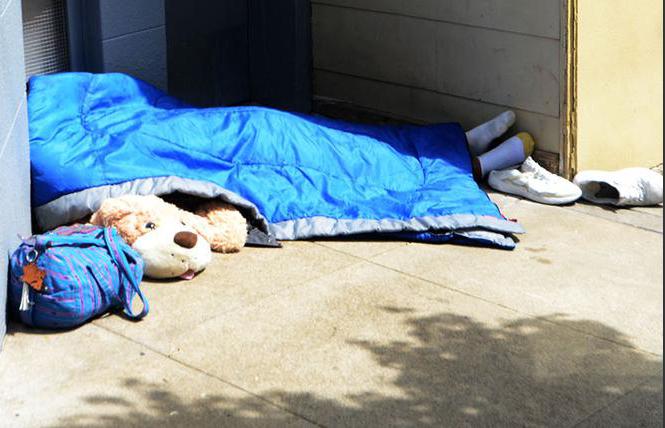 The 2019 number of LGBT homeless people should be a wake-up call to the LGBT community in San Francisco. According to the Point-In-Time Count by the Department of Homelessness and Supportive Housing, there are 1,054 queer people living without safe, permanent housing here. Among youth age 24 and under, nearly 50% identify as LGBTQ. The percentage of unhoused trans people jumped from 9% in 2017 to 13% this year.

Yes, there have been positive attempts to provide more housing programs. For one, as we've reported, Mayor London Breed this year allocated $2 million (over two years) for housing subsidies for trans people, a major step to keep trans people housed or move them into housing. There's also the small LGBT homeless shelter Jazzie's Place in the Mission that's been helping people since it opened four years ago. This month, the last tenants are moving in to Openhouse's 95 Laguna Street affordable senior housing complex. More, obviously, needs to be done, particularly in District 8, where the Castro has attracted the homeless for many years.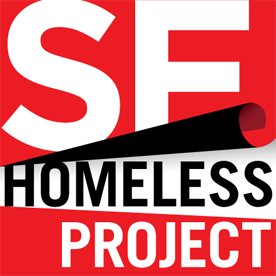 Breed is serious about reducing homelessness. She has attended groundbreakings and openings for projects around the city, and with Board of Supervisors President Norman Yee, has proposed a $600 million affordable housing bond for the November ballot. Key to our readers, we've been told that the bond prioritizes $150 million for senior housing, specifically developments that are welcoming of LGBTs. The bond also states that District 8 needs to be a central focus for where projects are funded, due to its lack of affordable housing units and having lost a significant number of rent-controlled units that were taken off the market because of Ellis Act evictions or owner move-ins.

But even if the housing bond passes, it will be years before anyone sees results. In the meantime, for the last year, District 8 Supervisor Rafael Mandelman, the board's lone gay member, has been trying to identify a site for a possible LGBT-focused Navigation Center, but it's proved difficult. The Castro is located in the heart of the city and is built out, so sites that might be available are expensive. Mandelman told us this week that he's encountered "lots of dead ends and bad options."

If a Navigation Center isn't feasible, perhaps an alternative could be a homeless services center, a program where people could go for services during the day. It would not be operational overnight to reduce the concerns of neighbors. The North Beach Citizens Center is such a program. Mandelman, Jeff Sheehy, Mandelman predecessor, and former supervisor Bevan Dufty have all toured the facility and spoken highly of its program. Homeless individuals could take shelter during the day and be off the streets, grab a bite to eat, and be connected to housing programs and other services. It seems like a more realistic solution for District 8, and it once had the support of Castro merchants.

Another idea, Mandelman's office told us, would be the Hummingbird model. Hummingbird Place is a 29-bed Navigation Center located at Zuckerberg San Francisco General Hospital. Opened nearly two years ago by PRC's Baker Places program, in partnership with the Department of Public Health, it provides access to recovery and wellness programs to the homeless and mentally ill, according to PRC's website. Most patients stay at the facility for two weeks. It is the city's first Navigation Center that deals specifically with mental health issues and addiction and offers a short-term overnight model that might also be suited to the Castro.

San Francisco spends more than $300 million on homelessness and yet the number of homeless individuals has increased. In a dense city such as San Francisco, developing smaller projects in neighborhoods would be more likely to be achieved. Though we continue to believe that every district should have a Navigation Center, it doesn't appear that one — in the traditional sense — will come to District 8 anytime soon. If that is the case, Mandelman, the mayor, and other city officials need to create alternative solutions that may help fewer people in a single location, but nonetheless help get those people off of the streets and into housing or services.
Comments on Facebook