SF Homeless Project: Residents move into 2nd phase of SF LGBT senior housing
Wednesday Jul 31, 2019
At night Red Jordan Arobateau tracks the arc of the moon as it crosses the night sky through the window of his studio apartment he moved into this spring with Bijou, his 30-year-old Goffin's cockatoo. The pair had been living in an older residential building in the city's Nob Hill neighborhood that didn't afford as nice of a view.

"What I like is the sky and moon at night," said Arobateau, 75, a bisexual transgender artist and author who has penned numerous queer fiction titles and books of poetry. "I like to see the moon travel the sky at night."

Showing off his new abode, which he got the keys to in May, Arobateau told the Bay Area Reporter in late July "it is the best building I have ever lived in."

His 450 square foot unit is on the third floor of the Marcy Adelman and Jeanette Gurevitch Community at 95 Laguna. It is the second phase of the 119-unit LGBT-welcoming affordable senior housing project that Openhouse, a nonprofit provider of LGBT senior services in San Francisco, partnered on with affordable housing developer Mercy Housing.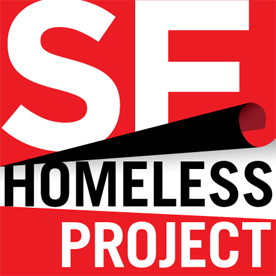 The new $40 million building, named after Openhouse's co-founders, includes 79 units of housing and 7,000 square feet of community space on the first two floors, which should be built out by the fall when a ribbon-cutting ceremony is planned. The first phase of the project at 55 Laguna opened in 2016 and saw a former college building remodeled into 40 housing units and Openhouse's Bob Ross LGBT Senior Center, named after the B.A.R.'s founding publisher.

The mixed-use complex at the northern edge of the city's newly created Castro LGBT Cultural District is the first affordable housing meant for LGBT seniors to be built in San Francisco. Mercy expects all of the residents of 95 Laguna will be moved in by early August.

Fifteen of the units were designated for people who are homeless or at risk of homelessness, and another six units went to people living with HIV or AIDS. While it does not yet have final demographic figures for the residents, Openhouse expects that a significant majority will identify as LGBTQ.

"We are, of course, just thrilled to see people moving into 95 Laguna," said Openhouse Executive Director Karyn Skultety, Ph.D., who is bisexual. "I am feeling positive again of the makeup of who is going to be in there and it being an LGBTQ space."

Among the out residents is Bill Longen, a gay man who moved into his fifth floor one-bedroom apartment July 25, two days ahead of his 72nd birthday. He relocated with his two cats, Darla and Wheezer, from an apartment he had been renting on States Street closer to the heart of the Castro district.

"As crowded as it is, it's cozy," he said last Friday as a friend helped unpack his boxes of books and a serviceman hooked up his cable. "I measured this apartment 87 times to make sure it could accommodate what I wanted it to."

Longen, who was diagnosed as HIV-positive in 1988, first moved to San Francisco in 1978 with his late partner Stanton Schaffer and worked for years at KTVU, the now-local Fox affiliate based in Oakland (it was independent at the time). An award-winning amateur bodybuilder, Longen retired to Palm Springs for four years in the early 2000s then returned to San Francisco and worked for a number of years helping oversee the Castro Theatre until 2011.

As he was looking at having to pay nearly $2,000 a month for a rent-controlled apartment, Longen decided to apply for one of the units at 95 Laguna. He's now paying $800 less each month in rent, a significant savings as his monthly income totals about $3,200.

"It was a godsend, mostly financial," Longen said of learning he had been selected for one of the units through the lottery held earlier this year to select the tenants. (More than 1,300 people had applied.) "I don't want to die in the apartment. But I am looking forward to this being the last move I have to make."
Lucking out
Arobateau lucked out and was the first person selected in the lottery for the building. He qualified for preferential consideration because of being displaced by redevelopment after moving to the city's Western Addition in 1967. The Chicago native, who is part African American and Latino, came to San Francisco looking for a safe haven among the hippies and other queer people then flocking to the city.

"I was homeless for a while, living in a van," recalled Arobateau, who bounced around the Bay Area as he moved from place to place.

Eventually he settled in Oakland with his then-wife. When they divorced 16 years ago, he moved back to San Francisco to "Snob Hill," as he called it. His eyesight diminished due to cataracts and needing the use of a cane to walk, Arobateau had difficulty navigating in and out of his building there.

At 95 Laguna there are no steps to climb, he noted, and a brand new elevator to whisk him up to his apartment. He was shocked to learn he had drawn the lottery's first slot, as he didn't think he'd be selected.

"Two weeks ago I finally finished going through my moving boxes," said Arobateau while seated at his kitchen table. "The people here are nice ... The idea is perfect: as we get old we are going to age in place."

One of the first people to move into the building was Donna Personna, a transgender woman who turns 73 this month. The beloved drag performer, playwright, and hairdresser moved into her sixth floor studio "penthouse," as she put it, in early May. Her roughly 560 square foot unit faces east and overlooks the courtyard below, like Arobateau's, but because it is higher up offers views of the surrounding cityscape.

"I just love the whole area here," said Personna, who served as one of this year's Pride parade community grand marshals. "There is a community garden and community orchard nearby. It is just glorious; it's like our own little village."

She had being living nearby with a friend of hers in his 70s serving as his caretaker in another property managed by Mercy Housing. Because she was not listed on the lease, Personna was concerned that one day she would be forced to move out.

She applied for a unit of her own at 95 Laguna in order to have a more secure housing situation. While she has dreams of one day relocating to Mexico, for now she is settling into her new home and searching for new furnishings that mirror its Nordic design aesthetic.

"I want to figure out how to maximize every inch of the space in here," said Personna, who raved about the size of her bathroom, built to accommodate a wheelchair, and the "beautiful bathtub. I have been taking bubble baths!"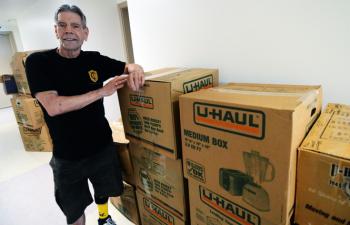 Subsidies help some
The qualification process for the building was taxing, Personna acknowledged, and she nearly lost her unit as she was told her income fell short of the $2,000 that was required.

"I didn't have that. They ended the interview with me, and I went away feeling devastated," she recalled.

Two days later she called the Openhouse offices to thank them for their help and learned she could apply for a subsidy from the Q Foundation. Personna contacted the nonprofit and is now receiving $450 a month to help her pay nearly half her rent.

"My fixed income is very low and my Social Security is low, so that was nice," she said.

Overall, Personna said the Mercy staff had "been lovely" in helping her navigate the process, noting that at one point "four women were working all day to get me in here. It is a tedious thing, the qualification process."

Anytime they contacted her about needing to submit additional paperwork, Personna said she responded immediately.

"I was over there in 20 minutes when they called. That was how badly I wanted to live here," she said. "I was not going to wait until next week. I took this on like it was my main job to qualify."

Arobateau also is receiving a subsidy from the Q Foundation to help him pay his rent of $1,200. As a writer, "I don't make much," he noted.

Brian Basinger, the founder and director of the housing nonprofit, told the B.A.R. that 15 residents of the Openhouse development are currently receiving a subsidy and the average payout is $500 per person. He expects that 15% of the residents at 95 Laguna will be receiving subsidies to help cover their rent. Most of the residents needed a minimum income of $24,000 a year to qualify, he noted, and the average Social Security check is $1,100 a month.

"Most seniors, including LGBT seniors, don't make enough money to apply for affordable housing. That is the reason why we started our senior disabled subsidy program," said Basinger. "So, basically, our philosophy and our model is no affordable housing provider in San Francisco should turn down a senior or disabled person that wins a lottery slot. They should refer them to us."

The subsidies are "ongoing," said Basinger, and are dependent on Q Foundation securing funding to pay for them. The nonprofit worked with the supervisors and Mayor London Breed to include $3 million in the city's 2019-2020 budget to pay for rental subsidies. There is a million each for seniors, transgender individuals, and those living with HIV or AIDS, he said.

Once the city issues a request for proposals for the funding, the Q Foundation plans to apply. It already maxed out its ability to provide housing subsidies this year and won't accept new people into its program until additional funding is secured.

"We are going to apply for those funds and hopefully we will be awarded that money and it will come online this year," said Basinger. "Then we will be able to start accommodating new people."

Basinger, who used to live across the street from the Openhouse development, teamed with queer housing activist Tommi Avicolli Mecca to advocate that it be a fully affordable project. He has yet to take a tour of the new building and looks forward to seeing it soon.

"We have saved $750 million in rent that is staying in the pockets of tenants over the life of the project," said Basinger.

More housing needed
Noting that more than 4,000 seniors, both LGBT and straight, had applied to live in one of the two buildings at the development, District 8 Supervisor Rafael Mandelman said much more is needed.

"The need is just immense. Each of these units are precious and important and we need way more," said Mandelman, a gay man elected to the board last summer.

For now, neither Openhouse nor Mercy is working on building another senior housing project geared toward LGBT seniors. No such project, in fact, is in the pipeline, according to LGBT advocates.

"We are looking for potential sites and funding sources," said Mandelman.

Rick Sprague, a regional vice president with Mercy, told the B.A.R. this week that "currently there are not any other LGBT-specific senior housing projects in our pipeline, but we are always looking to partner with cities, and other agencies, such as Openhouse, to collaborate on projects similar to 55 Laguna and 95 Laguna."

Skultety said that Openhouse is "very open and involved in conversations to help move forward new and more LGBTQ senior housing."

One revenue source could be the $600 million affordable housing bond city officials are putting on the November ballot. LGBT advocates worked with Mandelman's office to ensure the money, if approved, would benefit the LGBT community.

It includes language that $150 million go toward senior housing, with LGBTQ-welcoming projects a priority use for the funds. There is also language that prioritizes affordable housing projects in District 8 since few such developments have been built there while the district has lost a high number of rent-controlled housing units due to Ellis Act and owner-move-in evictions.

Voters in District 8 are key to seeing the bond pass, as the district always has one of the highest voter turnout rates in the city; Basinger argued it is only fair that a portion of the money pay for projects built there.

"So we need a project for D8 and we need something bold and big," he said. "And if we are going to deliver the most number of votes for the affordable housing bond, we need a housing project that is equitable to our contribution in winning that affordable housing bond."
Comments on Facebook