Lyft, LGBTQs reach agreement on bias claims
Wednesday Jul 31, 2019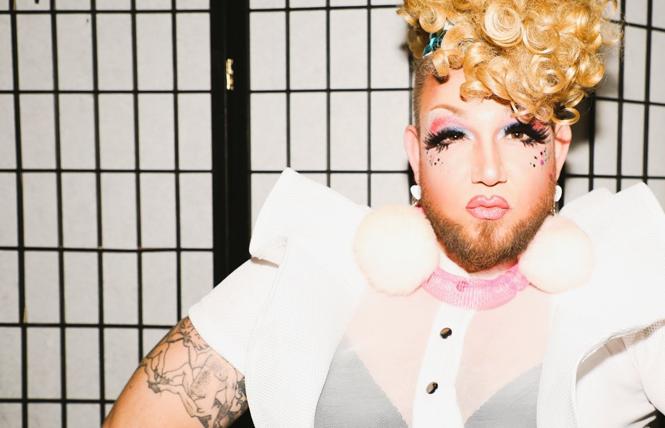 A drag queen and the Sisters of Perpetual Indulgence announced a settlement agreement Tuesday with ride-hailing company Lyft to ensure that drivers using its platform do not discriminate against queers.
In 2017, Kevin Seaman reported that a Lyft rideshare driver denied him service. Seaman was dressed in his drag persona, LOL McFiercen, and called for the car to pick Seaman up in front of the Stud, a well-known gay bar on Ninth Street in San Francisco's South of Market neighborhood. The driver allegedly saw the drag performer and refused to allow Seaman to get in the car. Seaman reported the offense and was compensated with a $10 coupon and a promise to never be matched with that driver again.
This response from the company was not enough, according to Seaman. He worried that the problem was not limited to a single incident, but indicative of a widespread license to discriminate.
Joining forces with the Sisters of Perpetual Indulgence, the order of charitable drag nuns, Seaman has reached a collaborative agreement with Lyft to ensure individuals in drag or evidencing other forms of queerness are not discriminated against by the company or drivers using its platform.
After a year of structured negotiations, all parties reached an agreement wherein Lyft reaffirms its "commitment to creating a safe environment for drivers and riders and agrees to develop new content to educate drivers about issues affecting the LGBTQ community, including in the context of gender identity and gender expression," according to a news release.
Seaman and the Sisters were represented by the National Center for Lesbian Rights and Rosen Bien Galvan and Grunfeld LLP.
The deal was finalized in late June, according to RBG&G.
Lyft has also reportedly agreed to maintain a readily-available method for riders to report discrimination via its app, to re-train employees who handle complaints on LGBTQ issues, and to develop an appropriate process to ensure that complaints are handled in a sensitive and appropriate manner. Lyft will continue to work with Seaman and the Sisters to implement the agreement.
The Bay Area Reporter reached out to inquire what that continued work will entail, but neither Seaman nor Sister Selma Soul responded immediately to requests for comment.
"Trans and gender-nonconforming individuals face some of the most severe discrimination and violence in our society," Sister Selma Soul, president of the Sisters, said in the release. "The Sisters believe no one should be left stranded at the curb because someone else disapproves of their gender expression. We are happy that Lyft met us at the table and is taking a sincere interest in addressing this issue."
Seaman, who was traveling, also praised the company.
"In the midst of increasing violence against transgender people and so many corporations focused on marketing to LGBTQ+ communities to uplift their own brands at Pride celebrations, it's wonderful to see that Lyft is not just talking the talk, but willing to walk the walk," he said in the release.
"Trans people, gender-nonconforming folks, and drag performers need access to safe transportation just like everyone else. I'm excited that Lyft is willing to work with us to better serve some of our most vulnerable communities," Soul added.
Representatives from Lyft's media relations department and legal team were not available to the B.A.R. for comment.
A full text of the agreement is available on RBG&G's website at https://bit.ly/2MqE5Sz.
Comments on Facebook