Leasing plan for new Castro apartments elicits outrage
Wednesday Jul 31, 2019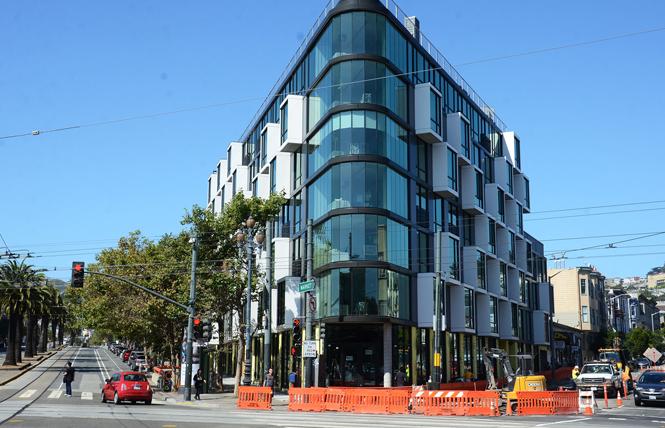 The decision by a developer of a new apartment building on upper Market Street in San Francisco's Castro district to have a hospitality startup rent out the units as furnished extended-stay apartments has elicited outrage from community members and District 8 Supervisor Rafael Mandelman.
Local contractor Brian Spiers won approval from the city to erect a 60-unit building over roughly 4,000 square feet of ground floor retail space at 2100 Market Street, with eight of the apartments set aside as below-market-rate. Located at the intersection of 14th, Church and Market streets, the project is months behind schedule, as it was initially expected to be ready for move in at the beginning of this year.
It is now expected that the first tenants will move in sometime in September. But rather than offer up the units as typical apartments, Spiers partnered with San Francisco-based startup Sonder to handle leasing them as furnished apartments.
According to the company's website, it offers "the consistency and service of a great hotel that doesn't come in a typical hotel format, combined with the warmth and comfort of staying in a space that feels more like a home, and the ability to choose the perfect location from the best neighborhoods in cities around the world."
The news generated headlines last week that said the company was bringing "52 furnished hotel rooms," as Hoodline put it, or a "corporate rental" property, as SFist dubbed it, to upper Market Street.
Spiers has disputed such descriptions, noting the units are being offered for lease similar to other furnished apartments people can rent throughout the city. He expects most of the tenants will sign leases with Sonder of six months to up to a year with an option to renew.
"There has been a miscommunication that my building is going to be a hotel. That is absolutely not accurate," Spiers told the Bay Area Reporter.
In an interview Monday, he said he did not yet know what the market-rate apartments would rent for, as he was leaving that up to Sonder. As for the below-market-rate units that will be leased through the city's lottery system for affordable units, Spiers told the B.A.R. that the five one-bedrooms will rent around $1,290 a month and the three two-bedrooms will rent for about $1,440 a month.
Because he doesn't have an apartment leasing team, Spiers said it made sense to have Sonder handle renting out the building, though a different company will oversee the leasing of the BMR units. With just one elevator in the building, Spiers said it would be easier to move in furniture all at once for the market-rate units rather than having numerous people moving into the building at various times.
"It was always going to be apartments from day one," said Spiers. "As I was going through the process deciding how I was going to manage the building and how we would do the lease up, I was approached by Sonder."
'Boutique residential service'
The 2100 Market Street units will be part of Sonder's "boutique residential service" and are not yet available for rent. The company, run by co-founders Francis Davidson and Lucas Pellan, plans to launch a new website this fall dedicated to renting out furnished apartments, like the ones at Spiers' building, it is overseeing the leasing of to make it clear they are meant to be leased for six months to a year or longer. Sonder will also incentivize longer leases for the units by offering people discounts the longer they rent them.
Sonder spokesman Mason Harrison told the B.A.R. Tuesday that the rents for Spiers' building have yet to be finalized and there was still no date for when they would become available for lease. He said the company considers them to be "boutique residences" aimed at professionals, for instance, just moving to town and need a place to stay as they look for more permanent housing.
"This is not a short-term rental. That has a legal definition which this does not meet," he said, adding, "This is not a hotel."
The company expects to generate $400 million in revenue this year and has set a target of adding 200 rental units a month to its portfolio. It has several options nearby in Hayes Valley all with a 30-night minimum, with prices ranging from $174 for a one-bedroom, which would total $5,220 for a month's stay, to $373 for a two-bedroom, which comes to $11,190 for a month's stay.
Local residents largely denounced the leasing arrangement between Spiers and Sonder.
"It is an absolutely and excruciatingly embarrassment for my neighborhood (but somehow totally expected) that a brand new 'residential' building in an area with a thoughtfully executed neighborhood plan could be used as a (loophole legal) hotel, rather than providing much-needed housing in the city," wrote Christopher R. Vasquez, a gay man who has worked on various political campaigns, in a Facebook post.
After learning about the deal between Sonder and Spiers, Mandelman also expressed his outrage in a Facebook post last week.
"San Francisco neighborhoods never signed up for corporate hotels masquerading as rental housing," wrote Mandelman, a gay man and attorney who had worked on land use issues for the Oakland City Attorney's office prior to his election last year. "Since learning about the developer's plans to operate 2100 Market as an extended-stay hotel earlier this week, my office has been in contact with the planning department and the City Attorney's office to determine whether these units are allowed under existing law. If they are, we need to change the law and close this loophole."
At last week's planning commission meeting where the issue of corporate rentals throughout the city came up, Planning Commissioner Dennis Richards called out Sonder for finding a loophole to the city's short-term rental restrictions, as the San Francisco Examiner noted in a story last week.
"I feel like we are being played," said Richards, a gay man who lives in Duboce Triangle and formerly led its neighborhood association. "This is an Extended Stay America, this is not a housing project. There's a lot of this going on in all the projects we approve. This whole idea that we are solving the housing crisis — really we are solving a hotel crisis."
In an interview Monday, Mandelman told the B.A.R. that it doesn't appear the arrangement is violating any city laws or zoning rules. He added that it does seem to be at a different scale than what is occurring with other buildings in the city offering similar corporate rentals. And as far as he is aware, it appears to be the first such one in his district, which in addition to the Castro includes Noe Valley, Diamond Heights, and Glen Park.
"I think from his perspective he is meeting a market need," said Mandelman, who spoke with Spiers last week, as did his aide who oversees issues in the Castro, Tom Temprano.
Nonetheless, in August, Mandelman plans to meet with city staff to see how such rentals can be regulated.
"It seems there is a sort of extended-stay gray zone between short-term rentals and actual residential housing," said Mandelman, referring to the rules the city adopted to govern home-sharing sites like Airbnb. "It is a growing area. It is a very hard thing to regulate, as I am guessing without having these conversations with city staff yet."
District 3 Supervisor Aaron Peskin has been working to mitigate the impact of corporate rentals in his district, which includes North Beach and Chinatown, and across the city. He is expected to introduce legislation after the board's August recess. His office told the B.A.R. this week it was focused at first on units in rent-controlled buildings but is now looking into "universal applicability" in all buildings.
San Francisco Planning Department spokeswoman Gina Simi told the B.A.R. that there is nothing preventing Spiers from using Sonder to lease out his building.
In an emailed response, she wrote "at this time, technically they aren't breaking any rules or laws, so there's nothing for us to enforce."
Asked about the possibility of enacting new rules to restrict such corporate rentals, Simi wrote, "We're happy to work with the supervisor/board in providing information and analysis pertaining to this issue, but our hands are tied unless the (board) takes initial action."
For Spiers, who owns the Lucky 13 dive bar up the street at 2140 Market Street, controversy surrounding his development projects is nothing new. He faced criticism over the initial design for the flatiron building at 2100 Market Street by Arquitectonica and worked with residents and planning officials on changes to it.
His collaboration with the firm for his Linea building a block north also was met with design critiques. Opened in 2014 at the intersection of Market and Buchanan, the building features a cube-like design and its units were sold to buyers.
He told the B.A.R. he wasn't expecting the backlash to the leasing plans for his newest building.
"I am surprised at the reaction. Part of it was the way the initial story read and being associated with much shorter-term rental product," said Spiers, who stressed that "there is a demand for furnished apartments" in the city.
Harrison declined to comment about the pending legislation since he did not know the details of it. He stressed that the company abides by the rules and regulations in the cities in which it operates.
"In San Francisco, we are willing to be a partner with the city, working with them on the future of this industry," he said.
Comments on Facebook