Kim rules out Senate rematch at Milk dinner
Wednesday Jul 31, 2019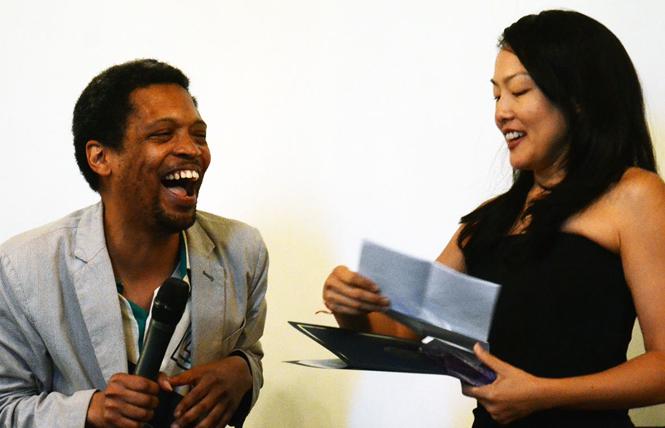 Former District 6 supervisor Jane Kim, who received the Community Ally Award at Monday's Harvey Milk LGBTQ Democratic Club Gayla, said she will not wage a rematch next year against gay state Senator Scott Wiener (D-San Francisco) when he's up for re-election.
"I have no plans on running for office," Kim told the Bay Area Reporter. "I'm the Bay Area director for the Bernie Sanders 2020 campaign, so I'm working on his California operations for the 2020 primary. This takes more time than a full-time job."
During her remarks, Kim told the Milk club audience that she has always valued diversity.
"As an elected public servant and a woman of color who has not always seen her face and voice represented among those who get the opportunity to lead, I understand the importance of bringing as many diverse voices to the table with you when you win a seat at the table," Kim said. "It was important to me to both hire and bring on advisers from our communities of color and LGBTQ community."
She thanked the club for its support of her during her years in public office. A former school board member before she was elected supervisor, Kim ran for mayor last year and ran a close campaign against Wiener in 2016 for an open seat.
"It's been an incredible ride," she said.
About 200 people gathered in the Green Room of the War Memorial Building for the 43rd annual dinner and Gayla.
David Campos, a gay man who's chair of the San Francisco Democratic Party and a former supervisor, attended to support the club, as did gay District 8 Supervisor Rafael Mandelman.
"I consider this to be my political home," Campos said. "I am proud to support it as a member of the club and as chair of the San Francisco Democratic Party."
Milk club President Kevin Bard said he's working hard to keep Milk's legacy alive. Milk was the first openly gay elected official in San Francisco and California when he won a seat on the Board of Supervisors in 1977. Tragically, he was assassinated a year later, along with then-mayor George Moscone.
Shaun Haines, a 41-year-old queer activist, was one of the evening's sponsors.
"I am here to celebrate the spirit and legacy of Harvey Milk through the energy of today's queer activism," he said. "I look forward to what we are all able to accomplish through 2020 and beyond."
Laura Thomas, a 52-year-old queer woman and a former co-president of the club, was also celebrating the evening.
"I'm always happy ... to keep pushing San Francisco to take more progressive political stances," Thomas told the B.A.R. "Especially in this political climate."
Awards
In addition to Kim, the club recognized trans activists.
As previously reported, this year's awards ceremony was shorter with only three honorees. Bard explained he made the decision to both keep the program from going too long and to shine a brighter spotlight and give more time to the awardees.
Our Trans Home SF, a coalition that advocates on the homelessness crisis affecting the city's transgender community, received the Bill Kraus Leadership Award. Kraus, who served as Milk Club president from 1979-1980, was a noted AIDS activist who died of the disease in 1986. The award was accepted by Akira Jackson, director of Taja's Coalition.
Our Trans Home SF secured $2 million over two years in the city's budget for rental subsidies for trans people.
"We want to thank the Harvey Milk Democratic club for recognizing the Our Trans Home SF campaign tonight," Jackson said. "This is a huge deal, so we are excited to have a moment to celebrate this victory. However, we still have more work to do. We still need safe emergency shelter programs for trans people, we need transitional housing programs and we need supportive housing programs. So look for us next year as we continue to work to end trans homelessness."
Aria Sa'id, executive director of the Compton's Transgender Cultural District and founder of Kween Culture Initiative, a social and cultural empowerment project for black transgender women, received the Jazzie Collins Award.
"Jazzie Collins showed us how we can engage in radical and transformative activism in San Francisco, a landscape in which being both black and transgender and a woman is difficult to thrive and exist," Sa'id said, referring to the late trans activist who died in 2013. "Thank you for this moment."
The evening's special guest Josh Stein, a straight ally who is North Carolina attorney general, spoke briefly about the challenges of fighting for LGBT equality in his state.
After Stein spoke there was a performance from drag queen Per Sia, who wowed the crowd as she danced in a floor length red dress to the disco anthem "Don't Leave Me This Way."
Guests said they appreciate the work the club does.
"I've been a member of the Milk club since I got involved in San Francisco politics when I moved here around nine years ago from Ohio," said Arthur Welton, a 34-year-old gay man. "Tonight I'm here with Rafael (Mandelman), the only gay member of the Board of Supervisors. I look forward to working with the Milk club in the next election."
Bard spoke to the B.A.R. after the program.
"Everyone is having a great time," he said. "There's lots of smiles and that's what I live for. I'm glad that the Milk club honored a lot of trans activists because their work is vital and underappreciated."
Bard added that the club's priorities for the this year are to elect Dean Preston as District 5 supervisor and Chesa Boudin as district attorney. The club has already early endorsed both candidates.
"They are the most progressive fighters in their respective races and the Milk club needs fighters," Bard said.
Comments on Facebook