News Briefs: Six Flags to hold Pride event
Wednesday Jul 31, 2019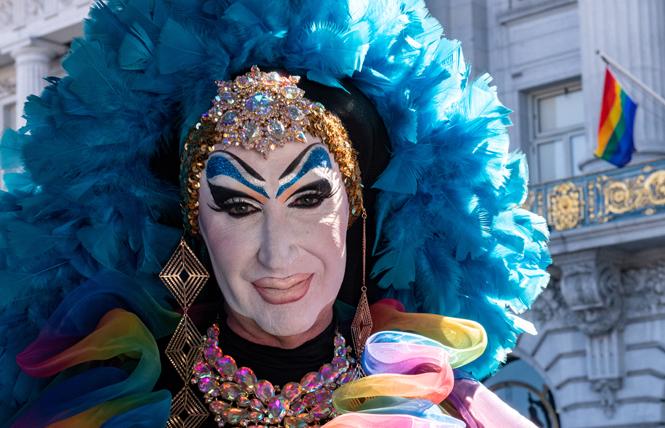 Six Flags Discovery Kingdom in Vallejo will hold its second Out at the Kingdom Pride party Saturday, August 10, from 8 p.m. to midnight.
Organizers said the fun night will include performances from "RuPaul's Drag Race" competitor Soju and San Francisco's own Sister Roma of the Sisters of Perpetual Indulgence. Additionally, there will be dance party music from Ray Rhodes, a bar for those 21 and over, and more.
The Out at the Kingdom ticket includes a full day at the park with the general public from 10 a.m. to 8 p.m. and then the LGBT night in DC Plaza. Special Out at the Kingdom ride access will include: The Joker, Superman Ultimate Flight, Wonder Woman Lasso of Truth, the Penguin, and the Harley Quinn Crazy Coaster.
Tickets, which include free parking, are on sale in advance for $45 at www.outatthekingdom.com or $60 at the gate. Six Flags annual pass holders receive an additional discount. Six Flags is located at 1001 Fairgrounds Drive.
Rosie rally and festival coming up
This year's Rosie Rally Home Front Festival, celebrating the legacy of women across the world, takes place Saturday, August 10, from 11 a.m. to 4 p.m. at Craneway Pavilion, Ford Assembly Plant, 1414 Harbour Way South in Richmond.
Organized with support of the Rosie the Riveter WWII Home Front National Historic Park in Richmond, the free, family-friendly event sponsored by the Rosie the Riveter Trust will include costume contests and other activities.
There won't be an attempt to set the Guinness record for the most Rosies this year, but attendees are encouraged to update Rosie, represent home front occupations in creative ways, or don traditional Rosie garb.
This year's festival will honor original World War II Rosies and home front workers as well as celebrate ordinary people from many backgrounds, races, and communities across the U.S. who stepped up to extraordinary challenges during the war, according to an email announcement.
New this year will also be ferry service from San Francisco. For more information, visit https://sanfranciscobayferry.com/news/richmond-weekend-ferry-service-2019 . For more information on the Rosie festival, visit http://www.rosietheriveter.org/events/rosie-rally .
Santa Clara County Fair to hold LGBTQ day
The Santa Clara County Fair will hold its LGBTQ day Friday, August 2, from 11 a.m. to 11 p.m. The fair is located at 344 Tully Road in San Jose.
Special events will include concerts by the all-female Killer Queens, a Queen tribute band, at 8:30 and 10 p.m. Other activities include carnival games, rides, and exhibits.
General admission tickets are $10 for adults, and $5 for seniors 65 and over and children 12 and under. Kids under 5 are admitted free. Parking is $10 per vehicle.
For more information, visit https://thefair.org.
Comments on Facebook