Southern California dreaming: Palm Springs attracts younger LGBTs
Wednesday Jul 17, 2019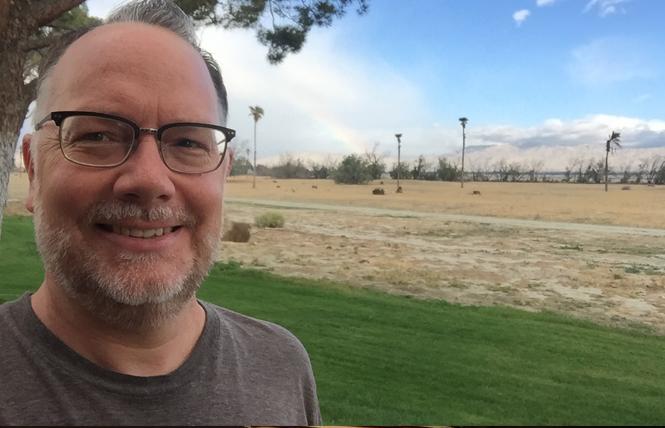 Mention Palm Springs to most LGBT people and they will think of it either as a winter tourist hotspot or a retirement community for gay men. But those characterizations no longer paint as accurate a portrait of the Coachella Valley city in Riverside County.

For years the joke was that Palm Springs was where older gay men go to die. Today, the city of 47,700-plus residents is increasingly where LGBT people become first-time homeowners.

And many of those LGBT residents are in their 30s and 40s, said city leaders. Priced out of the Bay Area, they are turning to the southern California city in search of cheaper housing, as the median home price in 2018 was $395,000.

"When I moved here the first time I was in my 30s. At the time that was very unusual," recalled Geoff Kors, 58, a gay man who serves on the Palm Springs City Council.

In 2011, Kors and his husband, James Williamson, left San Francisco to permanently move back to the desert city where they had maintained a part-time home. The couple, who married in 2014, noticed right away there was a cohort of newer, younger residents calling Palm Springs home.

It is evidenced in this year's election for three seats on the city council, as a number of the candidates are in their 30s and 40s, noted Kors, who is seeking re-election come November.

"There is so much more going on in Palm Springs," explained Kors about the city's changing demographics. "The city is really going through a renaissance with a lot of new restaurants, bars, and more job opportunities."

One of the newer arrivals was Matt Vandeberg, 46, who moved into the Desert Park Estates neighborhood north of the city's airport in the first quarter of 2018. He has found that the city's reputation as solely being a gay retirement mecca no longer rings true.
"That myth is dispelling and times are a changing," said Vandeberg.

After moving to San Francisco in 1995, Vandeberg lived through several tech-driven boom and bust cycles. Yet the gay marketing professional was never able to buy a home in the city and, for years, rented a one-bedroom apartment in the Duboce Triangle neighborhood.

Like many of his peers now in their 40s, Vandeberg found himself priced out of the city's housing market and two years ago began seriously considering his options. He quickly ruled out leaving California and turned his focus toward Palm Springs, a favorite vacation spot of his.

"When I thought about places to move to I knew I wanted to stay in California, especially in Trump's America, right? So I needed to stay in California and I wanted a place somewhere that was liberal and had a vibrant gay community," said Vandeberg. "I had been vacationing in Palm Springs for years, so it really was a natural place to look to and a place I could easily consider home."

In August 2017 he spent a week in a rental home to see if he could handle the town's notorious summer heat, with temperatures above 100 degrees most days, and envision himself as a full-time resident.

"I simply wanted to do a litmus test and put myself in the most brutal conditions Palm Springs could offer — the heat, being alone, working and not on vacation — to see how I could manage those factors. I did fine," recalled Vandeberg. "I could see myself living there. It transitioned in my mind from being a vacation place to a home with work and friends and everything else."

Last year on March 31 Vandeberg moved into a two-bedroom, two-bath furnished condo he had bought in the low $200,000 price range. His monthly mortgage payments plus the HOA fees he pays worked out to be $500 less than his San Francisco rent-controlled apartment.

"Basically, when I started thinking about a place I met with a financial adviser and I worked with my brother who is a mortgage broker. I quickly found out I could afford a nice condo with today's interest rates and pay less in my housing than I was in San Francisco," he said. "For sure that sealed the deal to move."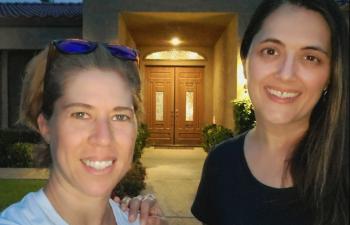 'Pleasantly surprised'
As for the age range of his new hometown, Vandeberg has been "pleasantly surprised" by the age diversity within the local gay community.

"Sure it does tend to skew a little bit older," he acknowledged. "But there are definitely other folks like me in their 30s and 40s moving to Palm Springs from San Diego, from Los Angeles, and from San Francisco. I have had several friends and acquaintances from San Francisco who have done the same thing I have done."

According to the most recent population figures from the American Community Survey conducted by the U.S. Census, in 2017 there were 18,231 residents of Palm Springs between the age of 30 and 59. Those age 60 and older numbered 18,485, with the city's median age at 54.

A report this May by the Southern California Association of Governments noted that the 55-64 age group increased the most in Palm Springs between 2000 and 2018. It grew from 12.6% to 18.2% of the town's total population.

Those numbers are likely to trend downward in the coming years as more people in the lower age brackets move into town. And it is not just Palm Springs but several nearby cities that are attractive to younger people searching to buy a home.

Jasmine Brandolini, 40, and her wife, Laura Kutch Brandolini, 43, left the East Bay city of Alameda in October to move into a three-bedroom house with three full bathrooms, a two-car parking garage, and pool they bought in Rancho Mirage in the $500,000 range. The couple had been paying $3,000-a-month for the three-bedroom townhouse with one and half bathrooms they had rented.

Despite having saved up a nest egg toward the purchase of a house, the couple found the only homes they could afford in northern California were on the outskirts of the Bay Area. Even then they would be stuck with costly monthly mortgage payments on a relatively small home.

After ruling out Las Vegas, which they didn't find very welcoming to a same-sex couple during a weekend house-hunting visit, and a number of other cities along the West Coast, the women turned their sights on the Palm Springs region.

"We only visited here once before like five or six years prior on a weekend trip. We never left the tiny downtown area near our hotel," recalled Kutch Brandolini, who for years had worked for the ABC affiliate in San Francisco. "We didn't know the Palm Springs area at all."

Their new hometown has been an adjustment for the Bay Area natives. They are living in a gated community and many of their neighbors are older gay retirees.

"I don't think it is regrets. It is a change. It is really different is the thing," said Kutch Brandolini of their move. "There is a ton we still love about living down here. The pace of life is a lot calmer and there is so much less traffic."

Like the Bay Area, the region has a sizeable LGBT population, she noted, with a number of gay-owned businesses, community groups and established nonprofits. They did discuss if moving to a place known as a gay retirement mecca made sense for them.

"We definitely thought about it," said Kutch Brandolini. "We are not partiers. We don't go out to bars and clubs. We are fairly homebodies and we like quiet, so it was a little bit of a bonus living in a more senior area."

Plus, many of their friends in the Bay Area like to vacation in Palm Springs and it is easy for them to travel back to see their families. They have made friends with people their age since moving and are adjusting to the hotter climate; this summer they are installing solar power in order to cut down on their electricity bill.

"It is a really great area to be and really comfortable to live here, minus the heat, as long as you have good AC," said Kutch Brandolini. "We strongly suggest solar power ... your electric bills easily can be $800 to $900 a month. Solar will help cut that bill drastically."

In addition to bracing oneself for the hot weather, new residents should also be aware that the job market is nothing like it is in the Bay Area, cautioned both Vandeberg and Kutch Brandolini. He was able to transfer his job with him when he moved, while she landed a job with a San Francisco-based public relations firm owned by a friend that allows her to work remotely from home.

"If you are looking to move down here the job market is not going to pay you anything close to what you can get in the Bay Area," noted Kutch Brandolini.

Vandeberg agreed that there aren't as many economic opportunities in the area as one can find in the state's other metropolitan regions.

"So that can be a challenge and could be a challenge for me in the future," he said. "But I am willing to do what I can to make it work living in Palm Springs."
Comments on Facebook