Letters to the editor
Wednesday Jul 10, 2019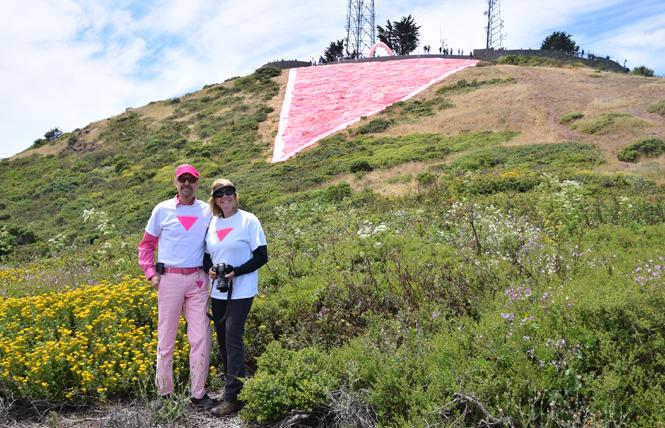 Pink triangle installation a success
Thank you to the 150-plus volunteers who helped set up the 24th annual pink triangle in record time by installing 175 bright pink tarps and 5,000 foot-long steel spikes atop Twin Peaks in less than an hour on the foggy morning of Saturday, June 29. Also, thank you to the 25 people who helped dismantle the one-acre display Sunday after the Pride parade. The pink triangle is a community-building project and it really does take a village. Shortly after the installation was completed, the sun came out for the ceremony.
Thank you to the dignitaries who spoke during the commemoration ceremony, including San Francisco Mayor London Breed; German Consul General Hans-Ulrich Suedbeck, who gave the "History of the Pink Triangle" at the beginning of the ceremony (it was an honor to have an official representative of Germany, the nation where the pink triangle was invented, tell the history for the first time on Twin Peaks); French Consul General Emmanuel Lebrun-Damiens; Honorary Consul General of Monaco Thomas E. Horn; state Senator Scott Wiener; Assemblyman David Chiu and his toddler son, Lucas; San Francisco Treasurer José Cisneros; Supervisor Rafael Mandelman; Clair Farley, from the San Francisco Office of Transgender Initiatives; and SF City College Trustees Alex Randolph and Tom Temprano. Also, San Francisco Pride board President Jacquelene Bishop spoke and then introduced community grand marshals and honorees, Vince Crisostomo; Mrs. Vera, along with Michael Johnstone of Verasphere; and comedian Sampson McCormack, all of whom spoke and inspired the attendees.
The first pink triangle went up in the dark of night so our small group wouldn't be arrested, now it is installed, celebrated, and christened by many, including elected officials. It went from renegade to an important and colorful backdrop that makes San Francisco's Pride visually unique. It also offers a valuable history lesson. The pink triangle is one of history's reminders of hatred and inequality, while reminding us that even though LGBTQ+ citizens have made much progress in recent decades, we still face significant challenges.
A huge thank you to our 2019 sponsors: SF Pride, the Bob Ross Foundation (overseen by Horn, it sponsored the 2019 pink triangle T-shirts), the Sisters of Perpetual Indulgence, Badlands, Toad Hall, Paul Pendergast Consulting Group, Lazy Bear Weekend Fund, Rick Stokes (owner of Steamworks), Brian Gerritsen, Hodgkins Jewelers; and Starbucks for the coffee, tea, and pastries.
Thanks to Barefoot & Bubbly for the champagne used during the christening portion of the program. Media sponsors: the Bay Area Reporter and Betty's List/SF Bay Times. The SF mayor's office and SF Department of Real Estate for their ongoing support, SF Public Works for sending a crew to clear much of the hillside site of poison oak and non-native thorny plants several days before the volunteers arrived; officers of the San Francisco Police Department's Park Station, who watched over the ceremony and for giving 24-hour coverage; and Katie Hickox for maintaining the pink triangle website (http://www.thepinktriangle.com).
This event could not have continued all these decades without the ongoing dedication of Colleen Hodgkins and Hossein Carney, who have been the main helpers for many years. Thank you also to the extraordinary and talented official band of San Francisco, the SF Lesbian/Gay Freedom Band, conducted by Michael J. Wong. The band has participated since 2000 and always adds a great deal of fun to the ceremony.
Thank you to all of those who helped in any way to make the 2019 pink triangle a successful event.
2020 will bring the 25th annual pink triangle; that year will also bring San Francisco its 50th Pride. Next year will be a milestone for San Francisco's Pride weekend celebrations.
Patrick Carney
San Francisco
Common sense missing in Castro
It was quite embarrassing to walk through the Castro the night of Saturday, June 29. The sidewalks were overwhelmed, and the lines for the local bars all extended hundreds of feet. No doubt many of those people never got into the bars before they closed.
The simple and obvious solution was to keep Castro Street closed between Market and 18th. There is no great need for traffic to dominate the space (it's not a major thoroughfare), and it would have been less dangerous (than way over-crowded sidewalks).
Even worse was the dominance of police. There were so many cops and they had nothing to do. It was also quite intimidating, which gave the neighborhood a "police state" feeling. What a waste of money.
Can you imagine being guests to our area and seeing this spectacle on Pride weekend? How horrible a look is this for a gay scene with a known big event? I heard so many people express their dismay at how this whole thing was handled by our city. Are we trying to keep people away from the city on this weekend?
How did this happen? Why did Supervisor Rafael Mandelman allow this to happen? What happened to common sense?
Tony Jasinski
San Francisco
Comments on Facebook