Pride 2019: 'Beach Blanket' prepares to hang up its hats
Tuesday Jun 25, 2019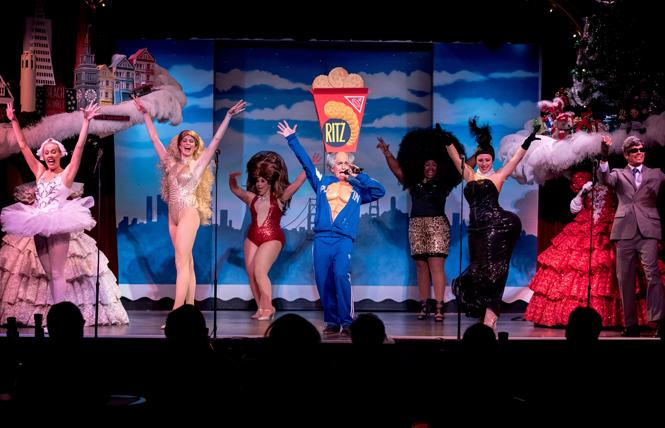 Happy trails to you, until we meet again ...

Those upbeat lyrics, sung during the grand finale of "Beach Blanket Babylon," have long rung true for the revue's loyal audience members. Over the unprecedented 45-year run of San Francisco's sui generis musical spoof, hardcore fans have returned to the show again and again, delighting in the continually changing array of pop cultural targets caught in the irreverent revue's Nerf gun crosshairs.

But "until we meet again" is no longer an open-ended proposition between the landmark show's fans and performers. At 4 p.m. Wednesday, April 17, producer and writer Jo Schuman Silver gathered the show's company in the basement wig and costume workshop that doubles as its green room and announced that "Beach Blanket Babylon's" own long and storied trail was coming to its end.

After over four decades and 17,000 performances for over 6.5 million audience members, the eccentric, world-renowned San Francisco institution will take its final bows on New Year's Eve.

"There was shock and disbelief and sadness and confusion," recalled longtime cast member Curt Branom, 57, a gay man who did two stints in the show during the 1990s and has been a full-time cast member for the past 17 years, regularly playing the fabulously fey pink-haired King Louie, one of the iconic staple characters. "It was hard to go on that night."

"It was a complete surprise," said Tim Santry, a gay man who has designed thousands of wigs since joining the company in 2006. (Among his favorite creations, he counts a massive Sia wig accented with a tiny puppy dog head and a Princess Leia 'do, heavy on the cinnamon rolls.)

"But that's the nature of the theater business," Santry, 60, said in an interview. "You hope it will run forever. I was hoping to retire from this job. But anything can close at any time."

Schuman Silver, who's in her 60s, said she has long contemplated the show's end.

"I started thinking about this three years ago," explained Schuman Silver — widow of "Beach Blanket Babylon" creator Steve Silver — in a phone interview with the Bay Area Reporter, emphasizing that the closure is not motivated by a dip in ticket sales (unsurprisingly, the box office has recently been swamped by orders for the final few months of performances).

"Steve always told me I'd know when it was time," she said. "I wanted the show to go out strong. And I didn't want to hand it off to be run by anyone else, because I couldn't be sure it would stay true to Steve's vision."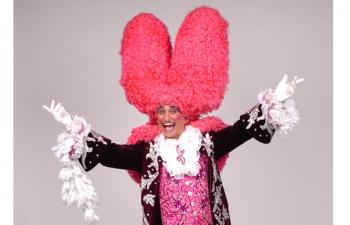 Early beginnings
That vision stems from Silver's time as a graduate student in the fine arts department at San Jose State University, when he started to develop the kitschy carnival aesthetic that informs "Beach Blanket Babylon's" enormous hats and wigs, cornpone puns, and playful, never mean-spirited embrace of the news of the day.

An impresario of guerilla street theater long before the term "flash mob" was coined, Silver would lead fellow students on field trips to well-touristed areas of San Francisco where they would sing and dance for donations, dressed in outlandish costumes including the anthropomorphic Christmas trees that ultimately became a show fixture. These routines evolved into a post-graduate business called Rent-A-Freak, which provided oddball costumed characters to add a bit of weirdo San Francisco flair to society functions. A post-graduate Silver also worked as an assistant art director on the locally filmed "Harold and Maude" and became an in-house event producer at the American Conservatory Theater.

In 1974, Silver booked Beach Blanket Babylon — an expanded indoor version of his earlier street performances — into North Beach's now defunct Savoy Tivoli cafe for what was originally scheduled to be two weekends of late night performances. A word-of-mouth success from the get-go, the show moved to another nearby venue, Club Olympus, before settling into Club Fugazi where it's run and grown since 1975, with spin-off productions and special events mounted in Las Vegas, London, and Davies Symphony Hall along the way. (The San Francisco Symphony Orchestra's Michael Tilson Thomas, a gay man, has said he tries to see "Beach Blanket Babylon" at least once a year, often with out-of-town guests in tow).

"Thank God for the gay community," said Schuman Silver. "I wasn't there at the very beginning, but from everything I've heard, that's who spread the word about those first midnight shows. It's the best audiences in the world. We've been intertwined, going through stuff together from the very beginning."

Schuman Silver has pursued Silver's creative vision with loyal, joyful dedication since her husband died of AIDS at age 51, 24 years ago this month. Kindred spirits, the pair became fast friends upon meeting in 1982, not long after Schuman, a New York socialite recently transplanted to San Francisco, first saw "Beach Blanket Babylon."

"I couldn't believe it," she recalled. "The humor, the costumes. I felt like it was made for me. I wrote Steve a gushing four-page fan letter, but I sent it to the wrong address and it came back in the mail. A few months later, I met him at a dinner party and we just hit it off immediately. Right away, he could see we shared a sensibility, and he started calling me with ideas. 'What if we put E.T. in the show? What if we try this?'"

The couple formed an emotional bond and a brain trust, working together to burnish the show's reputation and leveraging its success to support a wide range of charities, including AIDS organizations and arts scholarships. They were married less than a year before Silver died, helping ensure that his life's work was left in her capable hands.

Over the last 24 years, Schuman Silver has made sure that every outlandish hat, colorful costume and slightly off-color gag that's made its way into the constantly evolving show has hewed closely to Silver's visual aesthetic and pun-loving sense of humor. Hundreds of old sketchbook pages filled with his distinctive character concept drawings are constantly used as a reference.

"We always ask," Schuman Silver said of the show's creative team, "what would Steve do? How would Steve do this?"

She devours cultural and political news in print, online, and on television every day, generating ideas that are folded into the show with remarkable frequency. New ideas become new lines, new lyrics, new wigs, and new outfits with astonishing speed. Schuman Silver oversees and fine-tunes it all in a never-ending quality control process.

"When Steve passed away, we wondered if it was all over," Branom said in a phone interview. "Steve was brilliant, not just creatively, but in his attention to detail. And with Jo, he'd put the right person in place and laid the groundwork for his vision to be carried on."

While cast and crew often suggest ideas for lines or characters, said Branom, they accept Schuman Silver's final judgment on everything.

"Jo always reminds us that it's not a democracy," Branom quipped.

Under Schuman Silver's stewardship — along with the essential involvement of longtime colleagues including director Kenny Mazlow (29 years) and musical director Bill Keck (26 years) — "Beach Blanket Babylon" has continued to thrive. While even today Schuman Silver reflexively deflects kudos for the show's continued success back to her late husband, she's now been at the helm for longer than he was.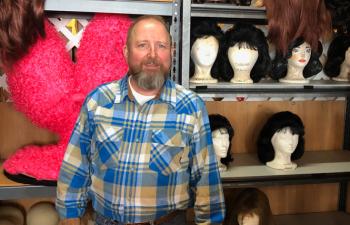 The future
Schuman Silver has hired a consultant for advice as longtime company members transition back into the working world, but Branom suspects that many will need to move or change careers.

"I'm lucky to have quite a few irons in the fire," he said. "I've been running a nonprofit after school arts program, which will be able to grow now, and I have offers to direct and to teach. But 'Beach Blanket' offered some of the only full-time theater jobs in the Bay Area. I don't see tremendous opportunity here given the economics. So many performers need to work three or four jobs just to cover the cost of living here."

Silver Schuman was pragmatic.

"Everything evolves," she said. "'Beach Blanket Babylon' was wonderful for the city, and the city was wonderful for us. But there will be some other wonderful thing. How do you think people felt when the Beat Generation faded, or the hippies? Nobody knew we'd have a tech revolution. There is always great stuff ahead."

For her, in addition to assuring that 'Beach Blanket's' warehouse-filling historic archive of costumes, documents, and photography finds proper homes in library or museum collections, Schuman Silver said that she's pondering a possible radio gig as an outlet for her news-junkiedom but declined to share any specific plans. She doesn't want to get ahead of herself: From now until the end of the year, there are jokes to write, costumes to conceive, and shows to put on seven times a week (Maybe more. High ticket demand, she said, will likely lead to additional shows around the holidays).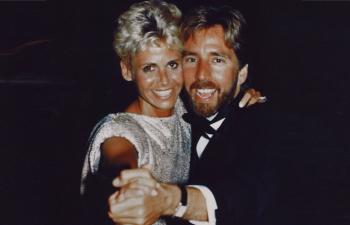 Even as they plan to move on, Santry hopes there will be new wigs to be created up to the final week — "I don't come here to work," he said. "I come to play with glue guns and hair!" — and Branom said there's a new jolt of electricity on stage.

"Knowing that we're nearing the end, the audiences are brimming with excitement," he said. "Just eating the show up. And we're feeding off of that energy. Its 90 minutes of complete joy."

Branom said he hopes new political scandals and celebrity brouhahas will generate new characters and gags up to the very end of the run.

"I love a challenge," he said. "If something is new and funny, we should put it in. Steve wouldn't want us resting on our laurels."

"Beach Blanket Babylon" ends its storied run December 31. For tickets, visit https://www.beachblanketbabylon.com/.