Pride 2019: Black recalls mom in his new memoir
Tuesday Jun 25, 2019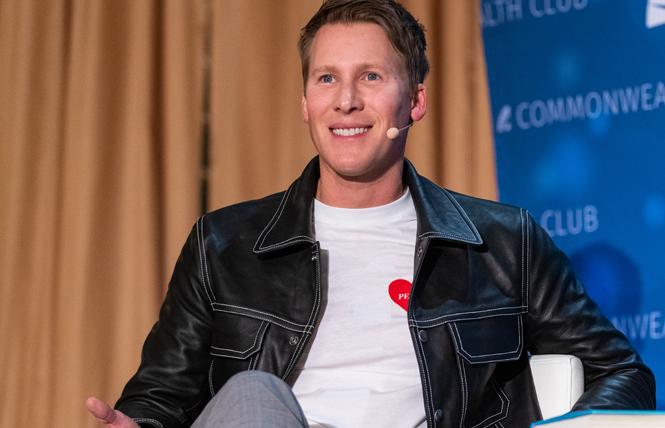 Academy Award-winning screenwriter Dustin Lance Black is famous now, but growing up poor, gay, and Mormon taught him a lot, especially about his relationship with his disabled mother.

Black was at the Marines Memorial Theater in San Francisco recently to promote his new memoir, "Mama's Boy: A Story from Our Americas" (Knopf).

Black, 44, is a well-known writer and activist. His 2008 Oscar was awarded to him for penning the screenplay to "Milk," the acclaimed biopic of slain gay civil rights leader Harvey Milk. Black also wrote "Pedro," a 2008 biopic about Pedro Zamora, the gay star of MTV's reality series "The Real World." Zamora died of AIDS-related complications in 1994.

In 2017 Black wrote, co-produced, and co-directed "When We Rise," an eight-hour miniseries for ABC-TV that chronicled the early days of the LGBT equality movement in San Francisco that was partly inspired by the Cleve Jones memoir of the same name.

"This feels like coming home," Black said during the late April event. "To see so many familiar faces and people that we've marched with and fought with, it really makes my soul light up tonight. Thank you all for coming."

Black was interviewed by KQED's Mina Kim, who asked him if he had planned to write about his mom, or if writing about her grew out of the writing process. Black recalled that publishers had asked him if he wanted to write a book, first when he won his Oscar, and a second time after the U.S. Supreme Court decision that legalized same-sex marriage.

"This came from conversations with my mom," Black said. "As the book says, my mom was paralyzed from polio from age 2."

His father, who was Mormon, "had vanished, probably to inch closer and closer to a fundamentalist style of Mormonism," Black said. "My little brother was 2, I was 6, my big brother was 10, and we're raising my mother as much as she was raising us. But my mom was also incredibly conservative, the deck was stacked at the age of 6 when I discovered that I had a big crush on the boy down the street and that's not going away."

Black added that he was a supporting player in the book, that it was his mother's story. He referred to her as someone who was curious enough to have the courage to reach out to people across the political divide, including to her own son.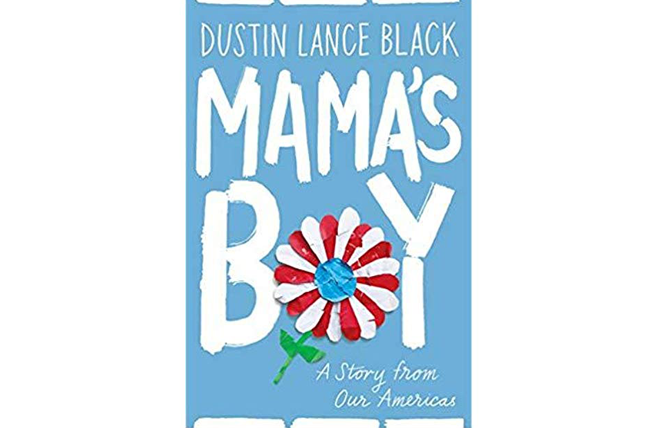 Kim pointed out that Black describes himself in the book as a painfully shy kid with no friends.

"In my case, I was well aware that I was being compared to a murderer in church on Sundays," he said, referring to his gayness. "They were believing in a Mormon prophet that compared homosexuality to murder. I knew what happened to murderers in the afterlife. I knew that gay people did not belong in the military that my mom was so proud of. People like us were criminals. There was not a hopeful future for gay kids."

It was revealed that Black had considered suicide when he was 12.

"I didn't want to come out to her," he said of his mom. "I was so terrified."

He grew teary-eyed as he recalled coming out to his mom.

"Why did you choose this?" she asked him.

"Why did you choose those?" he asked of the braces she wore due to her polio.

Black shared the story of how he and his mom came to terms with each other, and how she came to accept him. This came about when she met some of his gay friends, who shared their own personal stories with her.

"She wrapped her arms around me so incredibly tight that night that I knew not only that my mom loved me, but that she loved every piece of me," he recalled. "One night of personal storytelling erased generations of homophobia in my mom's heart. And that's one of the main reasons I wanted to write this book."

Black spoke eloquently about the need for people from different communities, and people from different ideologies, to talk to each other and hear each other's stories. The final portion of his book, he said, was his personal journey back to family in Texarkana, Texas, to share stories and build bridges.

"Go back to your hometowns and have some conversations," he told the audience. "Go back and utilize that most powerful stage that there is in the world, and that's the dining room table. It's time to go back to some of our hometowns and to have those conversations. They're tough, they hurt. But it was hard for my mom too, and she did it."

When asked for a comment by the Bay Area Reporter, Black said, "It's wonderful to be home."

Those who attended the event came away impressed with Black.

"It was great," said Steve Nordberg, 33, a gay man. "I'm a huge fan of the film 'Milk' so it was awesome seeing him. He's so insightful, authentic, and inspiring."

Others saw parts of themselves in Black's story.

"Every story that Lance told tonight took me on a journey where I thought I knew I was going," said Sister Roma of the Sisters of Perpetual Indulgence. "I ended up in a completely different and surprisingly beautiful place. I can't wait to read the book."

Still others came away impressed.

"I've heard him before but not as extensively as this," said 75-year-old Linda Lee, who said that she is gay. "The reason I enjoy it so much is because I didn't know very much about his childhood. I didn't know his mom had polio and I didn't know about the Mormon connection. I just didn't know about his family. I enjoyed it because of all this personal stuff."

Ankur Ahuja, a 26-year-old gay man, thought that Black was down-to-earth.

"He did a fantastic job at relating a lot of the problems and struggles of the queer community," Ahuja said. "It was powerful to hear him break through to his family and build a family of his own, despite such different beliefs between him and his mother. Overall, I think he's a very commanding storyteller and I'm absolutely thrilled to read and learn from his book."
Comments on Facebook