Queer artists' group publishes anthology
Wednesday Jun 19, 2019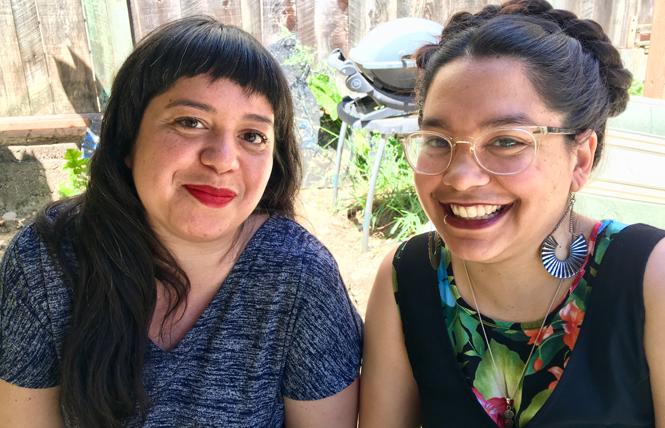 Still Here San Francisco, a nonprofit organization of queer artists who grew up in the city, will unveil its just-published "Still Here San Francisco" anthology at a release party Saturday, June 22.
Still Here San Francisco, founded by two friends who met at Lowell High School, has "built creative space" for queer artists born and raised and still living in San Francisco, co-founder Natalia Vigil, who identifies as a queer woman of color, said in an interview with the Bay Area Reporter.
Vigil, 35, a writer and artistic director of the organization for the past three years, said group members "tell our stories of survival."
"I like to think of the group as a performance and cultural preservation project that reveals the experiences of queer people raised and still living in the Bay Area," she said.
At this year's celebration, Still Here will unveil its anthology of nonfiction works, written by 26 queer artists of color.
The book, edited by Vigil and Mason J, who requested his last name not be used, "showcases the unique narratives" of group members, Vigil said. The stories explore queerness, coming out, AIDS/HIV, loss, reclaiming intergenerational memory, legacy, ancestors, and more, she added.
"We believe that as storytellers, poets, and artists, we can contribute profound re-understanding of time and place. We believe it is critical to voice our complex experiences with strong San Francisco roots and understand that we have made powerful contributions to San Francisco," she said.
The group's first show in 2012 was part of the National Queer Arts Festival and sold out the 60-seat theater. Membership grew quickly, with up to 400 people attending events, which include a writing workshop series and film screenings as well as the annual celebration.
Amanda Vigil, 34, Natalia's sister who also identifies as a queer woman of color, wrote two pieces in the new book and is the technical director of the yearly show. She said Still Here artists appreciate the opportunity to share their struggles of "living in displacement" where many of their childhood friends have left because of the high cost of living.
"We are definitely planning to stay," she said.
Mason J, 31, who identifies as queer, trans, and two-spirit and uses they/them pronouns, wrote in an email to the B.A.R., "For the past seven years Still Here has provided our participants with a multidisciplinary, pan-ethnic, intergenerational queer family composed of born/raised locals and longtime residents bound by kinship, resilience, creativity, and a desire to preserve our histories."
Mason J. said the anthology is a "love letter to the city — an access point to the past, present, future of Bay Area history and I sincerely hope it serves as a beacon of light for weary SF residents and a silencer for those who claim art, activism, and 'unicorns' aren't thriving in the bay."
"Whether it's writing workshops, readings, community enrichment, fundraisers, bonding (and banter) about the best corner store in the 415, or tougher subjects like displacement, Pulse, Ghost Ship, the last 3% of black San Franciscans, migrant concentration camps — perhaps a tyrannical U.S. regime," they wrote. "Despite it all we are determined to show the city we're still here still queer and not to be erased."
The June 22 show takes place from 6 to 9 p.m. at the African American Art and Culture Complex, 762 Fulton Street in the Hall of Culture. Tickets are $12-$20 and are available online or at the door. Nobody will be turned away for lack of funds. For more information, visit http://www.stillheresf.org. The book, which costs $15, will be for sale at the event, or can be ordered through the publisher, Fog Lifter Press, at https://foglifterjournal.com/.
Comments on Facebook