Business Briefs: Lesbians Who Tech retools 2020 Castro summit
Wednesday Jun 12, 2019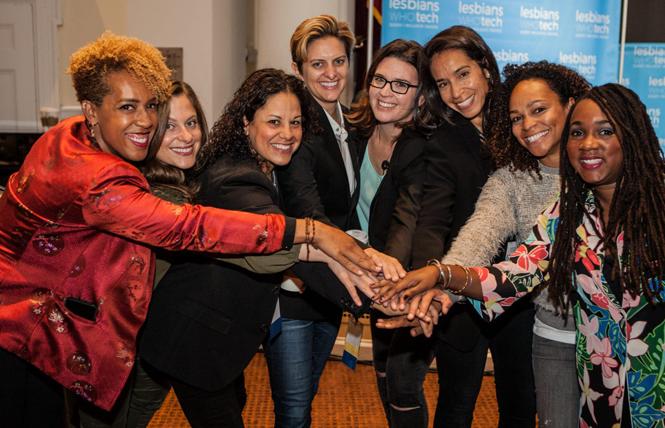 Lesbians Who Tech + Allies is retooling its 2020 San Francisco summit as it remains determined to stay in the city's LGBT Castro district amid growing popularity.

The biggest change is in the dates, as next year's summit will not be held during the winter. Instead, it will be held April 23-25.

"We are moving the event to April so we do not have to deal so much with the chance of rain," explained Michelle Skoor, vice president of operations and programs for the company.

Started in 2012, the annual conference aims to increase the numbers of LGBT women in the tech industry. This year's event, held in late February and early March, drew 6,000 attendees over the course of three days. Former Georgia gubernatorial candidate and straight ally Stacey Abrams (D) was one of the marquee speakers.

"We aim to amplify queer women already working in tech and our allies like Stacey Abrams who want to see a diverse workforce," said Skoor, who identifies as genderqueer and uses gender-neutral pronouns. "We want to make sure queer women and queer women of color are not left out."

Finding room to handle such a large crowd has been a challenge for organizers, who use the Castro Theatre as their main base of operation. They also take over the gayborhood's two city-owned parking lots and, this winter, shut down a block of 18th Street to hold breakout sessions.

With some asking if it is time for the summit to move out of the neighborhood to a larger venue, organizers prefer staying put. To offset the impact of the summit on the Castro's businesses, they are making an effort to partner with local stores, restaurants, and bars, hiring them as suppliers or renting out their sites for parties and other events.

The summit this year booked out the locally owned Beck's Motor Lodge on Market Street to house invited speakers and other guests and plans to do so again in 2020. It also contracted with such places as Rossi's Deli and the Castro Coffee Company for catering services.

At the May meeting of the Castro Merchants business association, Skoor estimated the 2019 summit spent at least $140,000 with local merchants. The summit would like to increase that amount next year, by for instance, having a Castro eatery provide upward of 300 box lunches instead of bringing in food trucks to feed attendees.

"We want to keep all of our business in the Castro as much as we can," said Skoor.

Thursday (June 13) Skoor will be seeking permission from the city's Interdepartment Staff Committee on Traffic and Transportation, known as ISCOTT, to once again close 18th Street between Castro and Collingwood streets for the 2020 summit. The block would be shut to vehicle traffic from 2 p.m. Thursday, April 23, to 3 a.m. Sunday, April 26.

Lesbians Who Tech is also seeking permission to again use the two parking lots, one accessed off 18th Street and the other behind the Castro Theatre, from 6 a.m. Tuesday, April 21, to 1 a.m. Sunday, April 26. Last month, the Castro Merchants voted to support the closure requests.

"Normally it would concern me, but they have actively worked with the community to push the money back into it, using Castro restaurants and merchants for food and supplies as well as advertising them to the attendees," Terry Asten Bennett, whose family owns Cliff's Variety on Castro Street, told the Bay Area Reporter as for why she supported the summit's request.

Based on feedback from residents perturbed in February by the noise from the tents on 18th Street being installed overnight, the summit organizers plan to set up the street during the daytime next April.

With meeting space at a premium in the Castro, the summit organizers have explored different options with limited success. One hiccup they encountered this year came when attendees under the age of 21 were not allowed entrance into the Cafe, a gay club on Market Street, for daytime sessions despite no alcohol being served. It had not been a problem during previous summits, and as the B.A.R. reported in March, came as a surprise this year.

Meanwhile, the owners of the vacant commercial building at 2390 Market Street, which had housed a Pottery Barn, declined to rent it out on a short-term basis for the summit to use, Skoor said when asked by the B.A.R. about leasing the space.

Organizers also had looked at erecting a tent on 17th Street within the confines of Jane Warner Plaza next year. But with the need for the F-Line trolley cars to navigate through the parklet, the summit organizers are not pursuing that option at the moment.

The ISCOTT meeting begins at 9 a.m. and is held in Room 7080 on the seventh floor of 1 South Van Ness Avenue.

Registration for the 2020 San Francisco summit has yet to open. Information about the event will be posted to the website https://lesbianswhotech.org/.
Gay chocolatier creates Pride confection
Gay chocolatier Michael Benner has once again whipped up a special confection for Pride Month. His 2019 Pride Collection features creamy dark chocolate ganache in dark chocolate heart shells hand painted the colors of the rainbow flag using colored cocoa butter.

The yellow heart is a version of his award-winning lemon burst bonbon. In 2017, Benner launched his San Francisco-based Michael's Chocolates with his husband, Curtis Wallis.

His Pride hearts can be ordered in boxes of six ($18) and up to 24 ($69) with free shipping to San Francisco addresses. To place an order, visit https://www.michaelschocolates.com/store/p62/Pride_Collection_2019_.html.

Coffee company collects Pride stories
The lauded lesbian-owned Equator Coffee is asking its patrons to share why Pride is special to them by writing down their reasons on postcards found at its various locations. They will then be displayed at the San Francisco location at 986 Market Street during Pride weekend June 29-30.

For more information, visit https://www.equatorcoffees.com/pages/pride-2019.

Honor Roll
Shoppers of Macy's San Francisco stores during June can round up their purchases to the nearest dollar amount in order to benefit the Trevor Project, which provides suicide prevention and other services to LGBT youth. And during Pride weekend, Macy's Union Square store, located at 170 O'Farrell Street, invites customers to join it for a special celebration with drag performances by the House of Glitter Queens from 2 to 4 p.m. Saturday, June 29, in its Men's Department on Level 5.

Also during Pride Month two restaurants located along the parade route have special menu offerings benefiting REAF, the Richmond Ermet Aid Foundation of San Francisco that donates to local LGBT nonprofits.

Patrons of One Market Restaurant, located at 1 Market Street, can order two specialty cocktails with $1 from each one purchased going to REAF. The Harvey Milkshake ($12), named after the gay icon, is made with homemade vanilla ice cream, Stolichnaya vodka, crème de cacao, and prickly pear. The Friend of Dorothy cocktail ($13) is made with Gloria Ferrer Private Reserve Cuvée and prickly pear.

M.Y. China, on the fourth floor of the Westfield San Francisco Centre at 845 Market Street, is serving up two special dishes and one cocktail on behalf of REAF, with $2 from each one ordered donated to the charity. There is the Rainbow Scissor Cut Wild Boar Noodles ($20), made with bean sprouts, scallions, and wood ear mushrooms, and the Rainbow Dan Dan Noodles ($16) with seasoned pork, peanuts, and chili garlic sauce, served chilled. The PRIDE AF Cocktail ($13) consists of Ming River Baijiu, St. Germaine, and New Amsterdam Gin.

And congrats to Scarpelli and Associates Physical Therapy, located in the Castro at 4200 18th Street, Suite 102, on becoming a legacy business. The San Francisco Small Business Commission approved its designation May 29.

Elizabeth Scarpelli and Lisa Kakeshi founded the niche orthopedic manual therapy practice in 1985. It early on provided care to people living with HIV and continues to partner with local nonprofits.

"We treat patients one-on-one, and have a long standing mentoring and consultation program," stated Scarpelli, president and CEO of the business. "Patients trust our therapists to collaborate and problem solve, finding solutions to complex problems."

Got a tip on LGBT business news? Call Matthew S. Bajko at (415) 829-8836 or e-mail m.bajko@ebar.com.
Comments on Facebook