Guerneville resorts rebuild after February flood
Wednesday Jun 12, 2019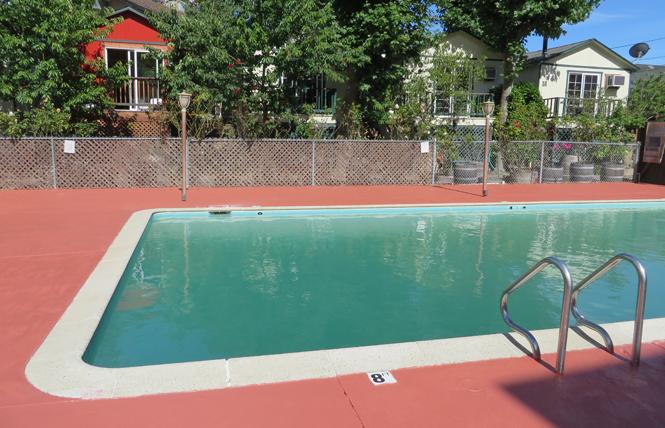 When people wear hard hats around Guerneville's R3 Hotel pool these days, it's not a tribute to the Village People.
General manager Jeff Bridges clarified what's going on.
"Our pool looks great, but we can't let anyone swim because it's an active construction project," he said.
The business and some others suffered damage in a February flood that hit the gay resort town in Sonoma County. Now, rebuilding is underway and, in many cases, nearly complete.
"Our greatest challenge has been getting equipment like refrigerators and ice machines delivered on time," Bridges said. "We are planning to open the bar the last week of June." He quickly added, "That is equipment-dependent."
To celebrate the R3's return to business Bridges and his team are organizing a multi-day "grand opening" for the July 4 holiday.
He unveiled some of their plans for live entertainment.
"Snatch will return for her 20th year, and Mercedez Munro will host a big drag show on Saturday night," he said.
R3 event coordinator Rodger Jensen said they are planning other entertainment as well, and recommended checking the R3 website for more information.
Just a block down Fourth Street is another LGBTQ-popular resort closed after the flood, the Woods Cottages and Cabins at the Russian River. Currently, that is also an active construction site.
Michael Preaseau has owned the Woods since 2004. In a phone interview he said, "This was my third flood, after others in 2006 and 2017, and this was the worst. It took out 15 units (the resort has 19 total) but the basics are done and we expect to have 13 units online by the last weekend in June."
He outlined how his resort always upgrades when repairing flood damage: "We'll have new floors and beds, so all our rooms will be nicer. We will be going full swing on the Fourth of July holiday."
At the end of the street is another flood-closed resort, the West Sonoma Inn, popular with LGBTQ visitors during Women's Weekend and Lazy Bear. Representatives of the business did not return phone calls seeking comment, but it appears to be under repair.
Elise VanDyne, executive director of the Russian River Chamber of Commerce, confirmed in an email that the West Sonoma Inn will be hosting Lazy Bear events and its "public and party space is open now to renters, just not the rooms."
Speaking in his role as president of the chamber, Bridges said, "July 4 is a four-day holiday weekend and the town will be full."
Flood Aid raises $33K
The recent Love Wins-Russian River Flood Aid series of benefits in April raised about $33,000, organizers said.
"Every night was geared to a different part of our community," Jensen explained, and he gave special thanks to the Rainbow Cattle Company on Main Street in Guerneville, which held a special Give Back Thursday on the first night.
"We raised $10,000 just on opening night," Jensen said.
Two beneficiaries split the proceeds, each receiving $16,739. The first was processed through the New Vision Foundation of Santa Rosa, which then divided the money equally between the Russian River and Sebastopol chambers of commerce.
Bridges, the president of the Russian River chamber, said, "The funds were distributed to local businesses based on how badly the businesses were affected and the number of their employees. Grants ranged from $500 to $3,000 and were given to 54 businesses in Guerneville and 42 in Sebastopol."
The other half was given to West County Community Services, which, according to its website "serves West Sonoma County with programs including employment, housing, seniors, youth, mental health and counseling services."
Tim Miller, executive director of WCCS, confirmed the agency received $16,739, which is being processed through the Lazy Bear Fund. The Temporary Housing Assistance Program, as it's called, will close June 30 when all the money is used up. Individuals and families received the funds, not businesses, he said.
"The aid now is almost all housing-related," he added.
Pink Saturday Sonoma
Over in Sonoma, Out in the Vineyards owner Gary Saperstein raised $10,107 during his May 4 Pink Sonoma Saturday event. All of the funds were donated to Santa Rosa-based Positive Images, which provides support and advocacy to Sonoma County's LGBTQ youth ages 12 to 24.
Saperstein explained via email why he chose PI as the event's sole nonprofit beneficiary.
"LGBTQ youth ... are the future, and I hope to be able to assist in making their path easier than mine," he wrote.
Positive Images board President Christian Sullberg said the agency will use the money to cover recent funding cuts by Sonoma County, due to a budget deficit.
"We have the only LGBTQ center currently in Sonoma County," he wrote in an email.
Sullberg pointed out the agency provides anonymous support groups for young people with little or no money, who often cannot be "out" without risking being kicked out of their homes.
"Having people like Gary ... is extremely needed for PI to continue the work we have done for the past 29 years," he wrote.
Just before the event was held, controversy developed when the new owners of the venue, the General's Daughter in Sonoma, were revealed to be Stacy and Ken Mattson, whose business partner in LeFever Mattson Property Management is Tim LeFever, former board chair of the Capitol Resource Institute, which advocates for "religious freedom" and against LGBTQ rights. Stacy Mattson had also posted anti-gay comments on social media.
In an April B.A.R. story however, Saperstein said the previous venue owner had donated the space for his event. The Mattsons honored that agreement and they received no funds from Pink Sonoma Saturday.
In a separate email, commenting on plans for Pink Sonoma Saturday next year, Saperstein wrote, "I am looking into another venue."
For more information, visit http://www.ther3hotel.com, www.russianriverhotel.com, and www.westsonomainn.com.
Comments on Facebook