Editorial: Schaaf must fund LGBT services
Wednesday Jun 5, 2019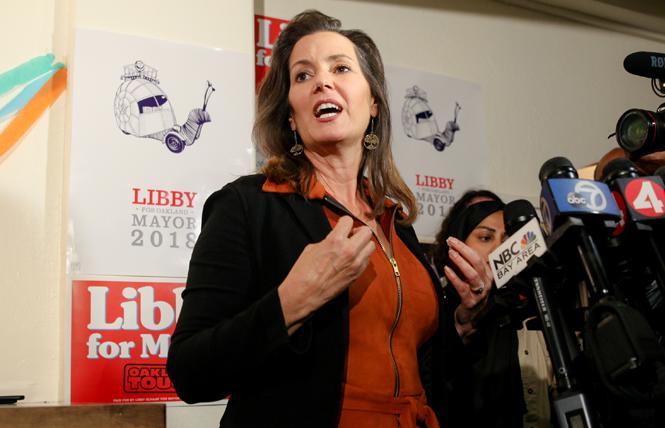 Oakland Mayor Libby Schaaf proposed budgets would wipe out funding for some LGBT services, and add money for others. The mayor and City Council are deliberating the city's next two-year spending plan. Schaaf's submitted proposal to the council cuts funding for groups such as Our Family Coalition, despite having receiving money in prior years.

Lesbian council President Rebecca Kaplan told us during a recent interview that she's working to change that. She has requested $200,000 for each of the 2019-2020 and 2020-2021 budgets. Schaaf, who was re-elected in 2018 partly with the support of the LGBT community, should know that helping the Oakland LGBTQ Community Center and restoring the cuts to OFC are just as important as other spending priorities.

Kaplan said other groups that have done LGBT-oriented programming, like Destiny Arts Center, were funded in the past. "And the administration is also proposing to cut them significantly," she said. "So you know, as I'm working on my budget amendments, we will definitely be addressing those concerns. And also, of course, making sure that the city continues to support the Pride festival as well as the LGBT center."

Renata Moreira, the outgoing executive director of OFC, told us that the funding cut would be disastrous for the agency. "Should this funding not be replaced, OFC would be forced to temporarily discontinue successful parent education classes, parent-child interactive programs, support groups, and community building events that we have offered to Oakland families for almost a decade, including the Bay Area's largest family garden at Oakland Pride," she wrote in an email. "We'd also be unable to rehire a phenomenal trans person of color who currently coordinates our East Bay programs after July 1, which will be heartbreaking for our team and families."

Progress on LGBTQ equality in Oakland is in jeopardy, as needed services for queer families, trans people, and others could be eliminated.

Homelessness is also an issue in Oakland, and that affects the queer community too. Kaplan wants to see money in the budget for either an LGBT-specific shelter or one that is overtly LGBT-welcoming. In her proposed budget amendments, Kaplan wants the city to expand its response to homelessness. "The recent Point-in-Time count shows that homelessness has increased here dramatically over the past four years, and thousands of people are living in unsafe conditions in underpasses and more," she wrote in a news release. "The scale of our response has not been adequate to the magnitude of the problem."

She wants to increase funding to assist tenants facing displacement, expand sanitation services to additional allowable locations, and include opportunities to hire homeless people to help with these and related efforts. There are inadequate services for homeless youth, both LGBTQ and straight, Kaplan said. "If you're a teenager who's on your own, a lot of existing services don't serve that population," she said. "And that has a disproportionate impact on LGBT youth, because LGBT youth are more likely to be homeless by themselves as teenagers."

Kaplan is familiar with this constant fight for city dollars for LGBTQ services. Several years ago, we reported on the fact that the city's youth services program had zero dollars in it for LGBTQs. Kaplan said she made staffers come back with a request for proposals and the city ended up funding several programs. That funding is being maintained, she pointed out, even as dollars are being cut from other areas.

Last year, when Schaaf was seeking re-election, she told us that the city's ability to fund the LGBTQ center, for example, was limited because the city uses a two-year budget plan and 2018 was in the middle of that cycle. The new budget is the appropriate opportunity for the mayor to include such funding. She told us she would consider it. Now is the time for her to act.

This Monday, June 10, OFC urges its members and supporters to attend the City Council's special budget meeting at 5 p.m. at City Hall, 1 Frank Ogawa Plaza, to advocate for culturally competent LGBTQ family programs and services it provides. We urge other LGBTQ organizations to make supportive public comments so City Council members understand the negative impact the mayor's proposed budget will have on the community.
Comments on Facebook