Dem prez hopefuls flock to CA
Wednesday Jun 5, 2019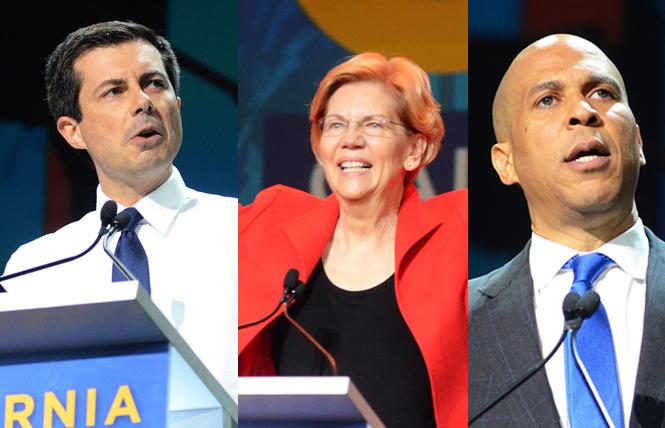 Gay Democratic presidential candidate Pete Buttigieg was one of several White House contenders who received an enthusiastic response from delegates at last weekend's California Democratic Party convention in San Francisco.

But Elizabeth Warren and Cory Booker, two of the 14 candidates who made their pitches in a packed hall at Moscone Center Saturday, outshined him, while the state's junior senator, Kamala Harris, was greeted warmly but did not ignite sparks like the others, based on audience response in the room.

Buttigieg, a millennial and the mayor of South Bend, Indiana, said he's running "because of the seriousness of the moment we're in. A moment of such consequence that even now, we may well be underreacting."

"In these times, Democrats can no more promise to take us back to the 2000s or 1990s that conservatives can take us back to the 1950s," he said.

Speaking about the fact that he is the only out candidate in the race, Buttigieg said, "This morning I woke up next to my husband, a moment that exists because of a single vote on the U.S. Supreme Court."

He told delegates, "There's no going back to normal now."

"A president like this one doesn't come within cheating distance of the Oval Office unless something is deeply wrong with the old normal," he added. "The economic 'normal' has failed a working and middle class that powered America into a new era of growth ... only to see the amazing wealth we created to a tiny few. The political 'normal' has failed when an American majority supports ideas from universal health care to common-sense gun safety laws, only to see their politicians unable to deliver."

That was a theme throughout Saturday's sessions, and one that Warren zeroed in on. The Massachusetts senator has been rolling out plans for various problems she sees in the country, and the San Francisco audience wanted to hear them.

"We will break up big ag, we will break up big banks, we will break up big tech," Warren said to loud cheers. "Yes, we will pass a wealth tax — 2 cents on the dollar —" for those making over $50 million. Money from that would fund universal child care and pre-kindergarten, she said, and she pledged $50 million for historically black colleges and universities.

She cautioned that the rich and powerful won't give up without a fight, and had some words seemingly aimed at other candidates, though she did not mention anyone specifically.

"When a candidate tells you all things aren't possible, they're telling you they won't fight for you," Warren said. "Not me. I'm here to fight. We need to be the party of moral clarity and the party with a backbone."

Booker, a New Jersey senator who's been polling in the low single digits, addressed delegates in the afternoon. He changed his remarks to focus on gun safety in the wake of Friday's mass shooting at a municipal building in Virginia Beach, Virginia that left 12 people dead. Police killed the shooter, identified as DeWayne Craddock.

"We've seen normalization of mass shootings," Booker said, referencing several previous incidents, including the Pulse nightclub massacre in Orlando, Florida that killed 49 people in June 2016.

"It's time for us as a nation to come together and take the fight to the NRA like we've never seen before," he added, referring to the National Rifle Association.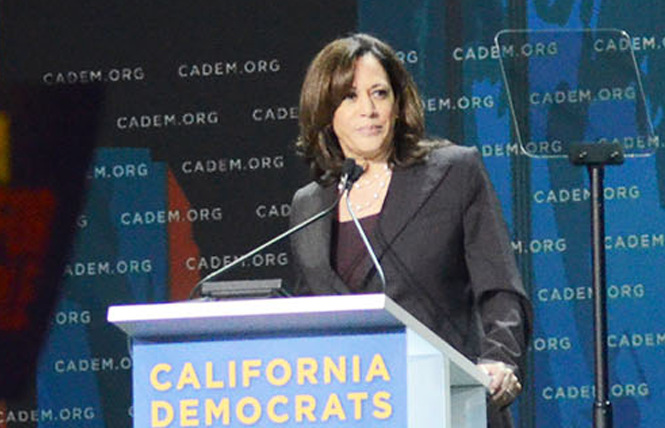 Harris, who had a bevy of supporters in the hall, said that with the current president, the country "is in a fight for truth itself."

She referred to President Donald Trump's trade tariffs as "the Trump trade tax," and said they are "taking $1.4 billion out of Americans' paychecks every month."

And she criticized Trump for dividing the country, including the ban on allowing trans people to serve openly in the armed forces.

"Transgender people who want to serve in the military should be treated as heroes, not have the door slammed in their faces," Harris said.

She did say that Congress should begin impeachment hearings against the president, which drew cheers.

Tiffany Woods, a trans woman who was elected northern co-chair of the state Democratic Party's LGBT Caucus during the convention, said several presidential candidates impressed her.

"I thought Kamala Harris, Elizabeth Warren, Cory Booker, and Mayor Pete were hands-down the most electrifying and engaging with the best audience reactions," she wrote in an email.

She was impressed with Buttigieg, who she had not heard speak before.

Other candidates
Aside from those four, the other Saturday speakers drew polite applause from delegates. Former Vice President Joe Biden skipped the gathering, instead delivering remarks at a Human Rights Campaign dinner in Ohio. Vermont Senator Bernie Sanders addressed delegates Sunday.

Woods said that Sanders and Minnesota Senator Amy Klobuchar came to the state party's LGBT caucus to speak even though they were not scheduled.

She said Sanders never uttered the words "bisexual" or "transgender" during his remarks to the caucus.

"Very disappointing, since two of the three closest board members to the stage are trans-identified, Evan Minton and myself," she wrote.

Klobuchar, Woods wrote, talked about LGBT accomplishments in Minnesota and the repeal of the military's anti-gay "Don't Ask, Don't Tell" and other national issues.

Woods said the caucus reached out to Buttigieg's campaign but no one showed up. The candidate himself was attending a fundraiser in San Francisco, which was closed to the press, at the same time as the caucus meeting.

On the convention floor, former Texas Congressman Beto O'Rourke gave part of his speech in Spanish (Buttigieg also spoke some Spanish during his remarks), and talked about voting rights and immigration, pledging to bring the more than 11 million undocumented people "out of the shadows."

New York Senator Kirsten Gillibrand said Trump is "tearing apart the moral fabric of the country," and said she has stood up to the president by voting against his cabinet and judicial nominees "more than anyone else in the Senate."

Congresswoman Tulsi Gabbard from Hawaii said she would crack down on Big Pharma and "end the federal prohibition on marijuana."

Congressman Eric Swalwell, who's top priority is gun control, touted his plan to "ban and buy back every single assault weapon" in the country.

Klobuchar talked about the need for comprehensive immigration reform and action on climate change, saying she would get the U.S. back into the international climate agreement.

Former Colorado Governor John Hickenlooper drew boos when he told delegates, "If we want to beat Donald Trump and achieve big progressive goals, socialism is not the answer."

Washington state Governor Jay Inslee, who's running on climate change, referenced one of gay icon Harvey Milk's famous quotes on the first day of Pride Month.

"I've come to recruit you ... for a clean energy future," he said.
Comments on Facebook