SF protest held after trans asylum seeker dies
Wednesday Jun 5, 2019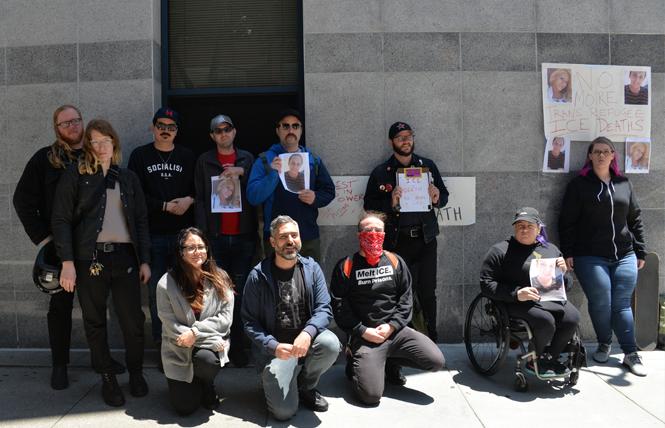 Activists held a protest Monday in front of the Immigration and Customs Enforcement office in San Francisco following the death last weekend of a young trans woman shortly after she was released from ICE custody.
Johana Medina, 25, was an asylum seeker from El Salvador who died June 1, a few days after her May 28 release from an ICE facility in El Paso, Texas.
Medina died of complications from HIV after complaining of chest pains and being admitted to Del Sol Medical Center, according to media reports. Medina had been in ICE custody for six weeks prior to her release.
In a statement released late Monday, ICE confirmed Medina's death. While the statement used Medina's male name, it also referred to her using female pronouns. It said Medina was transferred to ICE custody April 14, and had received a "positive credible fear finding" and was issued notice to appear before an immigration judge.
ICE said Medina was transferred to the medical center May 28 after she requested an HIV test and the result was positive.
"That same day, her case was reviewed and she was released on parole," the agency stated.
Protesters in downtown San Francisco on Monday, June 3, remarked that Medina's death kicked off a Pride Month already complicated by continued federal pressure against trans rights and the rights of asylum seekers. Medina's passing also comes shortly after the one year anniversary of the death of another transgender woman who was in ICE custody. Roxsana Hernandez, 33 and from Honduras, died May 25, 2018. Hernandez was also suffering from HIV. According to reports, she died after spending time in a so-called ice box for isolation and without receiving medical treatment.
The protesters who gathered in front of ICE offices on Sansome Street had photos of both Medina and Hernandez on signs as they chanted through their bullhorn: "No ban, no wall, no detention at all!" Security from ICE's offices made their presence known but did not attempt to disperse the crowd, which numbered about 30 people at its most dense.
"I heard about Johana's death through social media," said Matt McGowen, a 28-year-old San Francisco resident and gay man who organized the protest. "And I'm so angry. And it's Pride. And something has to be done about this fascist border regime and the way ICE is getting away with killing people."
"We're in the era of corporate Pride, the era of LGBT for Trump," said McGowen, speaking through a bullhorn to the crowd. "It's the 50th anniversary of Stonewall this month. We need to celebrate that memory and bring that fight into the future. We have to fight for the liberation of queer people of every nation."
Other attendees were also critical of immigration authorities.
"Border Patrol is setting a dangerous precedent for criminalizing HIV," said Marke Bieschke, a 49-year-old queer man and publisher of the independent 48 Hills online site.
Bieschke took a turn with the bullhorn, speaking to the assembled crowd. "They're holding her up as an example of how refugees are bringing disease into the country. We're the richest country in the world, and having HIV does not make you a criminal. These people are human and deserve human rights. They have the right to seek asylum, to come here and seek help."
The protesters took up a chant of "No more ICE deaths," as people queued into the building at two separate entrances, both behind barricades organizers said were placed by the city in order to discourage encampment around the building following 2018's Occupy ICE protests.
National organizations like the Human Rights Campaign and the National Center for Transgender Equality spoke out this week about Medina's death and the ongoing humanitarian crisis at the border.
David Stacy, HRC director of government affairs, said in a news release: "The death of Johana Medina, a transgender woman of color and asylum seeker, just hours after being released from ICE custody, is yet another horrific and deeply disturbing development in the ongoing crisis of anti-LGBTQ actions by immigration authorities.
"This follows the still-unexplained death of Roxsana Hernandez and numerous reports of mistreatment of LGBTQ migrants and asylum seekers while in custody of CBP and ICE," Stacy added, referring to Customs and Border Protection. "It is critical that every person be treated with safety, dignity, and respect by immigration authorities, and this latest tragedy demands greater transparency and accountability of these agencies."
NCTE pointed out the particular vulnerability of transgender asylum speakers in its statement.
"Transgender migrants held by ICE report high levels of physical and sexual abuse as well as inadequate food and a lack of access to basic medical care," the agency stated. "According to data released by the agency to Representative Kathleen Rice (D-New York), transgender people only make up 0.1% of the detainee population, yet 12% of sexual assaults reported to the agency come from transgender detainees."
Monday's protest ended peaceably without intervention from ICE or its building security. Demonstrators left behind their poster images of Medina and Hernandez, taped to the exterior of the building's stone walls.
Comments on Facebook