White Night riots recalled
Wednesday May 22, 2019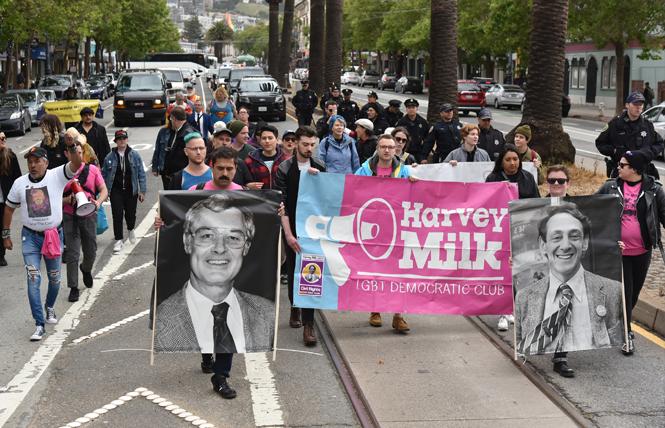 About 100 people turned out on the eve of Harvey Milk Day to commemorate a dark day in San Francisco's history: the 40th anniversary of the White Night riots.

LGBTs took to the streets May 21, 1979, after a San Francisco Superior Court jury convicted disgruntled ex-supervisor Dan White of voluntary manslaughter in the killings of Milk, a city supervisor, and then-mayor George Moscone. Police responded by raiding a Castro gay bar.

Tuesday's event began with a rally at Harvey Milk Plaza, followed by a march to City Hall, where 40 years ago people smashed windows and set police vehicles on fire, angry that White had not been convicted of first-degree murder.

"It was an important night for the community in which we stood up for gay justice," said Bruce Beaudette, 59, an GLBTQ2 man who moved to San Francisco shortly before the riots happened. "It turned into something powerful and violent, but instead of being passive, we spoke up. We engaged and we let people know that we're here, angry, and queer."

Larry Lare Nelson, a 66-year-old gay man, was also present for the riots.

"For these commemorations that we so often do, the first thing I always think of are the people that were by my side that night who are no longer here," Nelson told the Bay Area Reporter. "It is my duty and my honor to represent not only those in our community today and tomorrow, but those who have passed. It is absolutely imperative that the older queer community share our stories with our young people so that they carry forward the movement and in turn they thrive."

There was a strong police presence along the march route. Everything remained peaceful throughout.

As the marchers made their way down Market Street, large photographs of Milk and Moscone were displayed. A number of chants were shouted in unison, such as "Two, four, six, eight, smash the church, smash the state," a chant that was also said in 1979, according to Tommi Avicolli Mecca, a longtime queer activist.

The marchers also chanted on more topical issues facing the community today, such as "Housing is a human right," and "Our bodies, our selves, our right to decide," a reference to the strict abortion bans recently passed in Georgia, Alabama, and Ohio.

"I'm here to represent Harvey Milk because one of the things that he stood by was his lesbian sisters," said 36-year-old Alicia Yracheta, a lesbian. "Because we are also the ones who stood by our gay men who are our brothers during the AIDS crisis, and our lesbian community is still here, alive and well and thriving."

The speakers program began immediately upon arrival at City Hall. Several members of the San Francisco Sheriff's Department stood guard on the steps, informing the marchers that they had to remain on the sidewalk, though speakers were allowed to stand atop the steps as they spoke into megaphones.

"I was a young kid, living here in San Francisco and didn't really know what was going on until I was pulled by my godparents to go down to City Hall," said activist Alex U. Inn, speaking from the steps. "And the only thing I really remember are the flames from all the cars that were parked right here. And that's when I was scurried out of here, because it started getting super-violent. It wasn't super-violent to me. It made me excited to know that there were people who were my allies, and since I was a young kid and really wasn't out yet, I knew there were people like me and I knew they were going to fight for me.

"As I said when we first got here tonight, numbers aren't might, but numbers are mighty," Inn continued. "Every single person that's here represents the couple of thousand who marched that night in memory of what we lost and continue to lose, and if we fast forward it, nothing really has changed. We are still in the state we were in as queer people, as trans people, as lesbians, as gay people. And right now today we are having all our rights taken away from us if we are not careful."

Inn then asked people to raise their hands. People spoke after her as Inn said, "I promise when I leave here I will call two of my friends and tell them about my experience tonight and ask them what work am I going to do going forward."

Shaun Haines, president of San Francisco Black Community Matters, also addressed the crowd.

"What I have to say is a call to action," said Haines. "Much like Harvey Milk, I'm here to recruit you. The advertisements for this event talked about our issues with police violence. As a native of San Francisco and as an African American man, I've experienced police violence myself. If you want to see change and to make it safer for everyone else, then be the change that you want to see. Join Castro Community on Patrol, the only network in the city that keeps our community safe.

"We also know that we live in a city that does have sweeps of our homeless community, and as someone who's been homeless before, what I want you to do is join some networks that will help make resources available that will make some changes for everybody else," he added.

Haines noted that he was also the director of San Francisco Impact Partners, an organization that helps make resources available to the homeless community.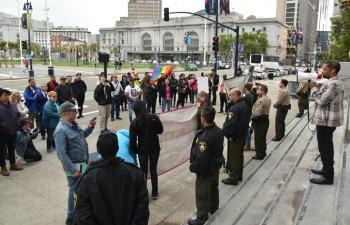 Kevin Bard, president of the Harvey Milk LGBTQ Democratic Club, was the last to speak.
"My name is Kevin Bard and I'm here to recruit you," Bard said, echoing Milk's famous call to LGBTs. "Forty years ago was a very violent event. It was an event of police brutality, and the idea that our lives don't really matter, the idea that it's not a big deal, and thinking about the White Night riots, I've been thinking a lot about Eric Garner."

Garner was an African American man in Staten Island, New York, who died in 2014 after a police officer put him in a chokehold.

"After he was lynched by the police one officer said it's not a big deal," Bard continued. "Forty years ago, the police didn't think it was a big deal to assassinate a mayor and to assassinate Harvey Milk. Dan White was an ex-cop who had a lot of cop friends who took it out on gay people in the Castro 40 years ago. And I'm here to say that it is a big fucking deal. It will always be a big fucking deal. We will not tolerate police brutality. Not to gays, not to blacks, not to anyone. Period. Is that understood?"

Bard thanked people for coming.

"We must keep Harvey Milk's legacy alive; we are here to recruit you," he said.
Comments on Facebook