Milpitas holds second Pride celebration
Wednesday May 22, 2019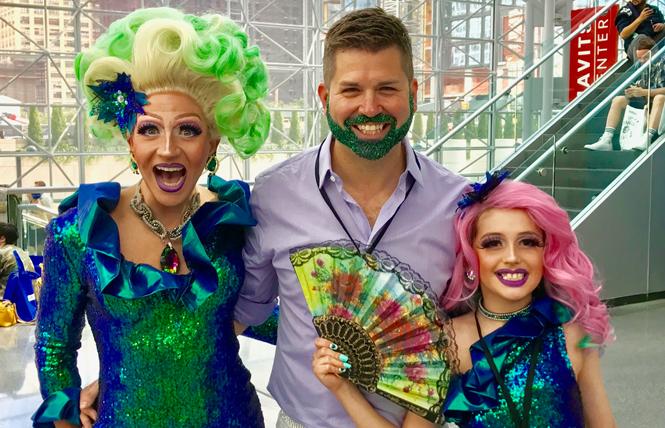 Milpitas will kick-off Pride month with one of the San Francisco Bay Area's first Pride celebrations Saturday, June 1.
"Jersey Boys" Broadway star Courter Simmons, who grew up in Milpitas, will perform at the celebration as his drag persona, Cacophony Daniels.
Simmons' husband, Jason Cianciotto, 43, will talk about family and Pride as the event's keynote speaker.
Cianciotto and Simmons are excited to participate in this year's Milpitas Pride along with their 12-year-old gay adopted son, Derrik Simmons.
"What a treat to share my pride with my hometown!" wrote Simmons, who declined to disclose his age, in an email statement to the Bay Area Reporter. He was locally known as Daniel Simmons before he chose his stage name Courter.
"I'm so proud and honored to be performing at Milpitas's Pride Festival this year," he continued. "Milpitas has always been a welcoming, affirming place, and the addition of an LGBTQ Pride celebration makes that feeling of welcome even stronger."
Cianciotto said he, too, is excited.
"Milpitas is central to who became my family and, more broadly, what it means to celebrate Pride," said Cianciotto, an LGBT nonprofit professional who is taking time out of his career to be a first-time dad.
Cianciotto talked about how many LGBT people, like him, have chosen families because their families of origin don't accept them. Now, 16 years after meeting Simmons and immediately being brought into his family, the couple is raising a proud son.
Cianciotto and Simmons wed in Canada in 2009.
Cianciotto said that before the couple adopted their son about a year ago, keywords in his profile jumped out at him that the boy is gay, and he pushed for the couple to meet Derrik.
During the process, Derrik expressed concern to the social worker about having parents who would accept that he liked playing with dolls and dressing up, he said.
Cianciotto said it's powerful going from a place advocating for LGBT youth rights to experiencing what queer youth go through first-hand.
Being "actually on the ground is a real humbling experience," he said.
The city-sponsored Pride celebration attracted an estimated 400 people during its inaugural event last year, officials said.
"We were thrilled. We didn't know what the turnout would be," said Renee Lorentzen, an ally who is the director of the Milpitas Recreation and Community Services, which produces the event. "We were really happy we had such a response from our community."
This year, the city anticipates the number will increase to more than 1,000 Pridegoers who will enjoy entertainment, food trucks, an expanded family and kids' area, and connect with community resources, said Lorentzen. The event will begin with raising the rainbow flag.
The event is one of 40 that the city produces annually. Lorentzen estimated it costs the city about $4,000 to produce the Pride celebration.
"We want to make sure the event is quality, but we also make sure that it is open and affordable to everybody, so many of the elements are free," said Lorentzen.
Milpitas Pride is June 1, from 4 to 8 p.m. at the Milpitas Civic Center, 457 East Calaveras Boulevard. The event is open to the public; admission is free.
For more information, call (408) 586-3225 or visit http://www.ci.milpitas.ca.gov/milpitas/departments/recreation-services/lgbtq-pride/.
Comments on Facebook