Political Notebook: Growing list of East Bay cities celebrate Pride
Wednesday May 15, 2019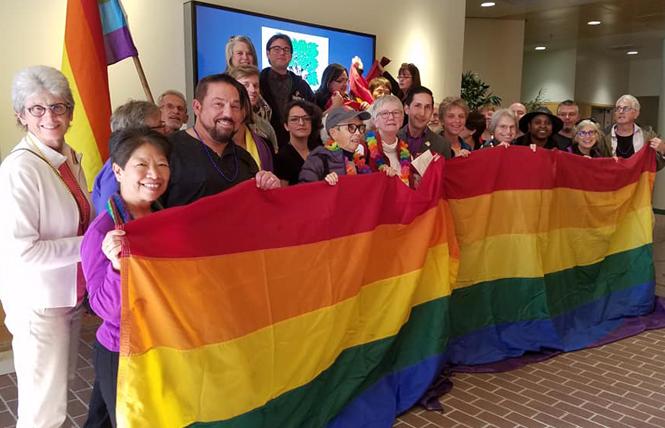 Five decades after an uprising against police brutality at a New York City gay bar sparked the creation of Pride parades and festivals in June, the number of East Bay cities officially recognizing the annual LGBT celebration is growing.
It was just a decade ago that the Contra Costa Board of Supervisors, for the first time, unanimously adopted a Pride proclamation. The county stretches from Richmond to Walnut Creek and Byron to the east and south to San Ramon. It has long been one of the more conservative locales in the Bay Area, with the region's lone Republican state lawmaker until her defeat last year.
One of the county's largest cities, Richmond, took the lead in recognizing Pride when its City Council also adopted a Pride proclamation in 2009. Yet when city officials flew the LGBT community's rainbow pride flag in 2013 to mark June being Pride month, it sparked some criticism.
Six years later the city perched along the eastern shores of the bay will be sprouting rainbow banners on street poles across town ahead of the annual Pride celebration taking place Sunday, June 2.
"It is going to break out everywhere. The way I see it, I am envisioning we are going to have rainbows all over," said Cesar Zepeda, president of the Richmond Rainbow Pride board. "Our community is excited to see the change in the city of Richmond."
Zepeda, who also co-founded the Lambda Democratic Club of Contra Costa County, has been working with other LGBT community members to expand the number of cities in the East Bay county that recognize Pride. Along with Richmond, El Cerrito has long marked June as being Pride Month.
Last year, the city of Concord for the first time passed a Pride proclamation and flew the rainbow flag in front of its City Hall in June. City leaders will do so again this year at 4 p.m. Friday, May 31, ahead of the annual Pride celebration Saturday, June 1, in Todos Santos Plaza hosted by the Rainbow Community Center, the area's LGBT community center located in Concord.
Officials in Walnut Creek recently voted to also fly the rainbow flag at their City Hall for the first time this year. Monday night the Pleasant Hill City Council, for the second year in a row, is expected to declare June Pride Month and approve flying the rainbow flag throughout the month at City Hall.
"I like the idea of proclaiming the month every year so we get to do it and kind of put it out there so people can see it happening," said Ken Carlson, a gay man who serves on the council and recently termed off the board of the rainbow center.
After flying it for a day last year, San Pablo city leaders plan to raise the rainbow flag for the entire month of June this year. And at its meeting Wednesday, May 15, the Martinez City Council presented a proclamation declaring June Pride Month, which Zepeda said was a first for the county seat.
Antioch in 2018 for the first time approved a Pride proclamation, and LGBT leaders would like to see the city this year also raise the rainbow flag at City Hall. Zepeda is also talking to city leaders in Hercules and Pinole about following suit in declaring June Pride Month for the first time this year and hoisting the rainbow flag. He would like to see all of the cities along the Highway 4 corridor, including Pittsburg, officially celebrate Pride.
"Then all of west county will be flying Pride flags during the month of June," Zepeda noted. "It is not about putting up a piece of cloth with rainbows on it; it is so much bigger than that. It is about being able to save someone's life."
Having municipalities recognize Pride month sends a signal to their LGBT residents, especially LGBT youth, that they are welcome and an important segment of the community, said Zepeda.
"We know LGBT youth are the most at risk for suicide," he noted. "It is about saving a life, about giving hope, and about paving a way for future generations to live in a much better world where there is love and peace and people come together as a community to share all of their strengths and diversity they have."
As for why it has taken so long for the cities in Contra Costa County to recognize Pride, Carlson said it is largely due to no one demanding that they do so until fairly recently.
"In all honesty I don't know what has taken so long. I will say a significant group of activists within Contra Costa County really lit the fire and have gotten out there and knocked on the door and talked to people to make it happen," said Carlson. "It is just one of those things. In Contra Costa County without someone kind of prodding it, it just didn't happen. They didn't think about it. It took somebody coming in and pointing a finger and saying, 'Hey, why aren't we doing it?' It is really great to see it happening."
Next door in Alameda County gay Dublin City Councilman Shawn Kumagai hopes to see his city adopt its first Pride proclamation when the council meets Tuesday, May 21. The freshman lawmaker, the first out person to serve on his council, is the lead sponsor and is also seeking to have the rainbow flag flown on one of the three flagpoles outside Dublin's City Hall.
As he wrote in a letter to his counterparts on the Walnut Creek City Council, the recently married Kumagai noted that, "While many may say that raising the LGBTQ pride flag is 'trivial,' 'unnecessary,' or even 'offensive,' I assure you that this simple gesture of solidarity with your LGBTQ community members is none of these things. I contend that the fact that you have received any such comments against this action is evidence that we still need to address the topic of LGBTQ equality in public forums."
In an interview with the Bay Area Reporter, Kumagai said he expects to receive some pushback to his wanting Dublin to mark Pride. But he is cautiously optimistic that it will be approved.
"I think, again, there is not only anti-LGBT sentiment out there but a general misunderstanding of what is behind the move of proclaiming LGBT Pride Month and what raising the pride flag means both to the LGBTQ community but also the community at large," said Kumagai.
Because the LGBT community doesn't have a central hub, like the Castro district in San Francisco, where it can gather in the far eastern areas of the Bay Area, Kumagai argued it is even more meaningful to have a city fly the Pride flag, even if for just a day. It is a visual symbol to their LGBT residents that they belong and are celebrated, he said, and a spark to have deeper conversations about how to better address their needs.
"It is kind of a sleepy place and an LGBTQ desert, but we are here," he said. "This is just the bare minimum, the recognition that the LGBTQ community is here. The next step is to identify there are systemic gaps in services and a feeling of unsafety."
As he wrote in his open letter to the Walnut Creek council, Kumagai noted that "in these trying times it is more important than ever that public officials stand up to proclaim that we serve ALL of our residents, that we embrace their unique contributions to our society, and that we recognize the hardships that they have faced and continue to face."
Web Extra: For more queer political news, be sure to check http://www.ebar.com Monday mornings for Political Notes, the notebook's online companion. This week's column previewed the release of a groundbreaking report on LGBT issues in California schools.
Keep abreast of the latest LGBT political news by following the Political Notebook on Twitter @ http://twitter.com/politicalnotes .
Got a tip on LGBT politics? Call Matthew S. Bajko at (415) 829-8836 or e-mail m.bajko@ebar.com.
EDITED 5/16/2019 to correct the spelling of Cesar Zepeda's last name.
Comments on Facebook