SF War Memorial board appoints gay man as new managing director
Thursday May 9, 2019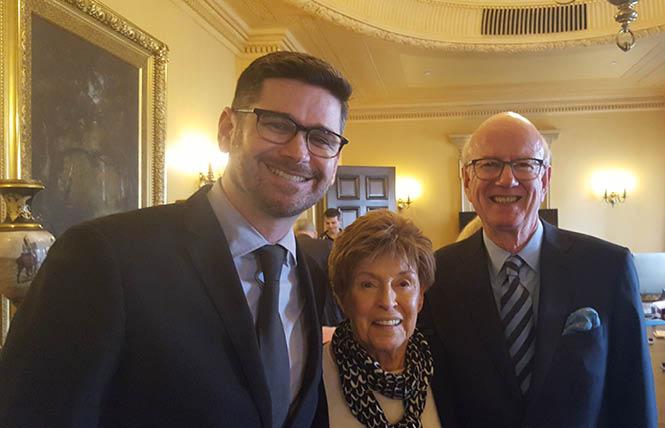 The San Francisco War Memorial Board of Trustees Thursday (May 9) appointed John Caldon as its new managing director.
Caldon, a gay man, is expected to start in July, he told the Bay Area Reporter in a brief interview after the meeting.
The vote was 9-0, board President Nancy Bechtle said following a closed session. Two trustees were absent. Bechtle also said that Caldon was the unanimous choice of the board's selection committee.
Caldon, 41, will succeed managing director Elizabeth Murray, who is retiring. He is currently director of City Hall events in the city administrator's office.
Addressing the board after the announcement, Caldon thanked the trustees for "the confidence you're placing in me." He pledged to work with the arts and veterans groups that are part of the War Memorial's portfolio.
Caldon has overseen City Hall events for the last three years. Prior to that, he worked for the War Memorial for seven years.
"I'm beyond thrilled and slightly terrified," Caldon told the B.A.R.
Three gay men are now overseeing city arts departments. Tom DeCaigny is director of cultural affairs at the Arts Commission and Matthew Goudeau was hired earlier this year as head of Grants for the Arts.
Mayor London Breed formally announced Caldon's appointment following the trustees' vote.
"I am pleased to announce the appointment of John Caldon to serve as War Memorial Managing Director, where he will continue his service to the City of managing historic landmark buildings and promoting San Francisco's arts and culture," Breed said in a news release. "In his current role as director of City Hall events, John has modernized and expanded the events department, while working hand-in-hand with my office to plan and execute important cultural heritage and community events on behalf of the city."
Caldon said in the release that he was "humbled" to accept the appointment.
"San Francisco is a world-class arts destination, which is a huge driver of our tourism industry and definer of our city's identity," he said.
Bechtle said, "We are delighted that John Caldon will be returning to the War Memorial in the role of managing director to guide the strategic and operational leadership of the city's premier performing arts venues."
Trustee Thomas E. Horn, who chaired the selection committee, also praised Caldon.
"I have worked with John for many years, both at the War Memorial and at City Hall," Horn, the B.A.R.'s former publisher, wrote in an email. " He will bring his considerable talent back to the War Memorial, and I am thrilled."
The department head-level position is responsible for overseeing the War Memorial Opera House, War Memorial Veterans Building, Louise M. Davies Symphony Hall, Zellerbach Rehearsal Hall, and adjacent grounds. The city agency also hosts approximately 900 performances and events annually in seven rental facilities serving annual attendance of about 1.2 million patrons, guests, and visitors.
The managing director consults with the mayor's office regarding programs and initiatives, coordinates activities with other city departments, and performs numerous other duties.
Caldon hold a bachelor's degree in creative writing with a theater minor from San Francisco State University. His career in theater production and facilities management spans more than 20 years, including work in various production capacities for several of California's regional theaters and as a shipboard production manager for Royal Caribbean Cruise Lines.
Caldon's salary was not immediately available.
Updated, 5/9/19: This article has been updated to include additional information about Mr. Caldon and comments from Mayor Breed and other trustees.
Comments on Facebook