Battle tested, Nicholson ready to lead SF Fire Department
Wednesday May 1, 2019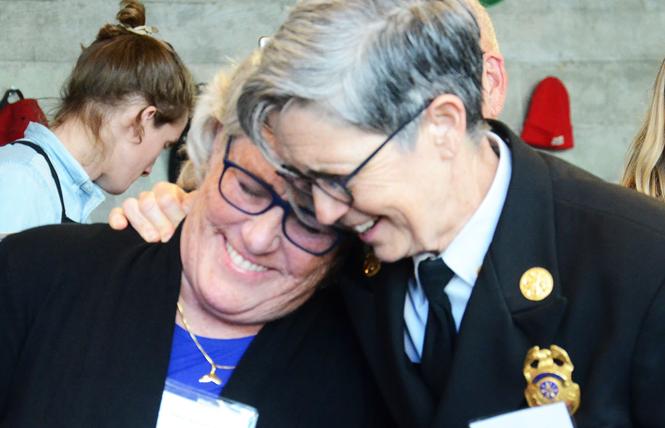 A decade ago Jeanine Nicholson and five other firefighters survived being severely injured fighting an arson fire. She ended up with burns over 15% of her body, while several of her male colleagues suffered even worse injuries.
Then came her diagnosis in 2012 of having an aggressive form of breast cancer. She underwent a double mastectomy and 16 rounds of chemotherapy as she fought her way back to being healthy and able to return to work.
"While I wouldn't wish it on anyone, it was an absolute learning and growing experience for me to go through that and come out on the other side," said Nicholson during a recent interview with the Bay Area Reporter at the fire department headquarters. "So going through something like that certainly helped prepare me, you know."
Those experiences have steeled Nicholson, 54, known as "Neen" to her friends, for the latest challenge she will confront. Monday, May 6, Mayor London Breed will swear in Nicholson as San Francisco's next fire chief, overseeing a department with more than 1,700 personnel.
"I am honored and humbled and gobsmacked," she said. "It is an incredible honor and opportunity."
As the B.A.R. noted in March when her appointment was announced, Nicholson will be the city's first LGBT fire chief and one of only a handful of out leaders to oversee a major city fire department. The 25-year veteran of the fire department is succeeding Chief Joanne Hayes-White, who is retiring Sunday.
"The response that I've gotten has been really just supportive and warm and just wonderful. I really, really appreciated all the support and well wishes of people," said Nicholson, currently the fire department's deputy chief of administration overseeing support services, homeland security, human resources, investigative services, and the assignment/personnel offices.
Nicholson started with the fire department in January 1994 as a firefighter and then a firefighter paramedic before working her way up the ranks. She has served as a lieutenant, captain, and a battalion chief.
The job instills a closeness among firefighters that is unique, said Nicholson, who is single and last week moved from Berkeley into the city's Park Merced neighborhood with her two dogs and a cat.
"We forge bonds that I think that other people don't have necessarily in their jobs, you know," she said. "We deal with life or death situations and we do it as a team. And because of that, we are resilient."
Top of the list
She was one of 30 people the city's fire commission considered for the department's top post, said William K. (Ken) Cleaveland, a gay man who serves on the oversight body. From the beginning she was at the top of the list of those under consideration, he noted.
"I will tell you that Joanne Hayes-White, our current chief of 15 years, is going to be a hard act to follow. But Jeanine Nicholson was always in our top five from day one," said Cleaveland, who co-hosted a meet-and-greet Monday night with the incoming chief and leaders of the city's LGBT community. "We knew she had the experience and temperament to lead the department, and that is very important."
Keith Baraka, a recruiter for the fire department, told the B.A.R. he is "cautiously optimistic" about seeing an out firefighter lead the agency. Five years ago Baraka, who is gay and African American, went public about the homophobic and racist behavior he had to contend with while stationed at the firehouse in the city's gay Castro district.
"It is really important for us to have a chief that runs a department that is free of discrimination, retaliation, and harassment, and that is in our mission statement," he said. "Some of the things that have happened on the last chief's watch haven't necessarily met that standard in my opinion. But I am really hopeful this new chief will change some of the course of things."
Now president of the department's LGBT affinity group SF ResQ, which formed around the same time he spoke out about his experiences, Baraka said the number of LGBT people working for SFFD is still minimal considering the size of the local community. There are about 30 people signed up for SF ResQ's email group.
"I think it has gotten better but I think we have some more work to do," said Baraka.
He and the other members of SF ResQ are already planning to increase their recruitment efforts at this year's Pride parade and festival in light of having the first out fire chief participating.
"I am just very hopeful this new chief will do the right thing," said Baraka. "I am always hopeful, but again, we can do better."
During her time with the fire department, Nicholson said her sexual orientation has never been an issue. She aims to oversee a department that is diverse and reflects the demographics of San Francisco.
"I never, ever had a problem being out in the fire department," she said.
In fact, it was while attending the annual Pride parade in June 1991 where Nicholson was "recruited," she recalled, to join the fire department by a lesbian firefighter. She was drawn to San Francisco due to its LGBT community and reputation as an accepting city where one could live out and proud.
"I was joking with my mom, though, that it only took 54 years to make her proud. That's not really true, it's more of a joke. But she's been proud of me for a long time," said Nicholson, whose mother is expected to attend her swearing-in ceremony. "That's sort of a joke mostly from our struggles when I first came out when I was 19 or 20. Do you know what I mean? And that was the 1980s. And so, things have certainly changed since then as our relationship has grown."
She grew up in Pelham, New York northeast of New York City; her late father and paternal grandfather were both volunteer firefighters.
"As a little kid I grew up across the street from a fire station but I didn't have those role models. As a kid I went to vote there with my dad," recalled Nicholson. "I did not have the imagination then that I could do this."
Nicholson and Hayes-White have been working closely over the last two months on the leadership transition. A top priority has been the department's budget request to the mayor and supervisors, as well as ensuring there is a smooth hand off in the operational and logistical oversight of the agency.
"Because we are such a critical piece of this city, we can't afford any hiccups. So we've been working really closely on the transition," said Nicholson.
As more and more people are priced out of San Francisco, which has caused a recruitment problem for the fire department, Nicholson is aiming to inspire students in the city's schools to think about careers with the agency.
"They know the city; they have buy-in on the city, you know, and, in the event of a disaster, they're here," she said. "So that is something that I'm, I'm certainly exploring, and would love to see come to fruition."
Working as a team and building bonds with her co-workers and community members has been key to her success in the department, said Nicholson.
"I am not here because it's just me, me, me. I am here because I have had incredible training, support, leadership, and friendship from people inside this department, and in the fire service and the EMS service, and I owe so much to them," said Nicholson. "And as well to my queer community. So, you know, people believing in me when I didn't necessarily believe in myself when I was very young."
Comments on Facebook