Appel, Bernstein head home after collision
Wednesday May 1, 2019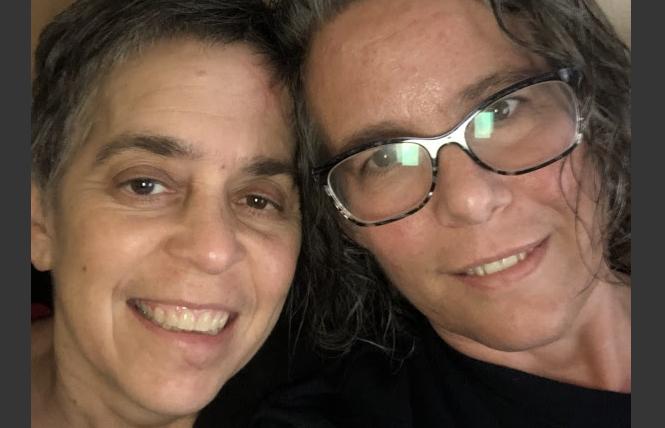 Berkeley school board president Judy Appel and her wife, attorney Alison Bernstein, continue to make remarkable recoveries following a collision in which both were hit by a car in January.
Appel recently sent out an email providing more details about the couple's healing. Bernstein is now at home, and Appel was expected to return home this week, she wrote.
"Right now we are both doing a rehab program," Appel wrote.
On January 5, shortly after midnight, Appel and Bernstein were using the crosswalk on Martin Luther King Jr. Way near Stuart Street when an 81-year-old male driver struck them with his car. The couple, who have two children, were reported to have been walking back to their Berkeley home at the time of the collision.
Berkeley police have investigated the incident. Officer Byron White, a police spokesman, told the Bay Area Reporter last week that the man, whose name was not released, was not arrested.
"The driver is the responsible party for the collision, which appears accidental," White wrote in an email.
Appel wrote in the April 10 email, sent through Lotsa Healing Hands and obtained by the B.A.R., that she and Bernstein were initially taken to the intensive care unit at Highland Hospital, as was reported at the time. The women were later moved into the rehab unit there in the following weeks.
As was previously reported, Bernstein suffered a brain injury, as well as skeletal fractures, and Appel suffered several fractures along the left side of her body. The GoFundMe account for Appel and Bernstein raised over $14,000 to help cover their medical bills and is no longer active.
The women were later transferred to the acute rehab program at John Muir Hospital in Walnut Creek, Appel wrote.
"About three weeks ago, Alison went to the Center for Neuro Services in Emeryville, and I followed about a week later," Appel wrote. "This program is really helping us heal. We have therapies in both speech and cognitive reasoning, as well as physical and occupational therapies."
Made apparent in the email, the couple is "healing and in good spirits." Appel continued in her update, "We are immensely grateful for the love and support of our wonderful friends and family, and eager to continue our rehabilitation."
The women, who are both walking, "mostly without a cane," Appel wrote, plan to continue their rehabilitation through an outpatient program.
"So, we are slowly returning to ourselves and gradually putting our lives back together, and we are ever so grateful that is the case. We are so proud of our children, Tris and Kobi, for their strength and resilience. We are so thankful for all of the ways that our friends, family, and community have helped us. We are so grateful for your love and care, and that you are a part of our lives," wrote Appel.
While many friends have expressed a desire to see the women, Appel requested no visitors now.
"While we are doing great, please understand that we are still not very social," Appel wrote. "We still have healing to do, both physically and neurologically. We do get tired — this rehab stuff is hard work."
At the time of the collision, Appel, 53, had just started her term as the president of the Berkeley school board. Appel was the first out lesbian elected to the Berkeley school board in 2012; she was re-elected in 2016. Bernstein, 54, was working as a senior deputy attorney at the Office of the State Public Defender. She's been at the office for over 16 years, representing capitally sentenced people.
Comments on Facebook