Church St. vacancies easing, property group tells residents
Tuesday Apr 30, 2019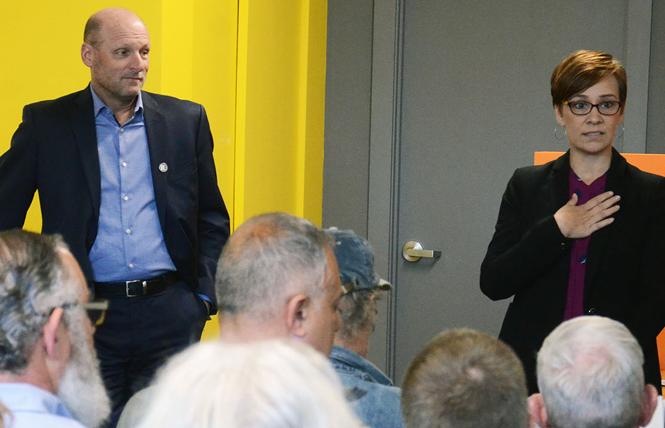 A real estate investment firm that has a lot of properties around the intersection of Church and Market streets updated residents Monday, April 29, saying that progress has been made in filling vacant storefronts.
Officials from Veritas spoke to audience members, and noted the meeting was a follow-up to one held last year that was called by gay District 8 Supervisor Rafael Mandelman while he was a candidate for the office. At the time, the storefront vacancy rate around the Castro and upper Market business district was 12-15%. Mandelman called for this week's meeting as well.
It was held at the new offices of the Castro/Upper Market Community Benefit District, at 693 14th Street. It is right around the corner from Church and Market.
In addition to representatives from Veritas, officials from Mission Dolores Neighborhood Association, Duboce Triangle Neighborhood Association, Castro/Eureka Valley Neighborhood Association, Castro Merchants, the CBD, and Maven Properties attended the meeting.
"Some of you may recall that a little over a year ago some of the neighborhood groups and I convened a meeting," Mandelman said. "There was much concern at the time by what seemed to be a clearing out of retail and restaurants in this Church Street corridor. We had a meeting then with Veritas, one of the major property owners here, and they made a few commitments. One of the commitments was to get more involved in neighborhood organizations."
Mandelman thanked Justine Shoemaker, assistant manager for Veritas, for consistently showing up at meetings of various organizations and for providing the community with updates.
"I continue to see a lot of vacancies here and I hear from my constituents about their ongoing concerns, so we felt it was time for an update to the community with Veritas-owned properties in this area," said Mandelman.
Santino DeRose of Maven Retail, part of Maven Properties, Veritas' broker, said that his firm was working hard to lease many of the spaces in the neighborhood, and that progress has been made.
Before she began her update, Shoemaker said that she works exclusively with Veritas' retail properties. She listed all of the Veritas properties on the Church/Market corridor: 2075 Market Street, 235 Church Street, 2339 Market, 2099 Market, 210 Church, and 252 Church. She noted that Veritas does not own the building that housed the former Aardvark Books, nor does it own 215 Church, where a new restaurant called Cook Shoppe is set to open May 6, according to Hoodline. Cook Shoppe is occupying the storefront where the recently shuttered Chow had operated.
Shoemaker then informed attendees about the businesses that have leased Veritas properties, such as the Boombox Studio, a fitness training facility that opened at 2109 Market Street.
Also coming is the upscale restaurant Gramercy Park, which will operate at 212 and 216 Church Street. Shoemaker noted that the space was being built to look like a park, which is where the name comes from. Gramercy is slated for a June or July opening.
"They will be open late, which is what I think this corridor needs," Shoemaker said. "And next door they're opening up a Gramercy Park take-out in the smaller space."
Opening at 235 Church is Il Casaro, an expansion of a popular pizzeria and mozzarella bar that has operated in North Beach since 2014.
"He's had a tough go of it, trying to get it open," said Shoemaker. "It's been really challenging, from the soft story retrofitting that was done in this space to the electrical to the upgrades to the plumbing to the gas, but finally we're there. He has gotten all of his permits signed off. Pretty soon he'll be opening his doors, so we're very excited about that."
Shoemaker then expressed her pleasure that the CBD has moved into a space formerly occupied by a launderette.
"We're really pleased to have a group come into the space that's community focused and does such good work in the community," said Shoemaker. "Andrea Aiello, who is the executive director here, does great work, and it's hard work. When you look around, you see the people who are doing the graffiti removal, cleaning the streets, and helping with the homeless crisis that we have here, this is the woman who is backing the whole train that is helping to improve this neighborhood."
Shoemaker then spoke of a pending lease at the old Apothecarium space at 2099 Market Street for the gay-owned business called Plant Therapy. She referred to the business' Tenderloin location as "the cutest, quaintest store if you need plants and flowers. They give classes on how to do different types of plants and potting, and so they're bringing this concept into our lovely Apothecarium space, now called Plant Therapy. I'm very excited about that — they're so reasonably priced."
She added that she hoped to have an executed lease by next week, and that Plant Therapy should be open in about three months. She also noted that 2099 Market is also occupied by Compass Realty, a residential real estate firm.
There are still a couple of remaining vacancies owned by Veritas, one at 213 Church Street, which is being renovated to comply with ADA regulations, and another at 2075 Market Street. Finding tenants for both locations were top priorities, Shoemaker said.
Daniel Bergerac, immediate past president of Castro Merchants, said that he was pleased with the progress that was being made.
Others were also satisfied.
"It was a productive meeting," said Danny Yadegar, a 33-year-old gay man who was a consultant on the CBD's retail strategy for the Castro. "It showed their commitment to the community in addressing the concerns from the previous meeting around vacant space. We're happy that Veritas is a partner in addressing the issues in the Castro/Upper Market neighborhood."
Mandelman said it was a "good meeting."
"I asked Veritas to do it because I thought it was important to update the neighborhood," he told the B.A.R. "They have some exciting tenants coming in and I'm hoping things will look significantly better in the next six months."