Political Notebook: Philly lawyer aims to be 1st trans male judge
Wednesday Apr 24, 2019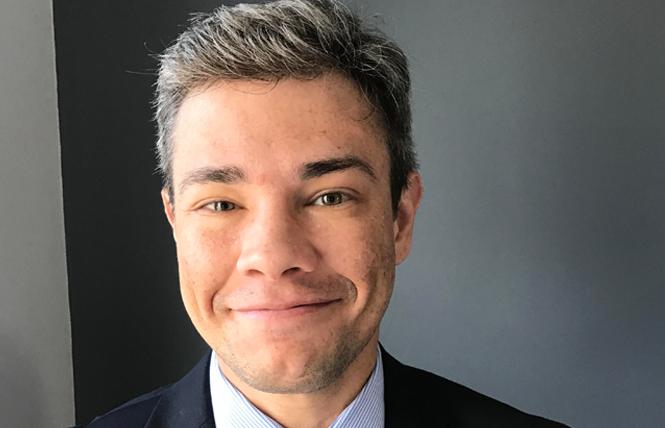 A Philadelphia lawyer is aiming to make LGBT political history this year by becoming the country's first elected transgender male judge.
Henry Sias is running in the May 21 Democratic primary for one of six seats on the Philadelphia Court of Common Pleas. Should he advance to November, he is all but assured of winning the seat due to the city's heavy Democratic electorate.
Not only has he the backing of the LGBTQ Victory Fund, the national group that helps elect out people to office, but the local Democratic Party also endorsed his judicial campaign. According to Sias, it marks the first time a transgender candidate has earned the local party's support.
"That carries a lot of weight with it," Sias told the Bay Area Reporter in a recent phone interview about his candidacy. He joked, however, "I don't think the party had much opportunity in the past" to endorse transgender candidates.
Sias, 42, grew up in Detroit and moved to the Bay Area in 2000. He and a former girlfriend at the time lived in Antioch while he worked for the outdoor clothier and goods chain REI in Concord. Due to the high cost of living on the West Coast, the couple moved to Colorado and then to Connecticut when Sias enrolled in Yale's law school.
He has lived in Philadelphia since 2007; in 2013 he married his wife, Carey, the assistant director of technology services at Jenkins Law Library where they first met. Since graduating law school Sias has clerked for a number of judges in Pennsylvania and worked at several law firms.
He currently works as a criminal defense and civil rights lawyer in Philadelphia. He serves as a commissioner on Pennsylvania's Commission on LGBTQ Affairs and founded a nonprofit that helps low-income people expunge their criminal records. Sias also teaches appellate advocacy at Drexel University's Thomas R. Kline School of Law.
In 2017, Sias first ran to become a judge yet lost amid a slew of 43 candidates. But the local bar gave him a high rating that year, instilling in him a belief that he shouldn't give up seeking a judgeship.
"I knew I was starting a conversation last time," Sias said of getting his name known by voters and local political leaders.
Nearly 30 people are running in this year's judicial race. In addition to vying to be the country's first male transgender judge — three female transgender judges are known to serve on the bench — Sias would also be the first transgender person elected in Philadelphia.
"I am definitely a legitimate candidate. But I never want to come across at all as entitled. We have a lot of work to do," he said. "We have some great candidates this year. It is all about getting out there and connecting with voters."
He has not shied away from his gender identity in his campaign. In fact, it is the first thing he tells voters about himself on his campaign site, and he released a video earlier this year that directly talked about his historic candidacy and gender identity.
"We are having a paradigm shift wherein we must confront explicitly the inclusion of transgender people," said Sias. "The other issue is transgender men are a generation behind transgender women in terms of our visibility. With visibility comes exposure and some risk with that."
Even if he doesn't succeed in his race, Sias is using the platform that comes from his candidacy to serve as a role model for trans-masculine youth. It is why he posted his video and has been vocal in talking about his campaign.
"One reason why masculine-oriented transgender kids have such a high suicide rate is because they are not having role models," said Sias. "They are not having enough guys like me out here saying, 'Yeah, I am trans and here is all this other stuff I am doing. Here is this person who loves me and the family I have found.' I think getting that message out there will help those kids have a future."
Gay state Representative Brian Sims of Philadelphia, who has a national following on social media, turned his Facebook page over to Sias, as well as to a transgender woman running for a local city council seat, in March for the annual Transgender Day of Visibility.
"Henry is a champion attorney and advocate who's dedicated his life to representing underserved communities," wrote Sims. "Henry is running to be a Judge and will make history when he's seated as the first Trans male judge in America!"
To learn more about Sias, visit his campaign website at https://www.henrysiasforjudge.com/.
Lesbian SF judge retires
Longtime lesbian San Francisco Superior Court Judge Carol Yaggy has retired after serving 31 years on the local bench.
The court announced the news Monday, April 22. Yaggy had begun as a deputy public defender in the city prior to being appointed to the court as a commissioner in 1987.
She then won election to an open judicial seat on the bench in 1998. She handled juvenile cases and small claims cases as well as oversaw 26 homicide cases. In 2017, she presided over two headline-making trials of Lee Bell, convicted of killing his girlfriend whose body was found stuffed into a suitcase, and Binh Thai Luc, an undocumented Vietnamese immigrant convicted of killing five members of a Chinese family he had befriended.
Yaggy earned a reputation for her quick wit from the bench and easing tension in her courtroom. Presiding Judge Garrett L. Wong called her retirement "a profound loss" for the local legal community in a statement.
"She will be remembered as a legend on the San Francisco trial bench. In her daily life and in work, she exemplified what we all strive to achieve as judges — fidelity to the law, honor and integrity," he stated. "Judge Yaggy was a devoted and phenomenal jurist and I wish her all the best in her well-deserved retirement."
Former Presiding Judge Cynthia Ming-mei Lee, a close friend of Yaggy, called her "an incredibly nurturing person" who was "the heart and soul of the court during her tenure."
It will now be up to Governor Gavin Newsom to name someone to Yaggy's seat on the court.
SF out mayoral appointees fizzle
San Francisco Mayor London Breed appointed two out people to city oversight boards that ended up leaving their seats, as the B.A.R. reported online last week.
Last Friday the mayor moved Reese Aaron Isbell into an alternate seat on the rent board after initially naming him to be a tenant representative on the panel. Isbell, a gay renter, had come under fire by tenants rights advocates for lacking legal skills and being named to the semi-judicial body without consulting them.
He will step in when Kent Qian, who was sworn in as a rent board commissioner Friday, is unable to attend meetings. Qian, who is straight and a tenant, is a deputy city attorney for the Oakland City Attorney's office.
And Felicia Elizondo, a transgender woman and longtime AIDS survivor, resigned April 16 from the San Francisco Department of Aging and Adult Services Commission after just a few weeks in the post. She told the B.A.R. she decided to step down after becoming overwhelmed by the work required of the commissioners.
Web Extra: For more queer political news, be sure to check http://www.ebar.com Monday mornings for Political Notes, the notebook's online companion. The column returns April 29.
Keep abreast of the latest LGBT political news by following the Political Notebook on Twitter @ http://twitter.com/politicalnotes .
Got a tip on LGBT politics? Call Matthew S. Bajko at (415) 829-8836 or e-mail m.bajko@ebar.com.
Comments on Facebook