Buttigieg dodges GOP attack at town hall
Wednesday Apr 24, 2019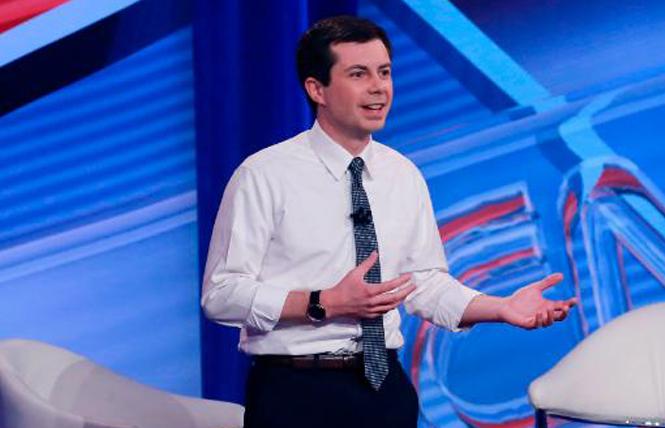 The loudest and most sustained applause for gay presidential candidate Pete Buttigieg during a CNN town hall Monday night came for his politically unorthodox response to a recently launched attack on him by the Trump administration.
CNN moderator Anderson Cooper, who is also gay, broached the subject with just a few minutes left in the one-hour forum, which had been preceded by one-hour forums with each of four other Democratic presidential candidates.
Although in previous venues, Buttigieg had mentioned his dismay with Vice President Mike Pence's long-standing, well documented record of opposing equal rights for LGBT people, this time, he criticized President Donald Trump for his "chest thumping and self-aggrandizing, not to mention abusive behavior. ..."
Cooper noted that Buttigieg had gotten into a "back-and-forth" recently over his criticism of Pence. (Pence's wife tried to dismiss Buttigieg's portrayal of the vice president as anti-gay as a campaign gimmick "to get some notoriety." A Pence spokesperson noted that, when Buttigieg came out publicly as gay, then-Governor Pence said he held Buttigieg "in the highest personal regard.")
Now, said Cooper, "the current ambassador to Germany, Richard Grenell, who is also gay, weighed in" on the row. Grenell, said Cooper, has been "saying you have been 'pushing this hate hoax [about Pence] along the lines of Jussie Smollett for a very long time now, several weeks.' How do you respond to that?" (Gay actor Smollett garnered considerable negative media attention recently when he was accused of filing a false report of an anti-gay assault against him. The charges were later dropped.)
Buttigieg did not hesitate.
"I'm not a master fisherman," said Buttigieg, "but I know bait when I see it, and I'm not gonna take it."
The audience erupted in sustained applause and cheers. Cooper moved on, but the newcomer had dodged his first political Molotov cocktail from a surrogate for President Donald Trump, a Goliath of insults.
Monday night's event with Buttigieg was his second nationally televised town hall forum on the cable network. The first such forum, in March in Austin, Texas, boosted Buttigieg from a virtual unknown on the national political stage to a top tier contender for the Democratic nomination for president. The latest national poll, released April 23, showed him in third place among Democratic contenders nationwide (as well as in early primary states), with name recognition of 64%. (The poll of 1,992 registered voters by Morning Consult was conducted April 19-21, with a margin of error of plus-or-minus 1%.)
The April 22 forum seemed to position Buttigieg for continued success.
"CNN's town hall Monday night in New Hampshire was the clearest sign yet that South Bend Mayor Pete Buttigieg is a candidate who's still catching up to his own popularity," said the lead in CNN's coverage of the forum.
But while the audience of area college students gathered at St. Anselm College in New Hampshire clearly liked Buttigieg, the forum wasn't a cakewalk.
Buttigieg also dodged a legitimate question raised by New England College student Trevor VanNiel, who asked, "How would you cooperate with countries that view homosexuality as a sin and a crime that is punishable by death?"
"Well, I think it's wrong to harm or punish people because they are part of the LGBTQ community," said Buttigieg. "I get that not every country is there. In some dramatically milder respects but very still bothersome ones, our own country is not there. I believe this is an example of why the world needs an America that is strong, that's credible, and that people believe keeps its word because, frankly, our ability, and the ability of the next president and of the U.S. to lead on this issue, I mean to really try to guide countries toward doing the right thing, largely depends on whether we have any moral authority at all."
Buttigieg said America's moral authority today has "plummeted."
"And whether it's LGBTQ rights or, frankly, any kind of human rights or democracy promotion that we want to advance ... it's really important for the U.S. to be a credible messenger," he said, before wandering into a discussion of "different models" of government around the world.
Most of the other Democratic candidates at the forum Monday night —Senators Bernie Sanders (I-Vermont), Elizabeth Warren (Massachusetts), and Amy Klobuchar (Minnesota) — were not asked LGBT-related questions.
Senator Kamala Harris, who appeared before Buttigieg, did respond to a question on LGBT rights by stating that she refused to defend California's Proposition 8 anti-same-sex marriage ban when she served as state attorney general. (Prop 8 was later thrown out by the U.S. Supreme Court, legalizing same-sex marriage in the Golden State in 2013.)
Harris also pointed out that, as San Francisco's district attorney, she convened a symposium for other DAs to learn how to combat so-called gay- and trans-panic defenses, a legal strategy that asks a jury to find that a victim's sexual orientation or gender identity is to blame for the defendant's violent reaction, including murder.
Fox News announced Tuesday that it has scheduled a town hall in Claremont, New Hampshire, with Buttigieg Sunday, May 19. The program will be broadcast live beginning at 4 p.m. Pacific Time.
Comments on Facebook